EXCLUSIVE: Norwegian drops lounges for Premium and will charge for carry on baggage
Links on Head for Points may pay us an affiliate commission. A list of partners is here.
In an effort to "move from growth to profitability," Norwegian is continuing to tweak both its route network and its offering.
Norwegian will no longer be offering lounge access to PremiumFlex passengers.
The airline has quietly removed details of lounge access from its website, although they missed a few references to it, and it is no longer showing as a perk for new bookings.
It is unclear what this means for passengers who booked PremiumFlex before today on the assumption they would have lounge access.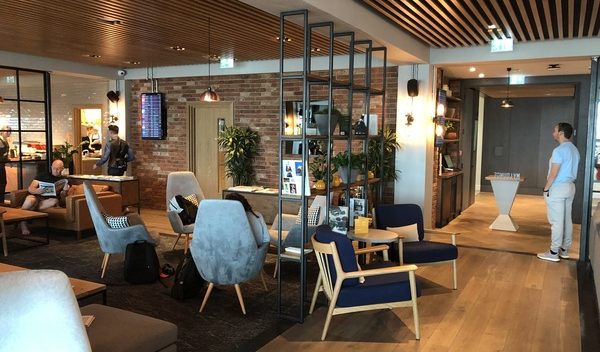 Previously, Norwegian bundled access to certain lounges – including the My Lounge at London Gatwick South – into its premium economy tickets. My Lounge at Gatwick South even has "The home of Norwegian" written on the wall!
And yet, if you look at the benefits of booking Norwegian Premium now (click to enlarge, the column on the right should read Premium Flex):
….. there is no mention of lounge access at all.
Norwegian began retrenching on lounge access in early 2019, when it was removed as a benefit for ALL Premium passengers. As we covered here, it was restricted to only those on its fully flexible PremiumFlex tickets. Lounge access on what was effectively a premium economy seat was a major differentiator for Norwegian as most airlines only include lounge access for business class passengers and above.
It's hard to imagine this move will have much of an impact on Norwegian's financials. How many Premium customers were travelling on the more expensive Flex tickets?
We can safely assume that Norwegian was not paying the £24 for My Lounge Gatwick South advertised on the No 1 Lounges site, given the ongoing Virgin Flying Club promotion selling £15 passes to anyone. If Norwegian was paying £12 per head I'd be surprised.
Cutting lounge access can can only be saving Norwegian a couple of hundred pounds per flight at most, and if just one Premium passenger decides to fly with another airline as a result, it will be a loss-making move.
Norwegian is now charging for carry on baggage too
Norwegian has also tweaked its baggage policy this week.
The airline has decided that it will be pursuing a full-on 'scorched earth' Ryanair-style policy when it comes to inclusive baggage on its cheapest fares …. although, to be fair, it is also increasing the size and weight limits of its personal items and checked luggage allowances. The new policy applies to flights booked on or after 23rd January 2020.
The new size limits are:
Under-seat personal item: 30cm x 20cm x 38 cm (free on all ticket types)
Overhead cabin bag: 55cm x 40cm x 23cm (chargeable for LowFare ticket holders)
Checked bag: 23kg per piece (chargeable for LowFare ticket holders)
…… with the personal item and overhead cabin bag not exceeding a combined 10kg in weight, or 15kg on Premium tickets.
This is how Norwegian shows it online (click to enlarge):
That means that now, depending on which fare you book, you will get:
On a LowFare ticket, you can now only bring a personal item which must fit under your seat. An additional normal sized cabin bag which will go in the overhead lockers must be purchased for $8-$12 each way, depending on the route.
The LowFare+ ticket includes a personal item, to fit under your seat, as well as a normal sized cabin bag
Flex and PremiumFlex all include a personal item, cabin bag and two pieces of checked luggage (23kg)
Whether these changes really do help Norwegian "move from growth to profitability", or put it on the road to ruin, remains to be seen ……