Review: Is Stansted Express First Class worth it?
Links on Head for Points may pay us an affiliate commission. A list of partners is here.
This is our review of Stansted Express First Class.
I have dropped this in as an extra fourth article today because the review will soon be irrelevant. Stansted Express will be getting a fleet of brand new trains without First Class.
On the face of it, First Class on Stansted Express seems relatively pointless. However, for tickets booked at short notice, you can justify the price.
The cost for a one-way ticket booked online without any Advanced Booking discount is:
Standard Class Single: £19.60
Business Plus Single: £26.50
First Class Single: £27.50
The benefits of Business Plus and First Class are:
2 x 1 seating instead of 2 x 2 seating
access to the First Class lounge at Liverpool Street (it is not clear if Business Plus tickets get access to the lounge – it is not actually listed as a benefit for either Business Plus or First Class)
Fast Track Security at Stansted (First Class only)
You can learn more about First Class on Stansted Express on their website here.
Assuming that you are flying somewhere and not just collecting someone, First Class is the way to go due to the Fast Track Security access.
The way I saw it was that I was paying £7.90 extra for a cup of coffee (in the lounge at Liverpool Street), Fast Track security and the emptier carriage with the bigger seats. That seemed OK, especially as this is a write-offable expense for me.
Despite having worked in the City since 1994, I had never been in the First Class lounge at Liverpool Street. I wasn't missing much: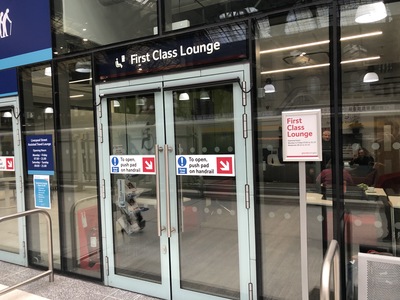 and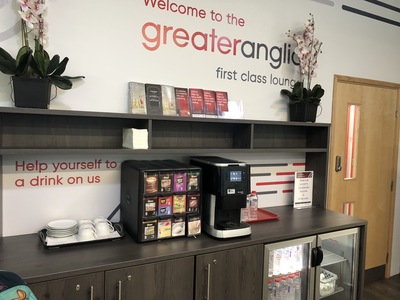 and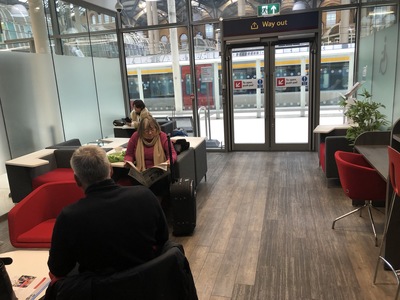 They have tried, I suppose, but the coffee machine is fiddly to use with sachets I had never seen before (a bit like an Ella's Kitchen baby food pouch). There are no biscuits or snacks of any sort. The seating is OK and the desk has power sockets if you need them.
Oddly, the lounge is not signposted. Given that it is not on the main concourse, this is an oversight. You need to walk down the passageway next to Platform 10 for a few metres.
Boarding at Liverpool Street, I had the whole First Class carriage to myself: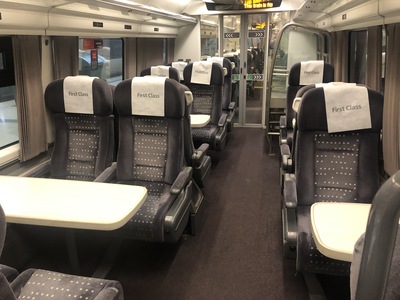 As you can see, seating is a generous 1 x 2. Each seat has a table with electrical sockets. The carriage also has a dedicated luggage rack as you can see above.
Keep reading Head for Points this week to learn why a grown man was travelling with a Scooby-Doo rucksack …….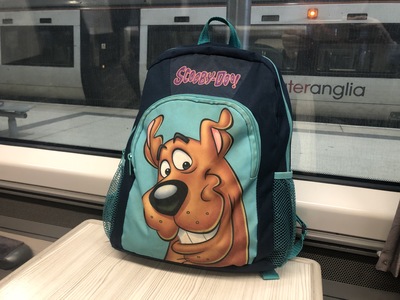 I was content. However, at Tottenham Hale about 10 people entered. I have my doubts, shall we say, that they were First Class ticket holders.
With no conductors on the route, it appears to be a free for all. I would say like to say that it didn't disturb my own journey – I had a block of four seats to myself all the way – but it did because one person decided to watch a video on their phone without headphones. Admittedly it wasn't as annoying as the time when a fellow passenger in Qatar Airways First Class did the same thing ….
The other part of the First Class package is Fast Track Security at Stansted.
This worked fine, even though (because I stayed at the airport overnight) I was flying on a different day to the date on my train ticket.
Fast Track Security usually costs £7. If you would pay for this, it is a no-brainer to buy First Class instead of Standard Class because you are basically getting lounge access and the bigger seats for 90p.
Fast Track Security was a breeze. At 7.30am, which is pretty close to peak and with long queues at the standard lines, I walked down the l-o-n-g Fast Track lane to find only two people in front of me.
I'm not sure if you should pay £7 for Fast Track Security on its own, but paying £7.90 extra for the full Stansted Express First Class package suddenly looked like a great deal.
Is First Class on Stansted Express worth it?
I don't recommend Business Class over Standard Class given that an extra £1 gets you First Class.
I DO think it is worth considering First Class, because £7.90 for Fast Track Security, the improved on-train seating and a quick coffee in the Liverpool Street lounge is acceptable in my book.
You can book tickets on the Stansted Express website here.
You can learn more about First Class tickets (whilst they are still available, which is until the new trains are operating) here.