Can you really fly Ryanair for £5 all-in? And would you want to? I try it out. (Part 1)
Links on Head for Points may pay us an affiliate commission. A list of partners is here.
This is, rather unlikely I admit, our review of Ryanair.
Back in December, Ryanair launched a huge '£5 one-way' flight sale.  This was flagged in our comments section and there was some discussion over whether we should give it a go, with a view that we should make Rhys do it.
It didn't seem such a bad idea on reflection. I literally had not flown out of Stansted for 15 years (I flew into it, in Emirates First Class, last year.)  We could do some lounge and hotel reviews.  Long-term readers know that I am desperate for an excuse to escape the British Winter for a few days by late January, but as I was in Doha recently another Middle East jaunt didn't appeal.
A quick scan at the £5 destinations list quickly threw up Porto:
somewhere I'd never been but which is having a tourism surge at the moment
…. where the flight is long enough for the full Ryanair experience
…. with a new and well-regarded InterContinental hotel (review to follow)
…. and where my mate Tim lives
The pieces all seemed to be falling into place.  I set myself a rule that I would do the entire flight for £5, refusing all extras including baggage and seating fees. And scratch cards.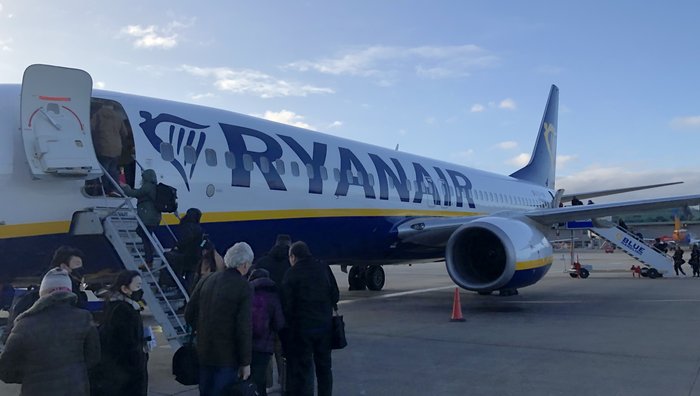 How easily can you refuse Ryanair's extra charges?
You need to remember that Ryanair was taking a substantial loss if I only spent £5.
Air Passenger Duty on my flight was £13
The Stansted Passenger Service Charge is £13, although Ryanair may well have negotiated a partial rebate
….. plus whatever fuel cost was associated to the 90kg of body weight and baggage I brought with me
£5 was not even exceptionally cheap by Ryanair standards.  If I had booked yesterday for the same flight on Tuesday 18th March, I would have paid just £12.99.  This doesn't even cover the Air Passenger Duty.
Let's take a look at how Ryanair planned to make that money back:
£20.85 extra one-way would get you seat selection (from a limited choice of rows), one overhead locker bag and priority boarding
£33 extra one-way would get you seat selection (from a limited choice of rows), a 20kg checked suitcase and priority boarding
£74.85 extra one-way would get you one overhead locker bag, fast-track security, the option to select the exit and bulkhead rows and an exchangeable ticket (but no checked luggage)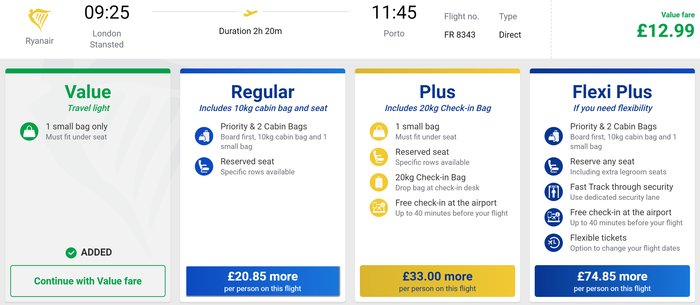 You can also 'pick and mix' your benefits.  If I wanted an emergency exit row, for example, but was happy to just take underseat hand baggage, it would cost me £14 one-way for the seat alone.  A bulkhead seat was £20.  The cheapest pre-paid seat was £4.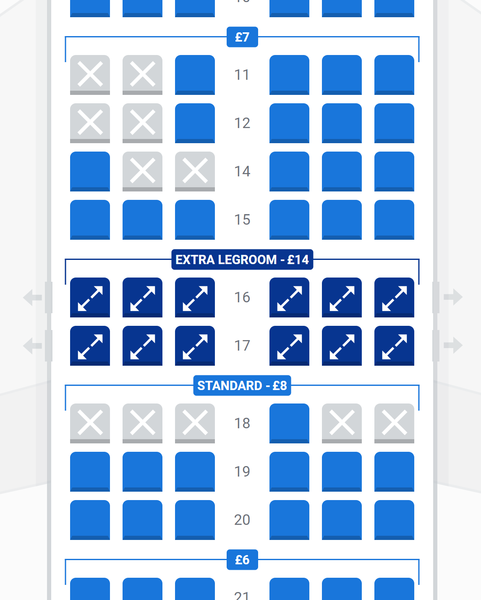 Note that these prices all relate to Porto and will vary on other routes.
Seat selection was the easy one to refuse
When I take an easyJet flight, I tend to pay for a front row seat.  On shorter routes no-one else will bother, meaning you can get a row and occasionally two full rows to yourself.
Ryanair seat selection fees on a one-way flight to Porto run from £4 to £20 each-way as I mentioned above.
Ryanair just reported a 96% load factor for December 2019.  They price their flights to fill their planes.  It is a mistake to assume that your flight will be empty.  The only bit of leeway is that the 96% number includes people who decided not to bother turning up.  A £5 flight is an easy one to abandon.
The pressure is always put on you, via the Ryanair app or emails, to pay for a seat.  You are constantly threatended with being given a middle seat.
The seat map looked light, however, so I was relatively confident.
When I came to check myself in, I was given 22C.  Result.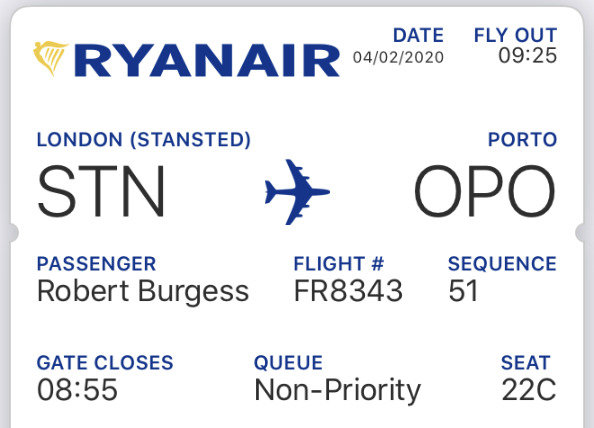 I couldn't really have asked for more.  As a tall guy, I far prefer an aisle seat to a window seat.  I got what I wanted and didn't need to pay a penny for it.
I'm not sure why Ryanair DIDN'T give me a middle seat.  The general belief is that you get the worst possible remaining seat on the aircraft and that families are deliberately separated to the extent allowed under the regulations, in order to ensure you pay next time.  (I saw a similar comment re British Airways recently, where an economy flyer was randomly allocated a middle seat and turned up to find the window and aisle both empty).  Perhaps the 'general belief' is wrong …. I was the 51st person to check-in so perhaps they give the best remaining seats out first.
I should add at this point that Ryanair has a decent mobile app.   I could check in and generate a mobile boarding pass as easily as I can when flying with British Airways.
Avoiding Ryanair cabin baggage charges
This was trickier.
If you're not familiar with the current Ryanair policy, it is that you are not allowed to put cabin baggage in the overhead lockers unless you pay for the privilege.
The only way of paying for it is to buy a 'Priority' package which also includes priority boarding: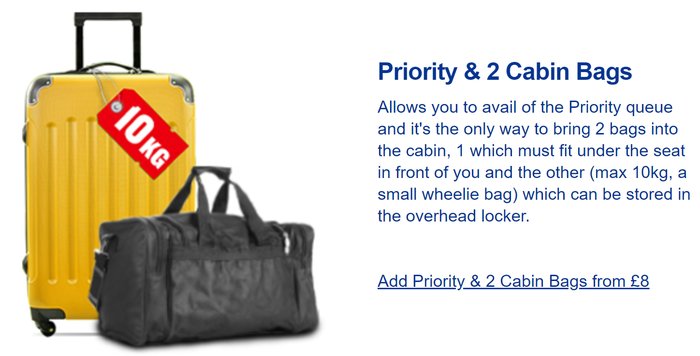 This lets you use this line and take onboard ONE overhead locker bag plus a small bag to go under the seat in front: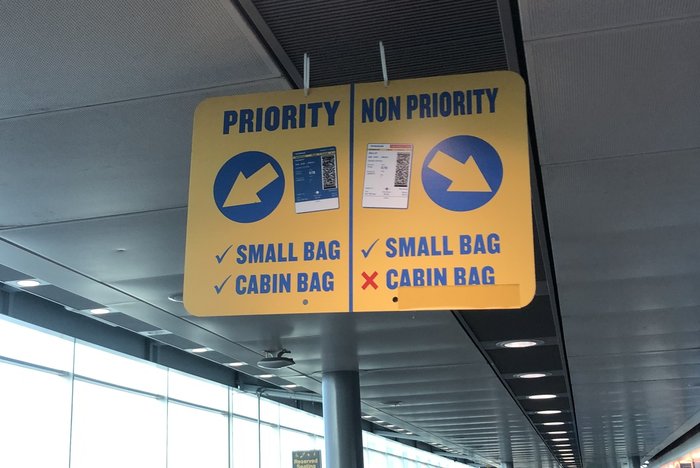 Everyone is allowed to bring on a personal item for free as long as it goes under the seat in front.
When I orginally booked, getting away with just a 'personal item' looked manageable.  You are shown examples of what is permitted, and one picture showed a laptop bag, see below.
That was fine by me – I often just travel with a (fat) laptop bag for a short trip and squeeze clothing around my computer.  It ensures the laptop remains protected.
It was only in the week before travel that I started to look at the small print.  Yes, you are allowed a laptop bag, but the maximum height allowed is 25cm.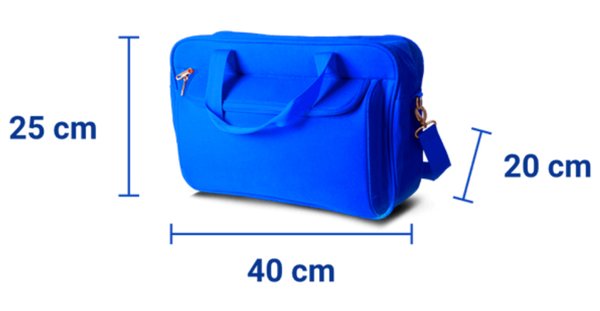 All of the laptop bags in our house are 30cm high.  My 13 inch travel laptop is 23cm high so there is zero chance of anyone with a 15 inch laptop getting it into a bag under 30cm tall.
I hit the kids bedrooms.  Luckily my daughter's fairy mini-suitcase was also too high.  However, I got lucky – my son's Scooby-Doo rucksack made the grade.  It was the only bag any of us owned which did.
Ryanair WAS picky at boarding.  They refused to scan the boarding pass of the woman in front of me and sent her off to get her bag measured in the sizer: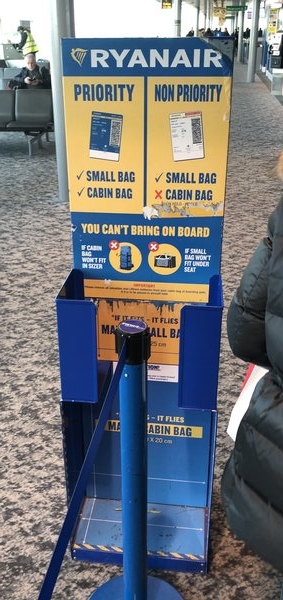 ….. even though she claimed she had travelled from Porto with the same bag on the outbound.
Once I was on the aircraft, however, no-one cared.  Ryanair does not tag the hand baggage of people who paid for Priority.  This meant that I could pop Scooby-Doo into an overhead locker without any problems: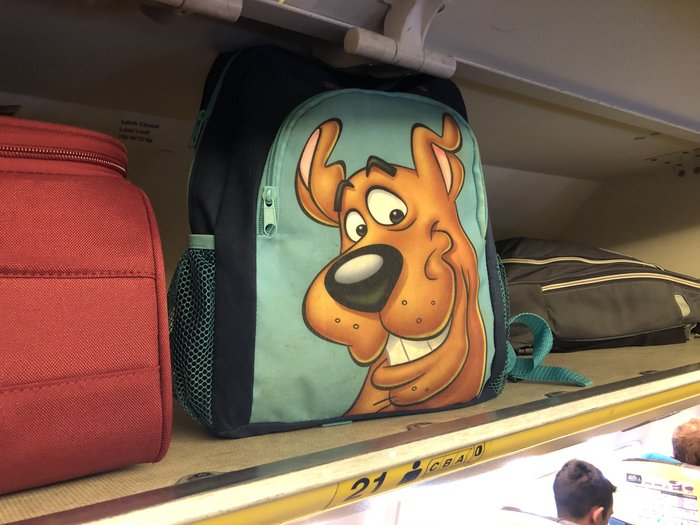 Another good result.  I didn't need to take up the space under my seat with my bag.  
Despite all the scaremongering emails from Ryanair, everything had worked out perfectly:
I had the seat type I wanted (an aisle) – and remember that Ryanair has a bigger seat pitch in Economy than British Airways has in the back half of its new A321neo short haul planes at 30 inches vs 29 inches
I got to put my luggage in the overhead locker
….. and all without paying any extra.  My trip was just going to cost me £5.
To see how my Ryanair flight turned out, you need to click here to read Part 2.