How should you time your promotion to British Airways Silver status to maximise your benefits?
Links on Head for Points may pay us an affiliate commission. A list of partners is here.
Having status is good, but maximising the amount of time you will have that status is even better.
This article is based on a HFP comment last week.  At first I thought it was a statement of the obvious, but the more I thought about it, the more I thought that it might have some value for many readers.
What we are looking at here is how to time your flights to ensure that you retain your Executive Club status for the longest possible period.
Let's remind ourselves of a few key rules regarding your British Airways Executive Club membership year:
All tier point years end on the 8th of the relevant month
You cannot – under any circumstances – change your British Airways Executive Club year end date (this is a major pain for couples, who can take identical flights only to find that only one of them earns status due to the way flights fall across membership years)
When you earn British Airways Executive Club status, you retain it for:
the remainder of your current membership year, and
all of the following membership year, and
until the end of the month following your tier point anniversary (so if your tier point year ends on 8th March, your existing status will continue until 30th April)
British Airways Executive Club has a GUARANTEED 'soft landing' – however few flights you take, you will only drop one level if you fail to retain your current status
We will look at this in a worked example below.
How can you maximise your BA Executive Club status?
Let's imagine that your British Airways Executive Club tier point year ends on 8th May.  You can't change that so you need to live with it
If your goal is lounge access and free BA seat selection for as long as possible, your goal should be to hit Executive Club Silver status as soon as possible after 8th May.  This requires:
600 British Airways Executive Club tier points, and
four British Airways or Iberia one-way cash flights
The cheapest and most pleasant way, for most people, to earn 560 Executive Club tier points of the 600 you need would be a Qatar Airways business class flight to Asia.  As well as being cheap, this route has the advantage of getting you a holiday as well!
Any flight on a British Airways partner airline earns 140 tier points if it is over 2,000 miles.  Europe to Doha is usually over 2,000 miles in Business Class, as is Doha to Asia.  A return flight is therefore (140 x 4) 560 tier points.
(There are cheaper options for getting 600 tier point.  Four weekend breaks in Club Europe on routes which earn 160 tier points like Helsinki or Malta would do it.  This is arguably less fun and certainly less comfortable than a Qatar Airways holiday!)
Here is a good example, from Stockholm to Bangkok in Qatar Airways Business Class in mid May 2020 (in our example, our flyer has a BA year-end of 8th May):
The cost is SEK 16,125 which is £1,281, plus whatever it costs you to get to and from Stockholm.  I assume that you book a British Airways cash flight to do this.
On your return from your Bangkok holiday on 21st May, you would have:
560 British Airways Executive Club tier points from Qatar Airways
10 British Airways Executive Club tier points from your return economy BA flight to Stockholm and back
2 BA 'qualifying flights'
You are NEARLY at Silver status, but not quite.  You still need:
another 30 tier points, and
another 2 British Airways 'qualifying flights'
If you are not planning any long haul travel, the easiest way to get this is via a short haul flight.  Book one-way in Economy / Euro Traveller and one-way in Club Europe / Business.  This would get you another 45 tier points (5+40) and the extra two qualifying flights you need.
The cheapest option is probably a Gatwick flight (because Gatwick flights are cheaper than Heathrow flights) which could be as simple as flying to Amsterdam and back.
Let's imagine that you achieve all of this by 30th May 2020.  Remember that your tier point year started on 9th May 2020.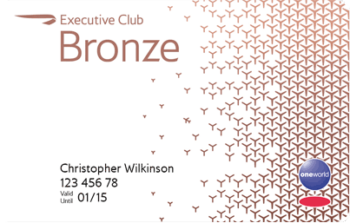 How long will my British Airways Silver status last?
You've done very well.  You will be Silver from:
late May 2020 until 8th May 2021 (your current membership year)
9th May 2021 until 8th May 2022 (your following membership year)
9th May 2022 until 30th June 2022 (your run-off period as Silver)
You then get your guaranteed soft landing to Bronze.  You will be Bronze from:
1 July 2022 to 8th May 2023 (your membership year)
9th May 2023 to 30th June 2023 (your run-off period as Bronze)
Only on 1st July 2023 will you drop back to Blue.
This means, if you time it right:
You have British Airways Executive Club Silver status for 25 months, from late May 2020 to 30th June 2022 (lounge access, free seat selection, priority security, priority check-in, priority boarding etc)
You have British Airways Executive Club Bronze status for a further 12 months from 1st July 2022 to 30th June 2023 (main benefit is free selection from 7 days before departure)
Your total cost to 'earn' this is probably around £1,600.  This is made up of the £1,281 Business Class return flight from Stockholm to Bangkok, an Economy return flight from London to Stockholm and a 'one way Economy, one way Business' return flight from, say, Gatwick to Amsterdam.
And, of course, you have had a Business Class holiday in Thailand and a long weekend in Amsterdam out of it too.
£1,600, spent once every three years, will keep you permanently in Silver or Bronze British Airways Executive Club status.  If you must have lounge access at all times, you are looking at £1,600 of expenditure – assuming flight prices remain unchanged – every two years.
This routine won't suit everyone, of course.  However, if you enjoy Business Class holidays and enjoy British Airways lounge access and the other perks whenever else you travel, this is a good model to follow.  The key is timing it to trigger your Silver card as quickly as possible after the start of your membership year.
(Want to earn more Avios?  Click here to visit our home page for the latest articles on earning and spending your Avios points and click here to see how to earn more Avios from current offers and promotions.)