What we're doing here at Head for Points during these strange days ….
Links on Head for Points may pay us an affiliate commission. A list of partners is here.
I thought it was worth getting a little introspective for a moment and giving you an update on what we're up to here at Head for Points in these rather confusing times.
When coronavirus broke out we were a little unsure as to how it would impact the site.  Primarily we thought:
we wouldn't have anything to write about, and
no-one would be reading it anyway
It turns out we were wrong.  Here are our page views for March: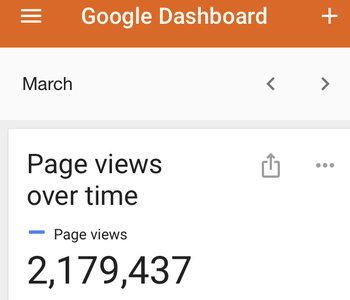 This is 25% higher than our previous best month.  Obviously having a 31-day month helped a bit, but our coronavirus coverage has proved very popular.  We hit 99,164 views on one particular day – literally another 10 minutes and we'd have hit 100,000 for the first time.
We got lucky here.  This Twitter thread, for example, has Nomadic Matt – probably the biggest generalist travel blogger in the world – discussing his complete collapse in page views.
That's the good news.  The bad news is that revenue has obviously fallen sharply.  All of our direct-sell advertising has been pulled, and Google Adsense – which we use to fill the gaps – is down about 50% on a 'pence per page' basis.  You will have noticed that the travel ads usually served up by Adsense have been replaced by fairly random stuff.
The majority of the travel affiliate schemes have also been pulled so we won't make anything on the bulk of the hotel or flight bookings made through the site for a few months.  The credit cards are still paying, but clearly few people are applying for cards which require £3,000 of spending in the next 90 days to trigger a sign-up bonus.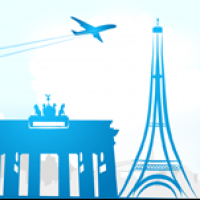 Please don't feel sorry for us though.  We make good money when everything is going well and we can absorb this.
In terms of staffing, we are keeping the team (Rhys, Anika, Sinead) together on full pay – no furloughs.  I think if people are willing to commit their livelihoods to working for a small business like this then you should stand behind them.
We have temporarily dropped the WeWork office.  We didn't have much choice, since we can't access it and WeWork was not offering any rent reductions. It's not as if they are going to relet our space in the interim.  Of course, whether WeWork survives is a different matter – apparently their rent bill on our building alone is £10m per year and business rates will be roughly similar ….
In terms of content, we intend to keep the 'three articles per day' structure.  It has been remarkably easy so far – in fact, we've had a bigger problem deciding what we can fit in over the last few weeks.  It seems to be quietening down a little now, so we can kick off with some new ideas we've been working on.  We have some interesting strands where we will want reader contributions and we will be running updated versions of our core reference articles, starting next week with the 'Avios Redemption University' series.
Thank you for your continued support of HfP and for sticking with us during a period when our content is skewed more towards general aviation and hotel news than loyalty deals.  The list of things we want to do and see when the skies reopen is growing weekly – a Royal Air Maroc flight review needs doing as they joined oneworld yesterday, for example – and hopefully we can do a massive catch-up during Quarter 3.  We'll all be desperate for some time out of the house, that's for sure.