'My Favourite Hotel' review – The Grand Hotel Lviv in Ukraine
Links on Head for Points may pay us an affiliate commission. A list of partners is here.
Today, our 'My Favourite Hotel' review is from Lviv in Ukraine, where we look at The Grand Hotel.
If you've never heard of Lviv, it is accessible by both Wizz Air and Ryanair from London airports so you have no excuse for not putting it on your list.
We are currently running this reader-written feature to provide some positivity and inspiration to Head for Points. We hope to run one review per day for the next few weeks. There will be a deliberate mix of European and worldwide properties, super luxury and mid market, branded and independent. You can find all of the 'My Favourite Hotel' reviews so far by clicking here.
Today we are going somewhere where few readers will have been. The Grand Hotel Lviv, in Lviv, Ukraine is reader Simon's favourite hotel and here is his review:
Overview
The city of Lviv has a long history. Over the years it has been part of numerous states and empires including Poland and the USSR and is now western Ukraine's cultural hub.
A beautifully ornate town square, hundreds of historic churches, and a plethora of high quality and fun restaurants are attracting tourists from all over the world and now, with the arrival of the low cost carriers, (Wizz Air and Ryanair serve the city from London Luton as well as Stansted) it is Lviv's time to shine.
Where is Grand Hotel Lviv?
The Grand Hotel Lviv is located in Lviv's town centre. It sits proudly mid way along Svobody Avenue (Freedom Avenue) with the impressive opera house at one end and a park running along its length which the hotel looks out over.
Lviv airport is just a 15 minute drive from the town centre. As your taxi trundles over cobbled roads and bounces over exposed tram tracks, you'll start to appreciate the beauty of the city's architecture. Exit the car outside the Grand Hotel Lviv and pay just £6 to your driver – Ukraine is superb value for money.
A smartly dressed doorman will welcome you to the best address in town!
Hotel overview
Dating back to 1893, the baroque style hotel offers a range of rooms, a restaurant, bar and an impressive underground pool and spa.
Located on the ground floor the restaurant was serving a large buffet breakfast. The choices included fresh bakery items, smoked salmon, salads, and a few hot options. Fresh juices were available and hot drinks could be ordered.
The dining area was large, so it never felt too busy and the food was always replenished if necessary. I've seen better breakfasts, but this is still worth getting out of bed for. We choose not to eat any other meals at the hotel as the options in town were so good.
Also on the ground floor was one of the hotel's best features: the bar. A large oval structure that sat in the middle of the room with a mesmerising moving light feature above it. International branded bottles decorated the shelves and a separate 'walk in' wine room was to the side.
You can sit at the bar, or have your order taken at one of the many sitting areas. There is a menu, but the choice of alcohol on offer is so vast and the bartenders very knowledgeable, that anything you fancied could be catered for.
Our Room
The rooms were large (ours was around 40 square metres) and had all the usual amenities such as TV, fridge, bottled water, seating area, etc.
As the name suggests, the style was grand. A huge bed was the focal point of the room and the matching arm chairs were a fun touch.
The design was different to what you would find in a European luxury hotel, perhaps a bit more Russian in style, but definitely not generic.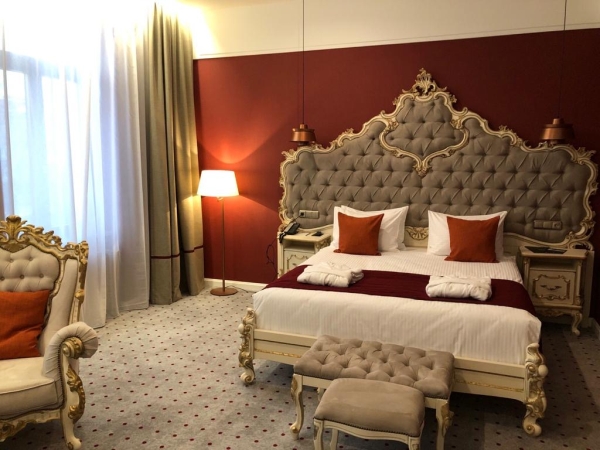 The only downside to the room was the bathroom. Although beautiful in its high quality fittings, it was rather small looking at the size of the room and there was no separate shower.
We visited over New Year, and the package we booked included a welcome pack which was delivered to our room on arrival and consisted of a chilled bottle of prosecco and a fruit platter. It also included a spa treatment which I'll talk about later.
Facilities
In the basement of the hotel was the Oasis infinity pool and spa. This impressive facility included a pool large enough for swimming lengths, a jacuzzi, a salt room, Infrared room, Finnish Sauna, Roman Bath, Kraksen, Russian Sauna and even a Hay room. I've never seen such a large amount of facilities in one place. Thankfully staff were on hand to explain how to use each of these if, like me, you had no idea what a Kraksen is!
(The Kraksen is also know as a hay bath or sauna, which is said to improve quality of sleep and boost immune system. Not the same as the hay room which is just a room with a hay floor to chill out in.)
The massage room was fitted with professional equipment and offered anything from a facial to full body massage treatments. I opted for a hot stone massage which lasted for 1.5 hours and was absolutely enjoyable and relaxing.
All the facilities as well as the gym are open from 07:00 – 22:00.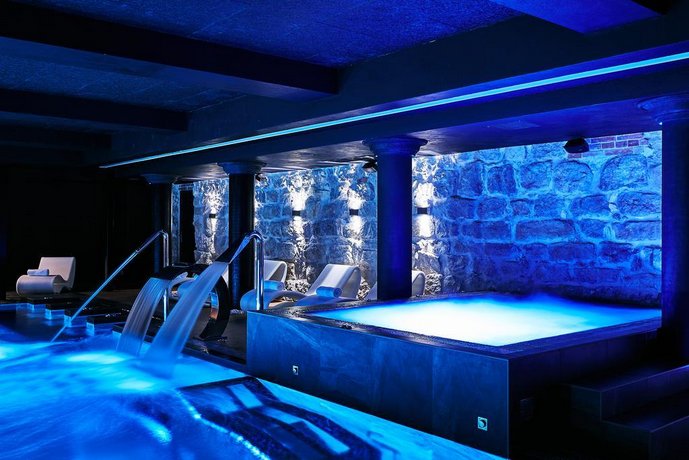 Conclusion
Ukraine has turned a corner politically and there is a new and exciting vibe in the air throughout the country. Lviv has so much to offer and makes for a perfect long weekend getaway.
The bars and restaurants in town serve delicious and varied food and are great fun to visit. Many have theatrical themes, are interactive, or cleverly designed. For example there was a coffee shop in the square that was a normal coffee shop upstairs but had an underground coffee mine where you could put on a mining hat, walk through what looked like a mining facility and then take a seat and have flame thrown coffee. You can find out more about these special nights out here.
There's lots to do in town too, but it's always nice to come back to a brilliant hotel at the end of a long day.
The facilities on offer at the Grand hotel are not matched by any other hotel in town, maybe even in the country. Room prices including breakfast start at around £115 per night and go up to £210 for a suite.
I'm yet to find a hotel or destination in Europe that delivers such enjoyment, fun and great value for money.
The Grand Hotel's website is here if you want to find out more.
And a video
Simon made a YouTube video during his stay, if you want to see more:
---
Hotel offers update – December 2023:
Want to earn more hotel points? Click here to see our complete list of promotions from the major hotel chains or use the 'Hotel Offers' link in the menu bar at the top of the page.
Want to buy hotel points?
IHG One Rewards is offering a 100% bonus (some members may see less) when you buy points by 30th December. Click here.
Marriott Bonvoy is offering a 30% bonus when you buy points by 20th December. Click here.