What is it like flying during Covid-19? – a HfP reader story
Links on Head for Points may pay us an affiliate commission. A list of partners is here.
With the majority of lounges and airport shops closed, travelling is very different experience at the moment.
Whilst the HfP team is currently grounded – although my trip to Australia caught the very beginnings of travel restrictions – one reader has got in touch with a unique trip review of his flight from the UK to Australia to get back to his family, including 14 days in quarantine on arrival.
We thought it would make an interesting companion piece to our recent review of staying in a hotel in lockdown.  Over to Michael:
"I knew that flying during the biggest downturn in global aviation that the world has ever seen was going to be an interesting experience but I didn't quite know what to expect.  Would it be more stressful than usual with enhanced security checks? Would boarding and service be slower due to social distancing rules?
Here's the story of my 19 hour Covid-19 flight from London Heathrow to Perth, Australia in mid April.
Why was I even flying?
After the UK Government announced a furlough scheme for employees, I'd been told that I wouldn't need to work until the start of June at the earliest. Instead of spending the days locked in my tiny flat in London, I thought I'd use this as the chance to return home and spend some quality time with my parents.
Flights were limited and expensive with Qantas pulling their direct route and the likes of Emirates, Singapore Airlines and Cathay Pacific all ceasing flights into Western Australia. Thankfully, Qatar Airways was still operating three daily flights out of London.  With an hours connection in Doha I could get back on Aussie soil in a 'quick' 19 hours.
Grounded
The first indication that things were going to be very different at Heathrow was the sheer number of parked planes. Everywhere. Driving along the perimeter roads to reach the airport I saw BA and Virgin Atlantic jets in every free space across the airport.
Every spare piece of tarmac that wasn't operational had a jet parked in it. In an airport where things rarely stand still, this was an odd sight. Even weirder was seeing planes that won't be flown for a while with their engines covered and taped up.
Check-in
Pulling into Terminal 4 was a strange experience. There were no taxis dropping people off and only one other car to be seen outside.  I entered the terminal and found the Qatar Airways check-in desk without passing a single other passenger checking in for my flight. The staff were friendly, apologised for the lounges being closed and were probably glad for someone to interact with.
I took my flight before Heathrow Terminal 4 was fully closed.  All flights have now been moved to Terminal 2 or Terminal 5.
Weirdly no-one was wearing gloves and only about 1/3 of airport staff were wearing masks or any protective gear. Fast track security was closed, yet the standard security line was delightfully quick with the lack of passengers, and there were no extra Covid-19 screening checks before heading airside.  Got a fever?  Guess it doesn't matter since you're leaving the country anyway.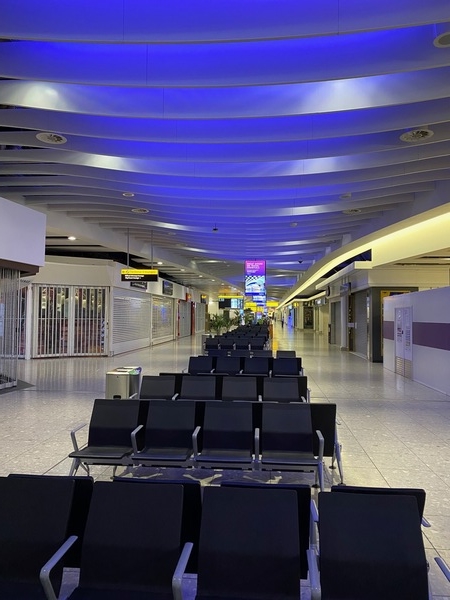 Lighting was dimmed, shop fronts were shuttered, and the only signs of limited life came from Boots and WH Smith which remained open. Everything else was closed.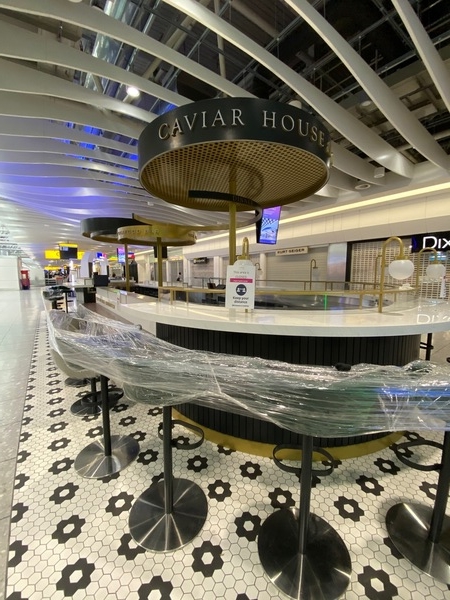 How many flights are leaving?
It was 1:30 pm and the departure board displayed only seven flights departing over the next nine hours: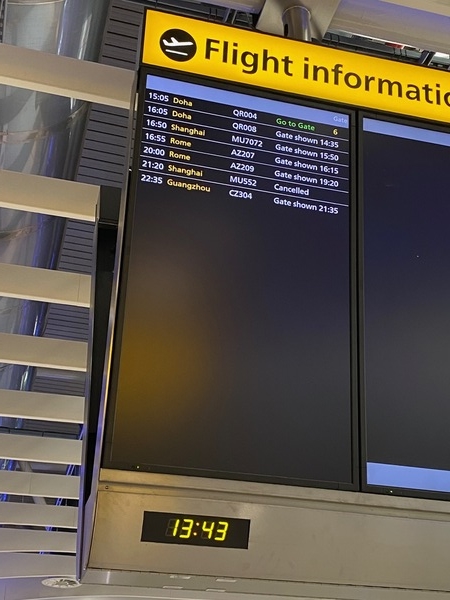 I walked the length of the terminal and saw no open gates and no flights waiting to depart. Looking over to one of the other active terminals I saw all of their air bridges hanging in the air, connected to nothing. It's what I imagine Heathrow to be like in the middle of the night … except it was a bright and sunny Thursday afternoon.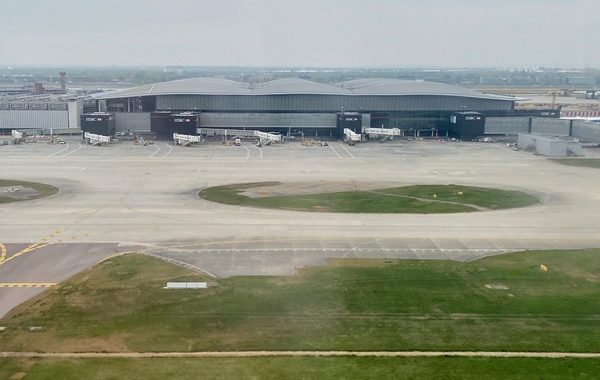 There was definitely no plane spotting to be done today.
Biosecurity threats
I started walking around the empty terminal and came across a few passengers that were waiting for a flight later in the day. Maybe 20% of waiting passengers had face masks on, which seemed to echo the UK stance that Covid-19 is no big deal.
Later on, I noticed some movement back towards security.  My heart started racing as it looked like a biosecurity team, dressed in head-to-toe white hazmat suits had entered the terminal. Was this to deal with severe health complications with a passenger that had made it past security?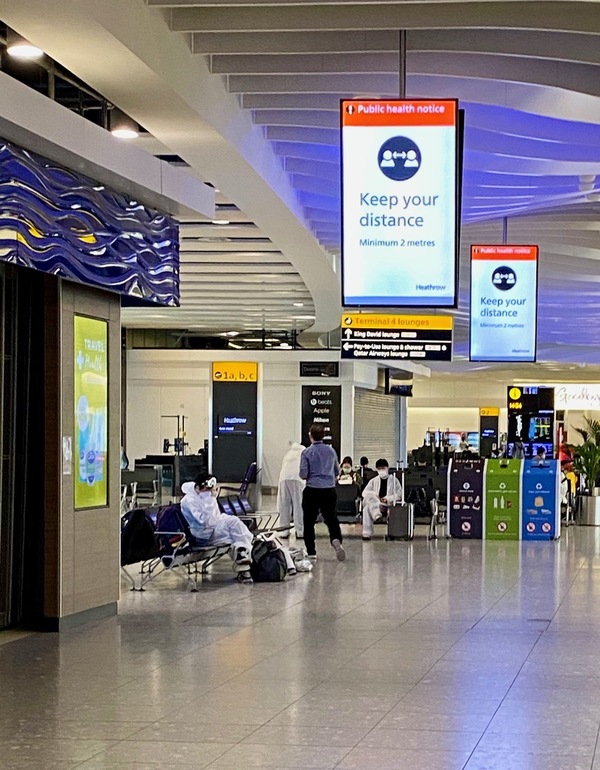 Cautiously I walked back towards security and noticed the suits and facemasks were all slightly different in finish, some with goggles on and others with plastic sheeting stuck together across their face. This was no biosecurity team, but passengers arriving for the later flight to Shanghai. Travelling to the epicentre of the virus, these passengers were clearly taking no risks and taking the situation far more seriously than the British public.
Priority boarding for all
Just as boarding was scheduled to commence I wandered over to our gate (easy to find, since it was the only one open) and saw about 20 people waiting around. Usually boarding a Boeing 777-300 takes a good half an hour with about 250 passengers on an average flight.
I was on a videocall saying farewell to some friends when less than five minutes after the gate was announced, all passengers had boarded and the gate was closing. You'd be forgiven for thinking we were boarding a small propeller plane, not a Boeing 777-300! I finished my goodbyes and was the last passenger to board, minutes after boarding commenced.
We promptly pushed back from the gate and began our taxi through the deserted airport. With no other planes waiting to take off and few landings it was straight to the end of the runway and up to 35,000 feet for us.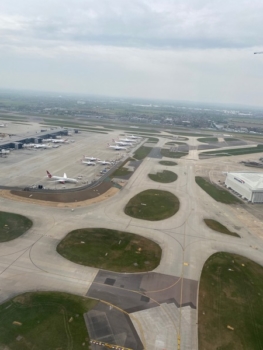 Social distancing
Qatar Airways had left the majority of the economy cabin empty and seated all passengers (about 40) in the small rear cabin where my seat, 51A, was located. Putting everyone into the rear cabin made service easier for the crew, but meant passengers couldn't practice social distancing as much as they could if spread out across the aircraft.
Some rows like mine had a single passenger, but others had two and there was someone in the seat in front of me; a good 45cm away, not the recommended 1.5 metres.  This made it easier for Qatar to thoroughly clean the part of the cabin we were in, however, and also provide attentive service with reduced crew numbers.  It is possible that the other part of the cabin had been used on the outbound flight with our area blocked off.
That said, on my flight to Perth we were free to sit anywhere in the vast cabin, totally contradicting my previous experience. Who knows what Qatar Airways is thinking?!
I was pretty happy since I still had three seats and a window to myself.  As there was no-one in the row behind me I was free to recline at will.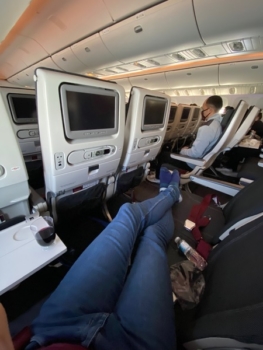 In-flight service
Both flights had the normal above-average economy experience you expect from Qatar Airways. Friendly service, decent food and a good selection of beverages. I'm talking Bombay Sapphire gin, Baileys and an impressively tasty Carménère (a medium bodied Chilean red wine).  Dinner was a tasty beef stew served with spinach Strozzapreti.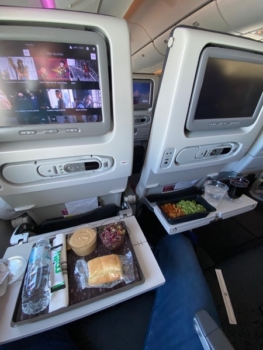 All the cabin crew wore facial masks and were still as polite and happy to interact with passengers as ever. Qatar Airways usually has an efficient, yet slightly robotic, style to their service since personality and going off-script doesn't seem to be encouraged, so the facial masks didn't impact customer service at all.
I was told on the flight from London to Doha that pillows and blankets were no longer available which I thought was fair enough – I've heard enough stories about them not being overly clean at the best of times.
However, upon boarding for the 11 hour trek from Doha to Perth, I was delighted to see that every seat in the 250+ economy cabin had a pillow and blanket awaiting us.  Time to build a pillow fort and get some decent sleep.
Transiting in Doha
With global aviation at a standstill and passenger numbers dropping by nearly 95%, I was surprised and a bit shocked to have to get a bus to the terminal when we landed in Doha!  Cramming the 'full' plane of circa 40 people onto a bus didn't seem like the best way to practice social distancing.
Once inside, it was a quick trip through security (Doha can be a transit nightmare at times) and into another deserted terminal. How they couldn't find a gate for our incoming flight was beyond me!
Unfortunately I only had an hour transit, which due to the remote gate meant I had to head straight there to catch my flight to Perth.  On the day I travelled Qatar Airways had announced that they were closing all lounges except the award-winning Al Mourjan business class lounge, which is usually off limits for status card holders in economy.
Arriving in Australia
As expected, we were the only international flight arriving into Perth and the scene in the airport was very different.  After landing, a border security official came onto the plane and announced the process we were about to undertake over the PA.  He confirmed the mandatory 14 day hotel isolation we would go through and the cabin crew provided Covid-19 declaration forms we were to fill out; one from the federal government and the other required to enter Western Australia (a hard border has been put in place to separate it from the rest of the country).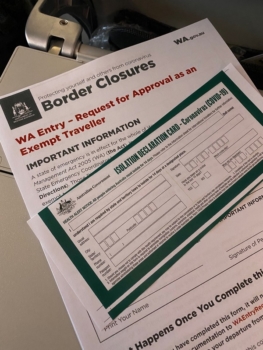 We disembarked the aircraft and were handed another information form from a security official dressed in a mask and full white body suit.  I appreciated the walk through to immigration control as I knew it was the last decent walk and taste of freedom that I would have for the next fortnight.
Immigration was quiet and the eKiosks were updated to confirm we knew we were to isolate for 14 days upon arrival. After officially entering Australia, we underwent a health screening and asked if we were experiencing any symptoms and if we were in contact with anyone that had a confirmed case of Covid-19 in the past week. They took and recorded our temperatures before proceeding to baggage claim.
After getting our bags, it was straight to a police desk where we confirmed our intent to either stay in Western Australia or transit to the eastern states. The officers then provided our 'isolation direction' and were warned that breaching this direction would result in fines or imprisonment.
We were escorted directly onto buses, with all of two minutes contact with the outside world.  They split the 40 passengers from my flight across five buses and then formed a police convoy to take us to our hotel in Perth's Central Business District.  The convoy of five buses was flanked by two police cars at the front and back, with one driving forward to block off roundabouts and intersections, ensuring the fleet of buses went through together.  I felt more like a convicted felon than a returning traveller.
It was then straight to my hotel room where I would remain for the next fourteen days.
All in all my flight to Australia was better than expected, with the low passenger numbers making the economy travel experience positively enjoyable. The only odd thing was Qatar Airways inconsistent policies – both in terms of seat allocations and offering blankets and pillows (or not!)."
PS.  Qatar Airways is still operating flights from the London Heathrow and Manchester  You can see the list of countries where it is currently flying on this special page of their website.