'My Favourite Hotel' review – Hotel 1926 in Sliema, Malta
Links on Head for Points may pay us an affiliate commission. A list of partners is here.
Today, our 'My Favourite Hotel' review is Hotel 1926 in Sliema, Malta.
We are at the Hotel 1926 in Sliema. This is one of the more moderately priced hotels in this series with rooms rarely costing more than €100.
We are currently running this reader-written feature to provide some positivity and inspiration to Head for Points. We hope to run one review per day for the next few weeks. There will be a deliberate mix of European and worldwide properties, super luxury and mid market, branded and independent. You can find all of the 'My Favourite Hotel' reviews so far by clicking here.
Hotel 1926 in Sliema is reader Karim's favourite hotel and here is his review:
Overview
I stayed at Hotel 1926 twice during a nine day trip to Malta last August – two nights at the beginning of my holiday and two more nights at the end. The idea was to stay in different towns to experience different sides of the island. In retrospect this is something I would not recommend to anyone as it turned out the so called "towns" were really just a few minutes away by car or a quick hop on the ferry!
Where is Hotel 1926?
Hotel 1926 is on a small street in Sliema, just three minutes away from the sea front. The hotel has a beach club too as we will come to later.
Sliema is an excellent location. It is a 10 minutes ferry ride from Valletta, the capital, with its charming character. It is also a short ride to Saint Julians by eCabs (the Maltese version of Uber) who provide a decent service at very reasonable prices. Saliema itself has also plenty to offer in terms of restaurants and shops and its harbour is the main site to get on a boat trip or a day excursion.
Check-in
The hotel lobby is tiny but the whole building has a trendy and fresh feel to it. My experience with check in was disastrous at first as they couldn't locate the room that I was originally assigned, followed by a painful hour of miscommunication between the staff until the front desk manager came to take matters in her own hands and resolved the situation – Thank you Tatianna!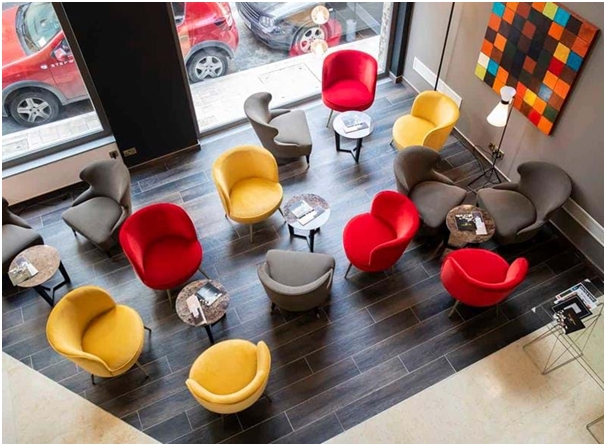 My room
Bear in mind that Sliema is a residential area with lots of buildings around. The hotel is not on the seafront so the views can be obstructed depending on which side your room is facing. I ended up in an exceptionally large family room with a sea view balcony which was very pleasant to sit on and have a cup of coffee in the morning and afternoon. The coffee machine in the room was a good option and the local coffee capsules provided were surprisingly very good. I did not miss my Nespresso in the slightest.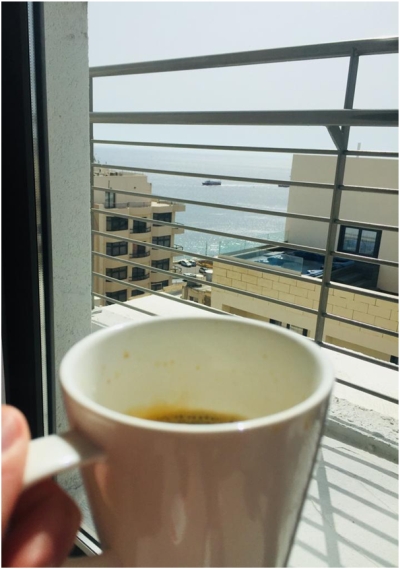 The bed was particularly comfortable, and the rooms had recently been renovated with the same trendy look and feel of the rest of the hotel. A modern tech statement was made obvious with the doors being accessible with a pin code instead of key cards.
The phone had been replaced by a tablet which could be used to contact the reception, housekeeping, etc. or to get information about the hotel. I found the tech part a bit pretentious as it made my life more complicated especially when I couldn't get the tablet to connect and had to use my mobile phone to call reception.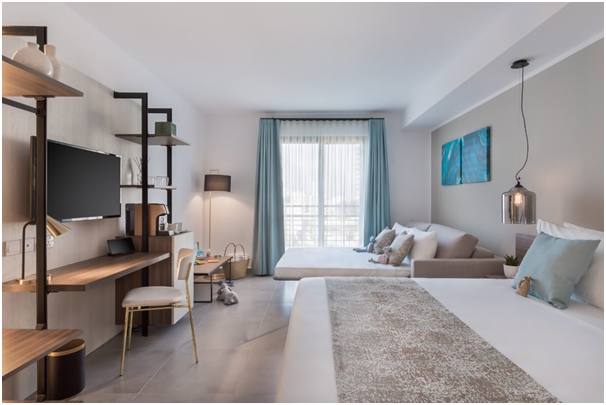 The bathroom was large and had quite interesting spa amenities with sea salt scrubs and eye masks to pamper yourself complementing a well-being mood the hotel was aiming at.
The one feature that I cannot praise enough is how good their AC was. Unlike other 5* hotels I have visited in Malta, the air conditioning was outstanding – as you need it to be in mid-August!
The Beach Club
The hotel is a short walk (3 minutes) to the beach club. This is a bit of an uphill walk on the way back but this shouldn't be an issue for most people unless they have some level of limited mobility. The beach club is open from May to September and is an amazing added value to your stay at the Hotel 1926.
It offers a seawater pool, sea access, sunbeds and lounge seating as well as a restaurant area with stunning views. Sea access is through the rocky steps from the pool followed by a stainless steel ladder into the water – so no sandy beaches – but this is the case for most of the beaches on the island. If you did want to hang out on a sandy beach, there are some on the island which can be visited for a day trip.
The sunbeds were quite tight next to each other and it could get a bit too cosy when the place was full but not to the point where it got really annoying. The music playing in the background was not too loud and was pleasantly adding a nice and young ambiance to the place.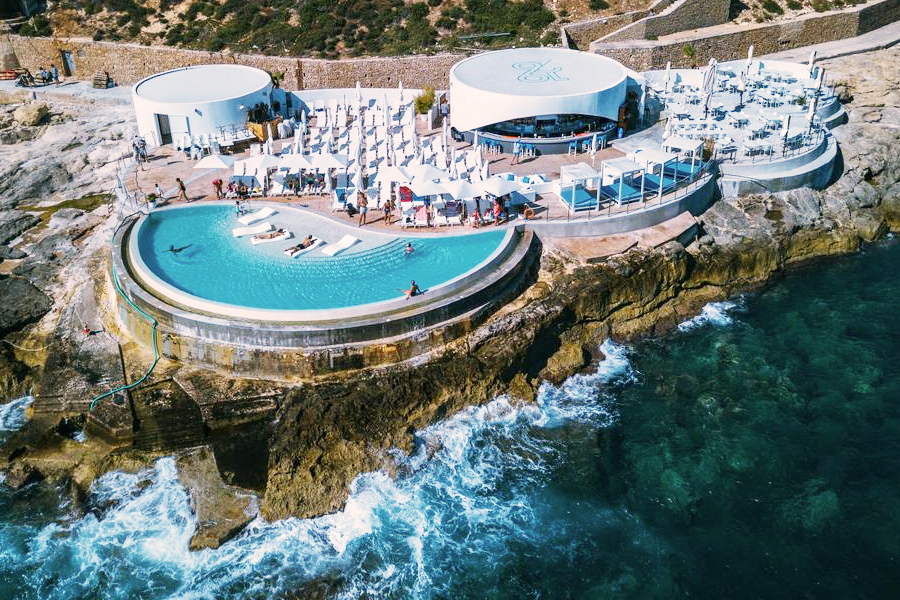 The food at the beach club was one of the highlights – extremely tasty with huge portions at very reasonable prices. I tried the food at the beach club three times. The paella was exceptional and the octopus salad was delicious.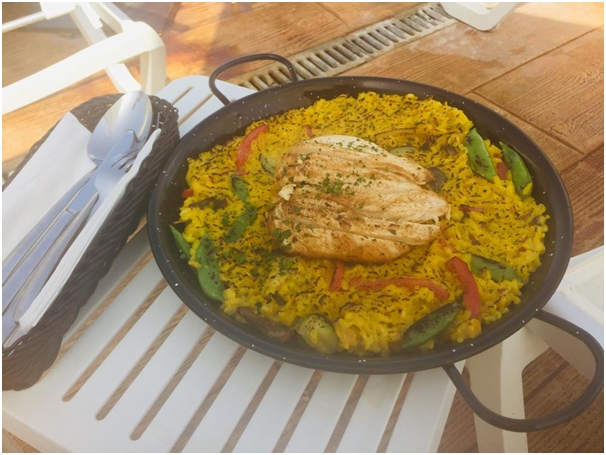 Breakfast
Breakfast at Hotel 1926 had a reasonably good variety of choices including delicious Maltese pastries that I still crave sometimes on my quarantine mornings. You could find all the typical hot and cold options of eggs, sausages, salmon, cheeses, fresh fruits, fresh bread, cereals and so on.
Champagne is also available for your morning Mimosas as well as fresh juices, tea and coffee. The only pain was the fresh mini pancake machine that is apparently becoming popular at hotels but in my opinion only cause frustrations and long queues! As a millennial, I do like my services to be instant, but probably not 3D printed.
Spa
Hotel 1926 has a spa that I did not get the chance to use since the sunny beach club was too good to waste on indoor activities. I have, however, visited the facility which I found to be neat but quite small. I am sure I will be more inclined to use it should I get the chance to visit in Winter with fewer options outside.
Conclusion
My overall experience at Hotel 1926 ended up being much more positive than my confused first hour at check-in and exceeded my expectations. The staff are very friendly, and the hotel just grows on you in an incredibly positive way. I look forward to going back to this hotel as soon as circumstances allow.
Room rates are very reasonable, and currently start at €100 per night in August. The family room I had is under €200 per night in August. In the Spring it gets as low as €60 per night.
If you want to find out more, the Hotel 1926 website is here.
---
Hotel offers update – October 2022:
Want to earn more hotel points? Click here to see our complete list of promotions from the major hotel chains or use the 'Hotel Offers' link in the menu bar at the top of the page.
Want to buy hotel points? There are no special offers currently running for buying hotel points.