'My Favourite Hotel' review – PARKROYAL COLLECTION Pickering, Singapore
Links on Head for Points may pay us an affiliate commission. A list of partners is here.
Today, our 'My Favourite Hotel' review is from Singapore, where we are at one of the lesser known upmarket hotels – PARKROYAL COLLECTION Pickering.

We are currently running this reader-written feature to provide some positivity and inspiration to Head for Points. We hope to run one review per day for the next few weeks. There will be a deliberate mix of European and worldwide properties, super luxury and mid market, branded and independent. You can find all of the 'My Favourite Hotel' reviews so far by clicking here.
Today's hotel is the PARKROYAL COLLECTION Pickering, Singapore. It is reader Richard's favourite hotel and here is his review:
Overview
Singapore never ranked high on my dream destinations list. Tempted by a BA Holidays bargain last year, however, I booked a holiday there for September. As luck would have it, within days of booking I was told by work I would be visiting our offices in Singapore not once but twice before my holiday, and a third trip after my holiday in October.
With the prospect of spending a month in Singapore over a 6-month period, I found myself wondering if I would like it enough to enjoy four trips there (including one out of my own pocket)?
I chose to stay in several hotels in different parts of the city over my four trips, including the Hyatt Andaz, PARKROYAL COLLECTION Pickering and the Shangri-La Valley Wing (for my holiday). When it came time to choose a hotel for my final visit in October, it was the PARKROYAL COLLECTION Pickering which impressed me enough to win a return stay due to its amazing design, great location, and delicious breakfast.
Where is PARKROYAL COLLECTION Pickering?
PARKROYAL COLLECTION Pickering is located just outside the Central Business District and was a short 15-minute Grab ride from Changi Airport. Although not in a hotspot like the Marina Bay or Orchard Road, the hotel is easily within walking distance of the marina, Chinatown and the restaurant hubs on the river including Clarke and Boat Quays.
If you need to go further afield the Chinatown MRT is right outside in Hong Lim Park, and it was always a short wait for a taxi.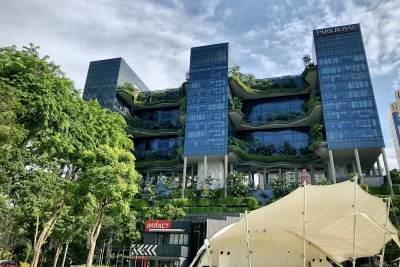 Sustainability
Singapore took the idea of an 'urban jungle' and ran with it, creating a beautiful mixture of modern architecture, colonial buildings and plants. Lots of plants. The Parkroyal Collection Pickering embodies this to a tee. Stylized as a "hotel-in-a-garden", it blends 15,000 m2 of gardens, waterfalls, glass and wood to create a modern, sustainable eco-hotel right in the middle of the city.
It's no surprise that HBO's futuristic Westworld filmed scenes here! For those concerned about the environmental impact of their travel, the sky gardens are designed to be self-sustaining through the use of harvested rainwater reclaimed water, and energy usage is covered by solar cells and motion sensors.
While not advertised as an adults only hotel, it definitely does give off that vibe and there were very few families or young kids staying while I was there. When travelling for work, this was not a bad thing.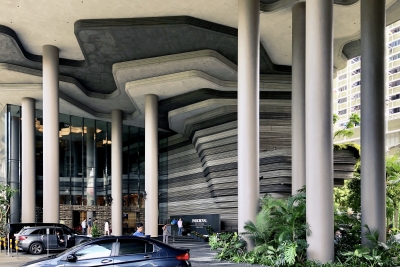 Arrival
Pulling up outside the hotel I was blown away with how modern and impressive the forecourt and lobby were and was quickly welcomed with a drink, and checked in. For my first visit I was in their starting 'Superior' category room. Second time around, I upgraded to a 'Deluxe' room.
As can be seen in the top photo, the hotel is built from three, joined-together towers. Guest rooms start from the 6th floor above the large cut-out for the Wellness Floor. My first room was in the eastern tower (far left in the photo) and came with a view of Chinatown and the CBD, while the Deluxe room was in one of the joining sections overlooking the park and northern Singapore through one of the Sky Gardens.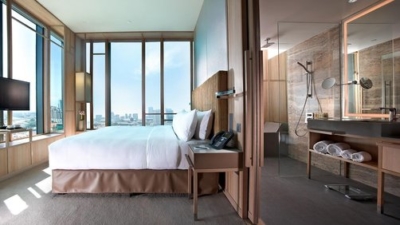 Accessing the rooms via an open-air walkway, my first impression was light and airy. Each room came with huge windows, large amounts of natural light, and was finished with a light-coloured wood that made the rooms feel much larger.
As someone who likes to sleep in the pitch dark, I was relieved to see there were also thick blinds that blocked out the city lights. I really liked the half-open plan layout, with the shower, sink and vanity area in a section that could be opened, or closed off, by using sliding doors, and a separate toilet.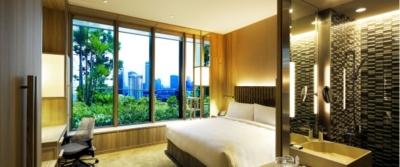 Facilities at PARKROYAL COLLECTION Pickering
The hotel's star attraction (and where you would have found me for most of my time in the hotel) was the Level 5 Wellness Floor decked out with the infinity pool, jacuzzi, sun loungers and bird-cage cabanas, gym, spa and 300m walking track.
The infinity pool was long enough to swim a few laps in the morning and was also perfect to relax in and enjoy the evening view out over Singapore – and although unheated it was refreshing in the Singaporean heat. The pool never seemed busy, and there were always free sun loungers and towels – a stark contrast to the chaos I saw at the famous Marina Bay Sands rooftop pool when I walked past on my way to lunch one day.
After an overnight flight and arriving at the hotel at 7AM, it was nice to relax here (and take a nap) whilst they prepared a room for me. The fitness centre, although small, was well stocked and well-appointed bathrooms and changing rooms were nearby. Unfortunately I did not find the time to try out the spa.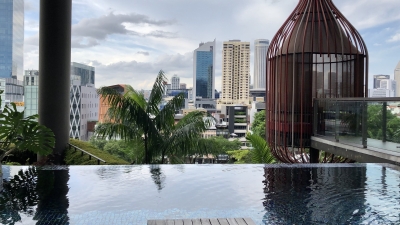 Breakfast
My hotel rate included breakfast at the Lime restaurant on the ground floor and was a close contender to the pool for the most memorable part. I'm typically picky when it comes to hotel buffets, but I found myself lost in browsing the array of western and Asian choices, a large bakery selection and a wide range of fresh fruit and juices.
This is the first hotel where I've seen a Matcha Chocolate Fountain on offer! All in all, the breakfast was definitely worth setting my alarm 15 minutes earlier to give me more time for a second (or third) helping.
Lime was also open for lunch and dinner. I ended up eating outside of the hotel for all but one in-room order – a beef burger which turned up promptly, hot, and was exactly what I needed after a late night out at some of Asia's best bars.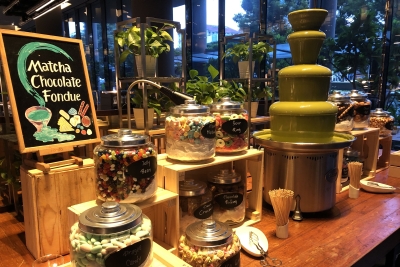 Conclusion
Did I like Singapore enough to enjoy four nearly back-to-back trips there? I loved it. Singapore has the right combination of gardens, museums and bars, wrapped up with an incredible ease of getting around, to make me book a stopover there for later this year (COVID-19 willing) – and the PARKROYAL COLLECTION Pickering will be a great base to (re-) explore this city again.
If you want to find out more, the hotel's website is here.
---
Hotel offers update – October 2022:
Want to earn more hotel points? Click here to see our complete list of promotions from the major hotel chains or use the 'Hotel Offers' link in the menu bar at the top of the page.
Want to buy hotel points? There are no special offers currently running for buying hotel points.