'My Favourite Hotel' review – Hotel Du Lac, Lake Como
Links on Head for Points may pay us an affiliate commission. A list of partners is here.
Today, our 'My Favourite Hotel' review is from Hotel Du Lac on the banks of Lake Como in Italy.
We are currently running this reader-written feature to provide some positivity and inspiration to Head for Points. We hope to run one review per day for the next few weeks. There will be a deliberate mix of European and worldwide properties, super luxury and mid market, branded and independent. You can find all of the 'My Favourite Hotel' reviews so far by clicking here.
Today's hotel is Hotel Du Lac, a family-ru boutique hotel with a beautiful view of Lake Como. It is reader Elaine's favourite hotel and here is her review:
Like many Head for Points readers, I often pick a chain hotel when travelling because I can gain or spend points. It has to be somewhere special to tempt me away from the big brands. Some years ago (2001) I stumbled upon the Hotel Du Lac in Varenna. Since then, I've been back many times, often squeezing in a short break. Why do I return? The views, the location, and the friendly family-run atmosphere are just some of my reasons.
(Note that if you really can't drag yourself away from the chains there is a Sheraton and a Hilton around Lake Como but both are larger than here. They're also set further back from the lake.)
Where is Hotel Du Lac?
Hotel Du Lac is located in Varenna, a village on Lake Como in Italy.
Varenna is one of the few towns or villages on the lake with a train station. That makes it easy to reach from Linate, Malpensa or Bergamo airport. It's also feasible to take a scenic train down from Zurich although that takes most of a day.
Driving is also an option. The hotel has a car park but it's a tight squeeze with large cars. I've seen several scraped bumpers! As the village is mostly car-free and there's little alternative parking, the hotel's parking charge of €22 per night seems reasonable.
I sometimes arrive by boat, taking the public ferry or hydrofoil from Como to Varenna, as the hotel is only a 10 minute walk from the ferry terminal. You could hire a private boat to bring you in to the hotel's own jetty if that 10 minute walk is too far!
Hotel du Lac is right on the lakeside, and I do mean right on the lakeside. Unlike many hotels which claim to be beside a lake but inevitably have a road or path in the way, this isn't the case here as you can see:
The view from Hotel Du Lac
The main draw of this hotel is the spectacular view. Amongst steep, towering mountains, you look straight ahead to Bellagio and beyond to Tremezzo. I like to sit on my terrace with drinks, snacks or coffee (yes, they have a room service menu, light on food but big on drinks) watching ferries crossing from one town to another, people sunning themselves on Riva speedboats, and occasional energetic canoeists. The lake view rooms, the restaurant, and the bar have the most gorgeous views.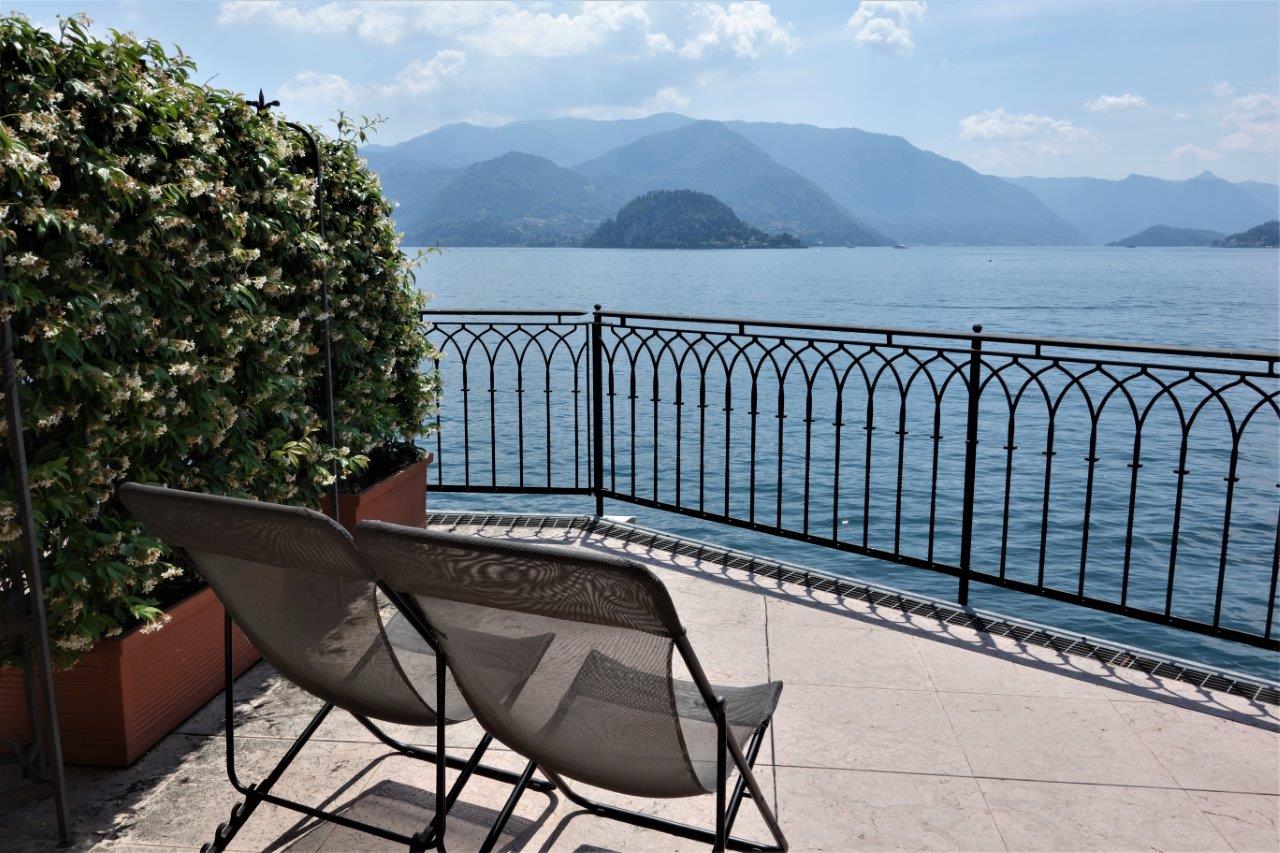 Reception
The reception area is compact. Apart from the reception desk, there's a table with local information about places to see. That's pretty much it.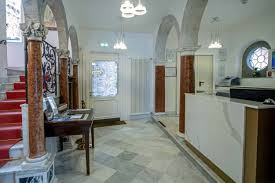 The receptionists are knowledgeable and happy to help with restaurant bookings and general information. One of the owners is often around to greet guests. When I first visited in 2001 I was greeted by Elena, and, more recently, it's been one of her daughters, Valeria.
Rooms at Hotel Du Lac
There are only 16 rooms and most of them face the water. Not all are accessible by lift but the receptionists help with luggage if you can't carry it upstairs.
Superior rooms with lake views have terraces with deckchairs, tables and chairs. The next level down have balconies big enough for a couple of chairs. Then there are standard doubles and singles. All are air-conditioned (though who wants that when you can open the doors and get the breeze from the lake instead?), safes, TVs, wifi and fridges. I've no idea what TV channels there are because I've never been tempted to turn it on but I know the wifi works fine unless you're streaming at peak times.
Rooms have features such as marble floors and dark antique wood furniture. In the bigger rooms there's a desk and chair as well as a small seating area. The bathrooms are a good size and the toiletries are Fragonard.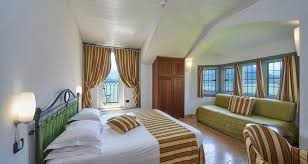 Housekeeping is very efficient and good at noticing when you've gone out so they can clean your room – something I wish more hotels were good at.
The public areas
This isn't a hotel with a gym or a pool (though if you wanted to swim it's perfectly possible to jump into the lake from the jetty ..… I've never done that though!). There is a bar and a restaurant, both with those spectacular views.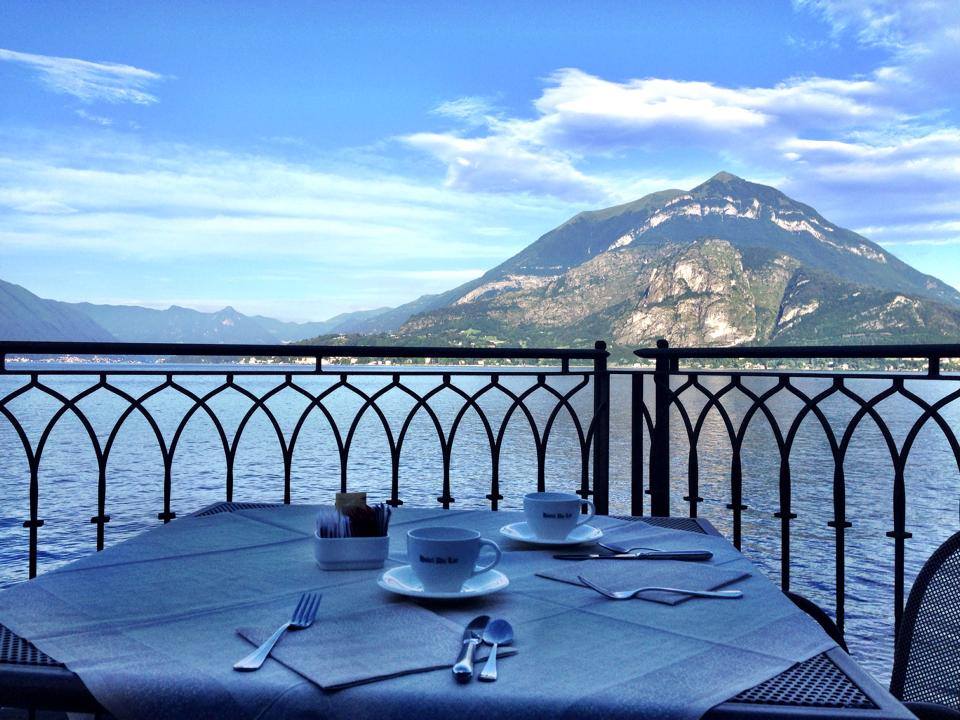 Breakfast is included in the room rates. Served on the restaurant terrace, it's a buffet with plenty of choices including fruit, breads, cold cuts and a couple of hot items (usually eggs and ham). There is always a cake, something which is typically Italian.
The bar and restaurant are on the ground floor. The bar has a few cosy seats inside and a wide jasmine-shaded terrace outside.
The restaurant serves great Italian food with fresh, local ingredients. It's open every day for lunch and most days for dinner. I think it's worth eating here as it's a more contemporary meal than some of the other options in Varenna and, of course, you get to still enjoy those views.
Conclusion
As I mentioned at the beginning, despite travelling to many countries, I've been back to Hotel du Lac many times since first discovering it. The view is certainly one of the best, if not the best, on Lake Como. Staff members are friendly and helpful.
While it's not as upmarket as somewhere like a Rosewood or a Peninsula, the rooms are comfortable, good quality and they contain the essentials. Each year the owners make improvements such as new seating, better TVs or lighting which shows they're always looking to improve the guest experience.
I had some hesitation about reviewing this hotel on Head for Points as, for years, it's been a 'secret tip' I've given only to family and close friends. But now, while we can't travel far, being inspired by such a beautiful location might help planning your next trip.
To find out more about the hotel, the website is here. Rates for lake view rooms run from €190 to €290 per night.
---
Hotel offers update – March 2023:
Want to earn more hotel points? Click here to see our complete list of promotions from the major hotel chains or use the 'Hotel Offers' link in the menu bar at the top of the page.
Want to buy hotel points?
IHG One Rewards is offering an 80%-100% bonus when you buy points by 21st March. Click here to buy.
Marriott Bonvoy is offering a 40% bonus when you buy points by 3rd April. Click here.
World of Hyatt is offering a 25% bonus when you buy points by 25th March. Click here to buy.