Review of the Executive Lounge at Jersey Airport
Links on Head for Points may pay us an affiliate commission. A list of partners is here.
This is our review of the Executive Lounge, used by British Airways amongst others, at Jersey Airport
All of our UK airport lounge reviews can be found here. Whether we can ever complete the full set of debatable but we'll try!
We originally reviewed this lounge a couple of years ago. Because facilities are currently restricted due to coronavirus, this article is a mix of what you would normally receive and, if travelling soon, will actually receive. All of the photos were taken in July 2020.
Where is the Executive Lounge at Jersey Airport?
Jersey Airport is small, but very busy at peak times. This is especially true in bad weather, as it is prone to fog which causes substantial delays.
Reaching the lounge requires a walk through the main departures area to the gates, where it is located next to Gate 2. It is important to know that once you have left the main departure area towards the lounge and gates you cannot return. There is no ability to nip back to visit WH Smith or the World Duty Free store.
The lounge has pseudo-British Airways branding on it. I think at one point it was an 'official' British Airways lounge but is now just called the 'Executive Lounge'.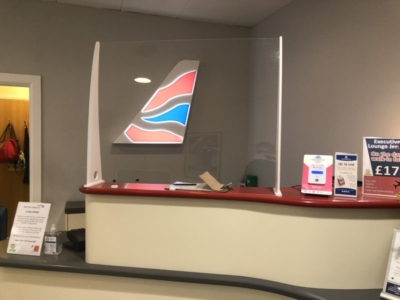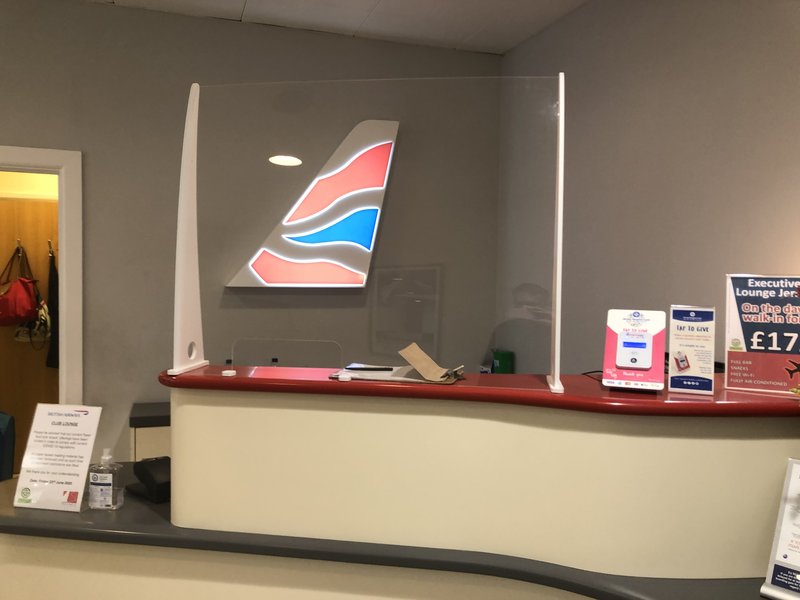 How do I get access?
The walk-in rate is currently £17. I'm not sure if this is cheaper than usual given that the food and drink on offer is currently reduced – the Lounge Pass website is quoting £20.
You can get in with a British Airways Club Europe ticket or a British Airways Gold or Silver Executive Club card or oneworld equivalent.
You can also get in using a Priority Pass (buy one here, or get two free cards with American Express Platinum).
You CANNOT get in with an American Express Gold 'Lounge Club' card, however.
The opening hours are usually 6am to 8.30pm daily but may be curtailed at present as the airport has few flights.
Seating in the Jersey Airport lounge
As lounges go it is not terribly inspiring, with the atmosphere of a doctors waiting room – albeit a waiting room that serves alcohol!
It is split into two seating areas. The main sitting area is shown in the picture below:
Reader reports in the past have said that there are virtually no power sockets in this part of the lounge, unless you want to unplug one of the lamps to charge your phone!
It has a nice line in reproduction aviation posters: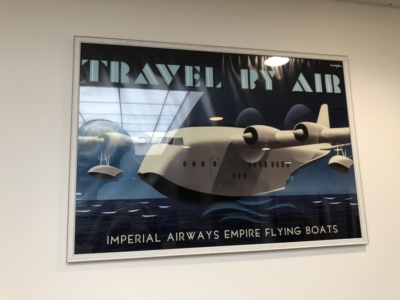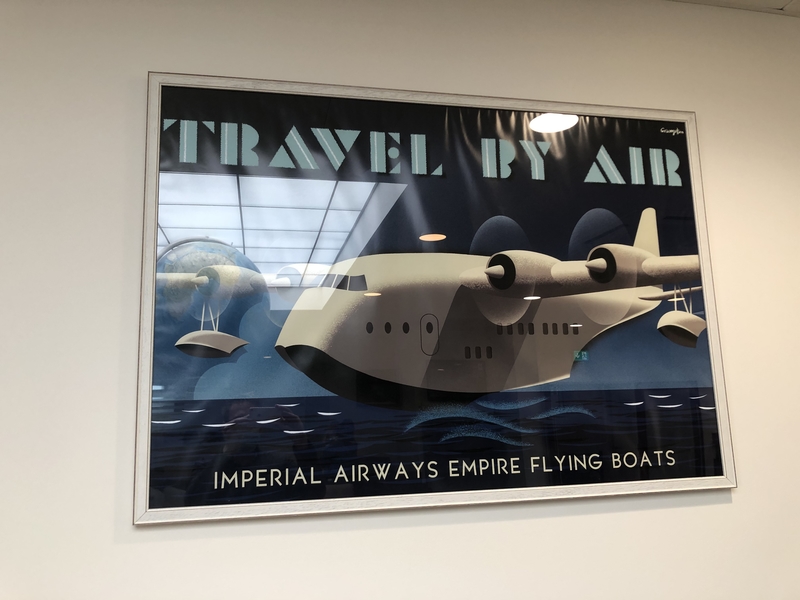 Beyond this main seating area is a smaller area. This is where we were asked to sit (you don't get a choice during coronavirus!). We were the only people there which was convenient as we could be more relaxed about any noise our children may make.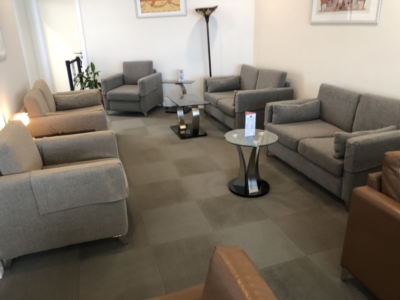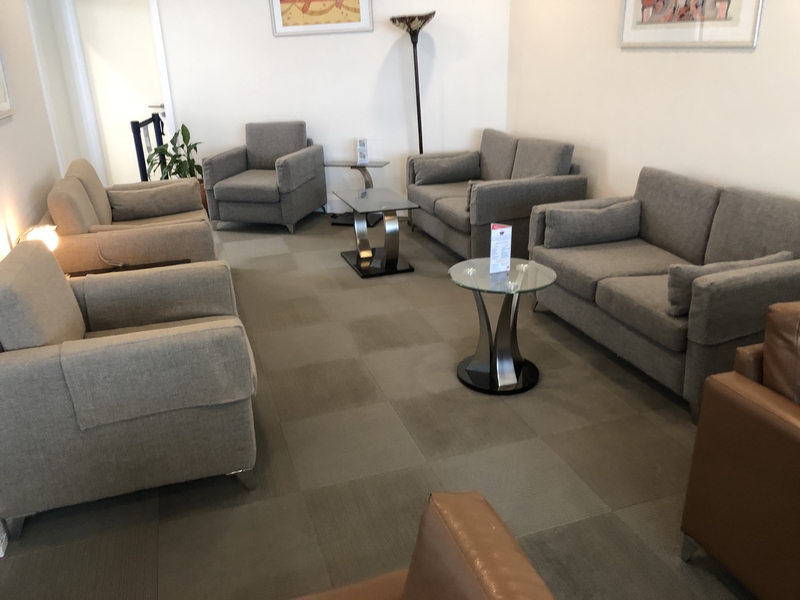 Food and drink
Previous reports have said that the bar area is reasonably well-stocked with occasional sightings of Jersey gin or Jersey vodka.
The current options seemed OK but there was no list of what was on offer. You are not allowed to access the bar yourself at the moment, but as you can see there are no shortage of bottles sitting around!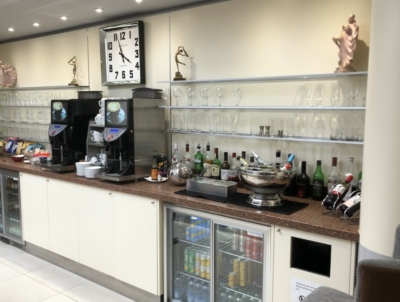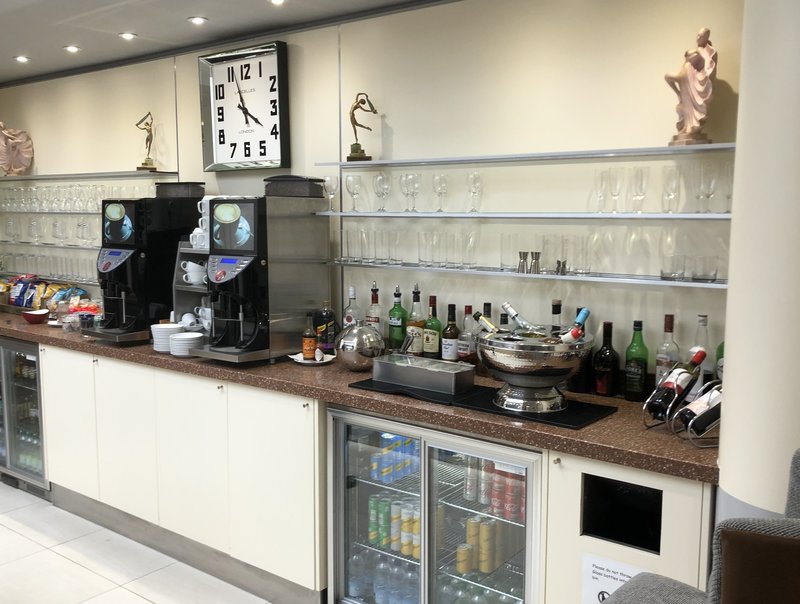 The food has always had poor feedback. At the moment there is virtually nothing on offer, at least in the afternoon, beyond fruit, yoghurts, scones and the usual crisps etc.
That said, the restaurant in the main terminal is currently closed so your options are pretty slim either way! Remember that you cannot return to the main departures hall even if you want to.
Conclusion
Given that Jersey Airport was running very few services when I went through last week, and that almost nothing else was open, the Executive Lounge did the job. There is very little else to do in the gate area.
The food offering was not too good – athough the scones looked OK – but the drinks selection looked sufficient. Some fresh furnishings and a better layout – instead of row after row of beige seating – would be a big improvement but would also reduce capacity.
You can access the Executive Lounge for free with a Priority Pass (which comes free with American Express Platinum, or you can buy one separately). You can also pre-book access for cash via the Lounge Pass website here – you will find it under 'Jersey' and not 'United Kingdom'.