'My Favourite Hotel' review – Sundance Lodge, Alberta, Canada (accessed by mule)
Links on Head for Points may pay us an affiliate commission. A list of partners is here.
This is our review of the Sundance Lodge, Alberta, Canada.
Due to a continued strong response from readers, we are running another batch of 'My Favourite Hotel' reviews over the next few weeks. This time we wanted to hear about your 'unique' experiences and we've once again received a great amount of suggestions. Hopefully you will enjoy reading these reviews. As always you can find all of the 'My Favourite Hotel' reviews by clicking here.
Today's hotel is the Sundance Lodge – a 10 room log cabin 10 miles outside of Banff accessible only by horse or mule.
Here is reader George's review:
It is often said that the journey is more important than the destination; and that has never been more true than when it comes to an overnight stay at the Sundance Lodge in the backcountry of Alberta, Canada. However, what's so truly magical about staying at this place is how it manages to make the journey through such an inhospitable environment worthwhile. Allow me to explain, but first some background:
History
In the early 1800's pioneers were forging new routes through the Canadian backcountry in order to secure trade links between the east and the west. At the turn of the century when the railroad first ventured through the Canadian national parks, the trails were repurposed as a way to guide wealthy British tourists through the mountainous terrain.
In 1923 the Canadian Pacific Railroad built three lodges; a 3-mile cabin, a 10-mile cabin and a Halfway cabin (halfway from Banff to the British Colombia border) in order to further facilitate their new found tourism market by making the backcountry more appealing.
In the 1960's there were three different guiding companies running the trails, all based out of Warner Stables in the town of Banff; in the 1970's they merged to form Warner/McKenzie Outfitting; in the 1980's they signed an exclusive lease on all three cabins; and in 2014 the business was bought out and re-branded as Banff Trail Riders who operate Sundance Lodge today.

The practicalities
The practicalities of this hotel are perhaps amongst the most unique of any hotel anywhere in the world… it's only accessible by horse or mule! In real practical terms that means that not only do guests have to arrive this way, but also all the luggage, food, bedding, amenities, fuel, equipment must arrive with the daily train of mules lead by one of the companies experienced "packers". Packing light is essential for this unique stay…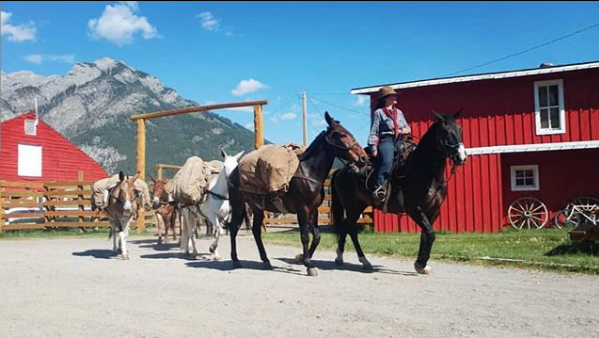 The accommodation
Sundance Lodge is a relatively new Log Cabin built in 1991 next to the original 10-mile cabin dating from the 1920's. It's a bright, spacious, and most importantly warm place to rest with a truly peaceful atmosphere.
There are 10 guest-rooms each with double beds (and some featuring an additional bunk bed for families or groups). The beds are comfortable and warm with plenty of blankets to keep you warm at night.
There are two shared bathrooms downstairs near the kitchen, which are kept immaculate by the staff and are stocked well with essential amenities. The showers are better than average when compared to 'traditional' hotels, which is impressive considering where you are.
There are two main communal areas. First of all the living room, with comfortable sofas and chairs, spaced far enough apart for you to enjoy time to yourself relaxing or reading in front of the fire but also near enough for group conversation to spark up with those around you. Secondly, there's the kitchen, which is very much the hub of this accommodation.
Food
All stays at Sundance Lodge are full board (with alcohol charged at an additional premium). Meal times are very much an event here; one long bench in the kitchen accommodates all the guests, packers, guides, and cooks for an evening meal every day.
The hotel describes the food as "sophisticated comfort food" and I think that's perfectly accurate. The meal is laid out as a buffet for the guests to help themselves to the meats, side dishes, salads and home baked cornbreads, before the staff take second pick of the food.
Meal times here can run for several hours as the conversations flows, and the lifelong cowboys / girls working as guides and packers in the company recall their own tales from the park, and tales from those who came before them; stories of horses, riders, disasters, rescues, conservation, wildlife and more.
The experience
A stay at Sundance Lodge cannot be reviewed in isolation. Stays at the lodge are part of 2, 3 or 5 days on-horse excursions from Banff town.
The views from the trail over Banff National Park are quite simply breathtaking! The mountain ranges are beyond spectacular, and the sense of tranquillity is so so special.
Whilst it would be technically possible to hike these mountain trails in order to soak up the views, they would be long and gruelling thanks to the steep inclines and rough terrain. Horseback is the only way to see Banff National Park in my opinion.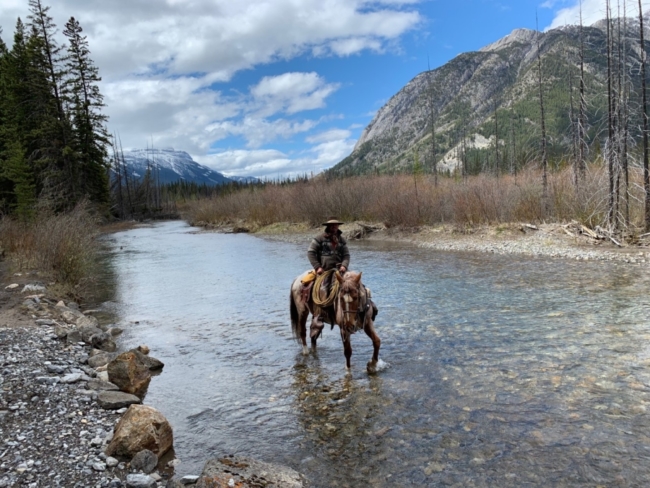 Conclusion
If your idea of the perfect hotel involves a large suite, multiple dining options, and lots of varied activities; this is not the place for you. However if you want 5* hospitality, incredible surroundings, and unrivalled peace and quiet (and you're not bothered by complete loss of phone and internet from an hour after leaving town) you'll feel right at home here.
What's most spectacular about this hotel is not quantifiable; it's what it is. This hotel takes the views that would normally be reserved for only the most extreme campers and explorers and pairs them with a warm and comfortable place to sleep, fantastic food (as good as any restaurant), and company from people who are extremely proud to call the backcountry home.
I can't recommend this experience highly enough to anyone, and that's why this is my favourite hotel.
One-night trips up to the lodge start at $700 per person this season. You can find out more on the hotel's website here.
---
Hotel offers update – April 2023:
Want to earn more hotel points? Click here to see our complete list of promotions from the major hotel chains or use the 'Hotel Offers' link in the menu bar at the top of the page.
Want to buy hotel points?
Hilton Honors is offering a 100% bonus when you buy points by 9th May. Click here.
Marriott Bonvoy is offering a 40% bonus when you buy points by 3rd April. Click here.