"WELCOME TO WONDER": We launch a week of competitions and offers
Links on Head for Points may pay us an affiliate commission. A list of partners is here.
Today we are launching 'Week of Wonders', a week (actually 9 days!) of competitions and promotions sponsored by Marriott Bonvoy.
It is designed to reignite your desire to travel, even if that may end up being just a staycation in the short term. There are some excellent offers and points bonuses that we will be covering in coming days, but if you really can't wait, take a look at the Week of Wonders homepage here.
There will also be a number of competitions coming up with the chance to win prizes. We'd love to tell you more at this point, but we can't! You'll need to keep an eye on Head for Points each day to find out more.
By way of introduction, I wanted to outline Marriott Bonvoy to readers who are not familiar with it. If you are already an active member of the programme, thank you – feel free to come back tomorrow for more from 'Week of Wonders'!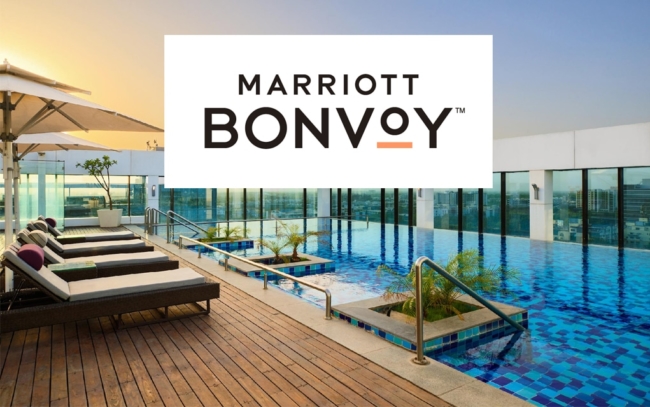 Get a free night for joining!
If you are not already a Marriott Bonvoy member, you will receive a free night voucher (valid on a hotel costing up to 25,000 points) when you join via our link and complete two stays before the end of February. The link is at the end of this article.
What is Marriott Bonvoy?
Marriott Bonvoy is the new loyalty programme launched by Marriott in February 2019 following its acquisition of Starwood Hotels and Resorts.
In general, it has brought together the best of bits of the old Marriott Rewards and Starwood Preferred Guest programmes. It is, in truth, a far better programme than Marriott Rewards ever was.
Marriott Bonvoy won Editor's Choice for 'Best Hotel Loyalty Programme' at the 2019 Head for Points Travel & Loyalty Awards.
What hotels are covered by Marriott Bonvoy?
Marriott Bonvoy covers almost 7,000 hotels globally across 30 different brands. These are (in alphabetical order!): AC Hotels, Aloft, Autograph, Courtyard, Delta Hotels, Design Hotels, Edition, Element, Fairfield Inn, Four Points, Gaylord, Homes & Villas by Marriott, JW Marriott, Le Meridien, Marriott, Marriott Executive Apartments, Moxy, Protea, Renaissance, Residence Inn, St Regis, Sheraton, The Luxury Collection, The Ritz Carlton, Tribute Portfolio, Springhill Suites, TownePlace Suites, W and Westin.
The Marriott Bonvoy home page is here.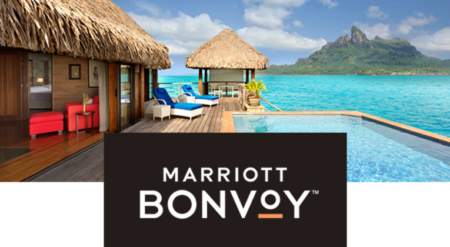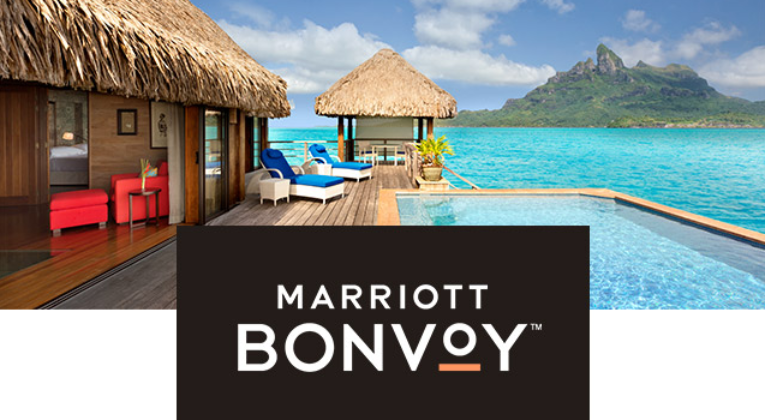 What is the geographic spread?
If you live in the UK, you will find that Marriott International has a decent spread of UK and European properties. The low-cost end of the market has seen the rapid growth of Moxy and the relaunch of Courtyard, on top of the Aloft hotels inherited from Starwood. (New Courtyard hotels are due at Heathrow and London City this month, and Luton opened recently).
The Autograph and Tribute brands are 'adopting' interesting boutique properties such as Threadneedles in The City and The University Arms in Cambridge, giving Marriott a shot in the arm in terms of UK luxury properties.
Since the acquisition of Starwood, Marriott International now has a vastly improved high-end portfolio via St Regis, W Hotels and The Luxury Collection. Venice, for example, now has a new St Regis, the JW Marriott island resort, Gritti Palace and the Danieli at the top end.
The Ritz Carlton has also raised its game in recent years with some impressive openings – I reviewed The Ritz Carlton Kyoto here, the Al Bustan Palace, a Ritz-Carlton Hotel in Oman here and, closer to home, The Ritz Carlton-managed Hotel Arts in Barcelona here. I also reviewed the two impressive new The Ritz Carlton properties in Ras Al Khaimah – the desert resort here and the 'all villa' beach resort here. Both of these are great value for Marriott Bonvoy points.
Sheraton has also been given a new lease of life, with the top hotels rebranded as Sheraton Grand. The Sheraton Grand Park Lane in London, which is actually on Piccadilly, is back to its art deco glory after a huge refurbishment and looks great – our Sheraton Grand Park Lane review is here.
Wherever you are in the world, you probably won't be far from a Marriott-operated hotel.


Earning elite status in Marriott Bonvoy
If you have The Platinum Card from American Express you and your main supplementary cardholder will both receive Marriott Bonvoy Gold Elite status for free.
If you have the Marriott Bonvoy American Express credit card, you will receive 15 elite night credits each year. This will get you Silver Elite status automatically and puts you on the way to Gold Elite or higher. You can also be upgraded to Gold Elite by spending £15,000 in a year on the credit card.
If you don't have either of these, this is what you need:
Silver Elite – requires 10 nights. Benefit is a 10% bonus on base points and priority late checkout (based on availability)
Gold Elite – requires 25 nights. Benefits are 25% bonus on base points, room upgrade, high-speed internet, 2pm late check-out (based on availability, not at resorts and conference hotels) and welcome gift.
Platinum Elite– requires 50 nights. Benefits are 50% bonus on base points, room upgrade to best available room or suite, high-speed internet, lounge access (or breakfast if the lounge is closed), guaranteed late check-out until 4pm (not at resorts) as well as an annual 'choice benefit' from five options including 5 elite night credits or 5 suite night awards and welcome gift.
Titanium Elite – requires 75 nights. Benefits are 75% bonus on base points, an annual 'choice benefit' from six options as well as all the benefits enjoyed by Platinum.
Ambassador Elite – requires 100 nights and $20,000 spend. Benefits include all those of Titanium Elite (there is no increase in points bonus) as well as a 24/7 personal assistant service, the ability to choose the exact 24 hours of your stay.
The full table of elite benefits is here.
The 'sweet spot' is arguably Platinum Elite. This unlocks room upgrades, guaranteed executive lounge access or free breakfast at most brands, and a guaranteed 4pm check-out except at resorts. You can also claim five 'Suite Night Awards' as an optional benefit for hitting 50 elite nights in a year.
Free internet is given to all guests as long as they book direct. Members with Gold Elite or above receive high-speed internet for free.
Marriott has a joint venture with United Airlines whereby Marriott Titanium Elite and Ambassador members receive Silver status in the United programme. United members who are Gold or higher receive Marriott Bonvoy Gold Elite status.  A similar partnership with Emirates was relaunched last year, where you can earn both miles and points on flights and stays as well as receive elite benefits.
Reward nights DO count for status but not for any promotion bonuses.
Marriott Bonvoy offers lifetime status at Silver Elite, Gold Elite and Platinum Elite level. You need to achieve targets for both nights stayed and points earned. Details can be found here.
Does Marriott Bonvoy status match?
Yes. Marriott International is currently running a status match programme if you have top tier status with another major hotel programme.
Full details can be found on this page of the Marriott website.
Once you have submitted proof of your current hotel status to Marriott Bonvoy, and proof of one stay in the previous 12 months, you will receive either Gold Elite or Platinum Elite status for 90 days
If you complete five nights in 90 days, you will receive Gold Elite status until February 2022. If you complete 15 nights in 90 days, you will receive Platinum Elite status until February 2022.
How do you earn Marriott Bonvoy points?
Marriott Bonvoy gives you 10 points per $1 spent, plus any elite status bonus. The only exceptions are Residence Inn, TownPlace Suites and element which offer 5 points per $1 and Marriott Executive Apartments and ExecuStay where you earn 2.5 per $1. The full breakdown per chain is here.
At most brands, you will receive points on all of your in-hotel spending, although there are exceptions.
(With almost 30 brands, it is impossible for Marriott Bonvoy to have 'one size fits all' programme rules. You need to keep an eye on what you are due depending on which brand you are visiting).
Marriott International runs regular bonus point promotions. They are rarely hugely aggressive, but still valuable. Until 18th October, for example, you will 2,500 bonus points per stay with a further 5,000 bonus points on your third stay. I would value the 2,500 points at £12.50, which is an excellent return on a cheap one night stay.
Details of the current promotion can be found on our 'Hotel Promos' page.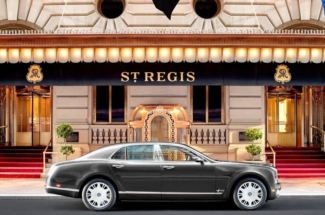 How do you spend Marriott Bonvoy points?
The room redemption chart is here.
Redemption rates on standard nights run from 7,500 points in Category 1 to 85,000 points in Category 8. Peak and off-peak pricing operates on certain dates.
This means that the maximum possible price is 100,000 points per night (Category 8 peak, at hotels such as the iconic St Regis New York which I reviewed here) and the cheapest free night drop to 5,000 points (Category 1 off peak).
All members receive 'five nights for the price of four' when redeeming. The 'free' night is the cheapest – in points terms – of the five nights in your itinerary.
A 5-star 60,000 points redemption would typically require a Silver Elite member to spend $5,500. In reality this figure will be lower due to points earned from promotions.
As part of the current Week of Wonder promotion, Marriott Bonvoy have a strong offer in place – you can redeem free nights for up to 33% less points when you select off-peak dates. There's a useful calendar for each hotel that shows the redemption cost on each day so it's easy to see where the savings can be made. For example, I had a look at the recently reviewed University Arms Hotel, Cambridge and found lots of off-peak availability at 20,000 Bonvoy points a night in October and November. In December, this climbs up to 30,000 points, so if you can be flexible with dates there's some good redemption savings to be made.
Marriott International offers 'instant redemption' for in-hotel benefits. At selected hotels, these lets you redeem points for a cash credit against incidental charges on your room bill. 2,500 points is worth $10 through to 125,000 points being worth $500.
Marriott Bonvoy lets you book reward nights WITHOUT having the points in your account. This is a very valuable feature. It allows you to lock in the rooms you need today whilst giving you plenty of time you earn the points required. You have until 14 days before your arrival date to earn the required points. Following a 2019 change, 'Points Advance' only guarantees your room and not the rate, so you are exposed to any increase in points prices between the day you book and the day you stay.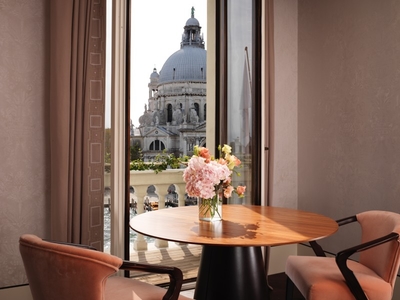 Do Marriott Bonvoy points expire?
According to the programme rules, if you do not earn or spend points during a 24 month period then your points will be removed (see clause 1.6).
I wrote a full article here on different ways to stop your Marriott Bonvoy points from expiring.
Can you upgrade using points?
Yes. Some properties allow you to book upgraded rooms, including suites, for an additional co-pay on top of the standard redemption cost. We have used this feature at JW Marriott Venice to get a junior suite, sleeping four, for the same number of points as a standard room.
I consider this one of the most valuable features of the Marriott Bonvoy programme. If you have children and need a bigger room or suite, or simply want a better room for yourself, you can usually do it with Bonvoy. At The University Arms in Cambridge last month, for example, an extra £50 payment at time of booking got us a substantially larger room directly overlooking the park in front of the hotel.
You can't do anything similar with IHG Rewards Club. Hilton Honors does let you book premium rooms for points, but at a substantially poorer rate than standard room redemptions. Unless your status gets you upgraded, you face spending your hard-earned points in a standard room at those chains.
Are 'cash and points' redemptions available?
Marriott Bonvoy allows you to use a mix of cash and points to redeem stays.
This ranges from $55 + 3,500 points in a category 1 hotel to $440 + 42,500 points in a category 8 property on 'standard' dates. Peak and off-peak dates have different points levels but the cash element is the same.
A full chart is available here.
Can you transfer Marriott Bonvoy points to airline miles?
Marriott Bonvoy points can be transferred to a large number of airlines including BA / Avios. For most airlines, it is a direct 3:1 transfer ratio. For every 60,000 points you transfer you get a 5,000 miles bonus so it is worth transferring in chunk of 60,000 points if you can.
The full list of airline partners is here.
Marriott Bonvoy offers, by far, the most generous 'points to miles' conversion rate in the industry. It is the ONLY hotel loyalty programme where you are getting a fair exchange rate, in my view.
For example …. 60,000 Bonvoy points (which I value at £300) will get you 25,000 Avios, which I value at £250. That's a fair trade in my view if you need the Avios.
With Radisson Rewards, for comparison, you would need 250,000 points (which I value at over £800) to get 25,000 Avios, which I value at £250.
Because the transfer rate is good, the Marriott Bonvoy American Express is a good way of earning airline miles via a UK credit card in airlines which do not have their own card.
Can I earn Avios directly at Marriott International hotels without collecting points?
Yes, you can choose to earn Avios (or miles in any of Marriott Bonvoy's 42 frequent flyer programme partners) instead of points by switching your earning preference in your Marriott Bonvoy member account profile. As with points, the amount will depend on which brand you are staying with, but is usually 2 Avios per $1.
You will not earn any Marriott Bonvoy points in addition to these Avios or miles, but you must still be a member of Marriott Bonvoy.
If you fly Emirates, then it's a no brainer to join Your World Rewards. If you're a Marriott Bonvoy Gold Elite member or above, or an Emirates Skywards Silver Elite member or above, you can earn both Marriott Bonvoy points and Emirates Skywards miles on your flights with Emirates and your stays with Marriott. Plus, for Marriott Bonvoy Platinum Elite members and above, and Emirates Skywards Gold members and above, you will enjoy selected elite benefits in each other's programme.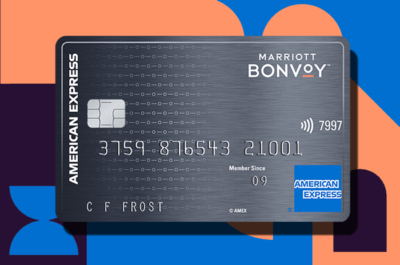 Can I earn Marriott Bonvoy points via UK credit cards?
Yes. There are two options:
The Marriott Bonvoy credit card, issued by American Express, was launched this year. The Marriott Bonvoy Amex gives you 6 points per £1 spent at a Marriott International (in addition to the stay points you will receive for being a member) property and 2 points per £1 elsewhere. You also receive 15 elite night credits per year, which would trigger Silver Elite status, for as long as you hold the card.
It is also possible to earn Gold Elite status via the Marriott Bonvoy American Express card. This requires £15,000 of annual spend, however, and is not an exceptionally generous return. You will receive a free night voucher, valid for a room costing up to 25,000 points, for spending £25,000 in a card year.
You receive a sign-up bonus of 20,000 Marriott Bonvoy points with the Marriott Bonvoy American Express card.
The second option is also with American Express, using credit cards that earn you American Express Membership Rewards points on your everyday spend.
You can convert Membership Rewards points to Marriott Bonvoy points in increments of 400 at a ratio of 2:3 so for 4,000 Membership Rewards points you will receive 6,000 Marriott Bonvoy points. Plus, as covered earlier, if you have the Platinum Card from American Express, you and your main supplementary cardholder will both receive Marriott Bonvoy Gold Elite status for free.
Purchasing and transferring points
You can buy Marriott Bonvoy points for $12.50 per 1,000 via this link.
There are regular 'buy points' bonuses. Until 22nd October, you will receive a 50% bonus when you buy points.
You can transfer your Marriott points to anyone up to a cap of 100,000 points per year. This is free to all members. Transfers must be done by telephone.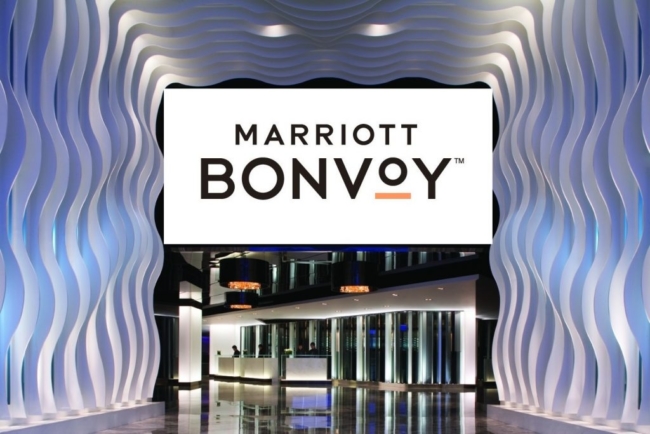 Get a free night for signing up!
If you are not already a member of Marriott Bonvoy, there is currently a special offer available.
Sign up via this link and you will receive a voucher for a free night – at any hotel costing up to 25,000 points – when you complete two cash stays by the end of February.
Conclusion
When Marriott International bought Starwood, many people doubted that an even bigger hotel group would actually improve their loyalty offering.
In fact, Starwood taught Marriott about the benefits of running a strong loyalty programme, and the new Marriott Bonvoy programme offers better benefits and a much improved range of luxury redemption offers.
I hope this article has given you a good introduction to Marriott Bonvoy. If you've never focussed on the programme before, I hope the offer of a free night for two stays will encourage you to try it.
Over the next eight days of the 'Week of Wonders' we'll explain more about the programme and what it offers, and give you the chance to win some great prizes.