Bits: Heathrow scraps free travel zone, JetBlue heading to Gatwick and Stansted, Lufthansa launches Buy on Board
Links on Head for Points may pay us an affiliate commission. A list of partners is here.
News in brief:
Heathrow scrapping free travel zone
Heathrow has decided to scrap a number of free travel options in and around the airport. These trips are subsidised by the airport and it is seeking to reduce its operating costs.
Under HFTZ, the Heathrow Free Travel Zone, buses between terminals and around the perimeter road are free (see the map below).
This is particularly useful when staying at one of the airport hotels, most of which are located on the fringes of the airport and not in walking distance of the terminals.
It now looks like this will be coming to an end. In an email, Heathrow 'Surface Access Director' Tony Caccavone said that free travel would be suspended "temporarily":
"We are temporarily suspending the Heathrow Free Travel Zone and ending some of the subsidies [for airport staff], starting from 1st January 2021. We are hoping some of these changes will be short-lived and are working with transport operators to see if they can continue to offer discounts without our support."
Implementation appears to be in phases, with some buses beginning to charge in January. The remainder of the routes will start charging later in 2021. By the end of 2021, it sounds like the Heathrow Free Travel Zone will cease to exist.
The announcement also includes a number of changes for those who work at Heathrow, who will see some of their subsidised travel withdrawn. This will inflame tempers further in advance of the proposed staff strikes in December.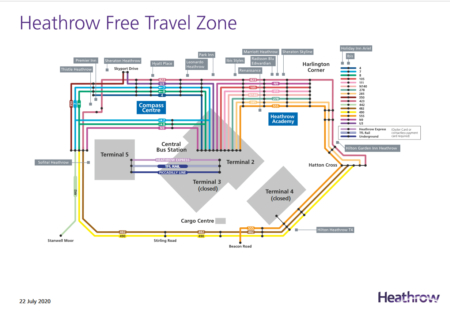 JetBlue to launch with Gatwick and Stansted flights
US low-cost but semi-premium carrier JetBlue has been tight-lipped about its plans to launch a transatlantic service to London next year, but the cat is finally out of the bag!
According to slot allocations as spotted by Paxex.aero, the airline has been awarded two slot pairs at both Gatwick and Stansted.
The slot filing suggests that JetBlue will launch double daily flights between Stansted and Boston, whilst Gatwick will see a once-daily flight to New York JFK. It's not clear what JetBlue intends to do with its other Gatwick slot pair.
It sounds like JetBlue is still hoping that it will be able to acquire some Heathrow slots before the flights launch in Q3 2021. With many airlines flying reduced schedules it may be easier than ever for JetBlue to do so. The question is whether it is worth doing this if there was little hope of getting permanent slots at the airport.
These will be JetBlue's first European flights and will operate with a brand new Airbus A321LR. These are single aisle aircraft modified for Longer Range operations (hence the LR) and are capable of flying between Western Europe and the Eastern US. It is the same aircraft that Aer Lingus has bought and will use for its forthcoming Manchester-US flights.
Here is JetBlue's first A321LR in the paintshop:
Whilst JetBlue is technically a low cost carrier, it is known for its 'Mint' transcontinental business class cabin offering lie-flat business class seats on flights between the East and West US coasts. Whilst we've never tried it, Mint has quite a cult following.
As part of its international launch, JetBlue is promising to "reimagine" Mint for transatlantic services, offering "premium service at a fraction of fares offered today".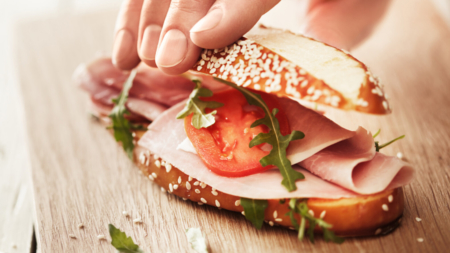 Lufthansa Group launches Buy on Board…
Lufthansa is ditching its short haul catering in economy and launching Buy on Board, just as British Airways did in 2016. The changes will also apply to SWISS and Austrian and will take effect in Spring 2021.
Historically, Lufthansa has provided free refreshments, snacks or a sandwich on board, depending on the length of flight. This has been replaced by a bottle of water and some hand sanitiser in response to the pandemic. Now we know that the previous 'full' service will not return.
We don't yet know what the buy on board offering will be. In the press release, Lufthansa said the new menu will offer fresh, high quality and regional items.
The Austrian Airlines press release gives a little more away:
"In addition to breakfast options such as a Viennese breakfast, classic, fresh dishes such chicken schnitzel, Kaiserschmarren (sweet cut-up pancakes with raisins) and apple strudel will also be available on the menu. Cold snacks, chips and chocolate and a large selection of soft drinks, coffee, tea and selected alcoholic drinks will round off the new offering."
Most importantly, it looks like every passenger will get some chocolate "as a gift"!
In general, 'free' food on short haul economy flights has deteriorated in recent years and often results in a dull, limp snack or sandwich that probably costs 20p wholesale.
Whilst BA's decision to move to buy on board undoubtedly cut costs, it also gave us more choice of food rather than having to lump it with whatever cheap snack British Airways thought appropriate.
Where BA went wrong was in the contract they signed. We understand that the catering company, Tourvest, was initially made responsible for the cost of unsold fresh food. This meant that a bare minimum of fresh food was loaded – regular travellers will know that there was often just a couple of sandwiches for 100+ passengers – with most people forced to buy heavily processed long-life snacks.