REMINDER: Excellent Lufthansa and SWISS First and Business Class deals from the UK
Links on Head for Points may pay us an affiliate commission. A list of partners is here.
Two weeks ago I wrote about the excellent First and Business class flight deals from Lufthansa and SWISS. These depart from UK airports.
At the time, the possibility for long-haul travel this Summer looked bleak. In the last two weeks, the odds are looking a lot better, especially into the Autumn. I am re-running the article today for the benefit of everyone who didn't have the confidence to book two weeks ago.
The key positives are:
the flights start in the UK – you can travel from multiple UK airports including Edinburgh, Birmingham, Glasgow and Manchester (assuming you are flying when Lufthansa or SWISS has resumed services). There is none of the extra risk involved in booking a trip starting outside the UK.
these deals are good for travel into February 2022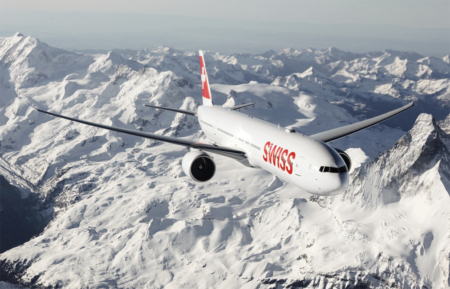 Lufthansa and SWISS have some excellent 2-4-1 deals
Lufthansa and SWISS are running some excellent deals to the Middle East, Asia, Africa and South America.
You need to book for 2+ people. You can book for an odd number (3 or 5) but not for a solo traveller.
The booking window is:
travel by 7th February 2022
You must book via this special page of the Lufthansa website.
What are the deals?
Here are some price examples. Examples are per person, based on two people travelling, on either SWISS or Lufthansa.
Dubai – £900 return in Business, £1400 return in First
Amman / Cairo – £500 return in Business (may not be lie flat)
Cape Town – £1200 return in Business, £1800 return in First
Muscat – £1000 return in Business
Singapore – £1200 return in Business, £1800 return in First
How is the seating?
The key thing to remember is that Lufthansa and SWISS have two of the most civilised First Class experiences in the world.
They don't have the greatest seats, frankly, but the ground operation, the level of service and the food and drink is, well, First Class. Here is a typical Lufthansa First Class cabin: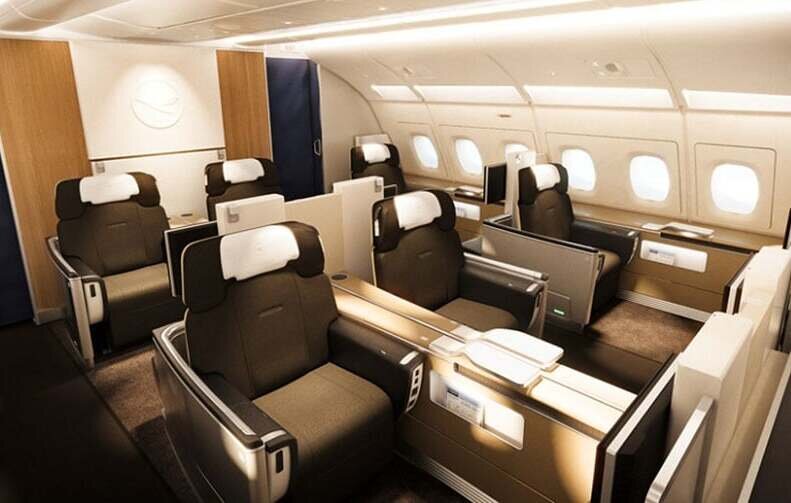 Pre-pandemic, Lufthansa was the one of the 10 biggest global buyers of caviar. Here is a shot from one of my previous flights: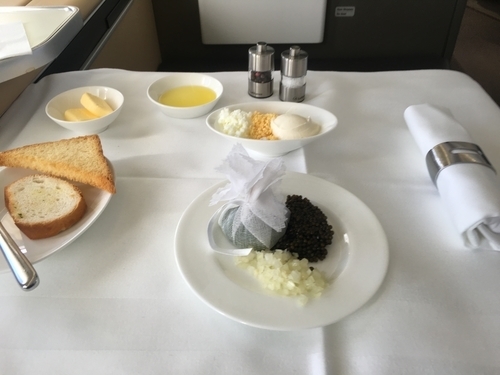 It's worth rembering that SWISS First Class is not available as a mileage redemption unless you have top-tier Miles & More status. If you want to try it, this is a great opportunity. Here is the seat: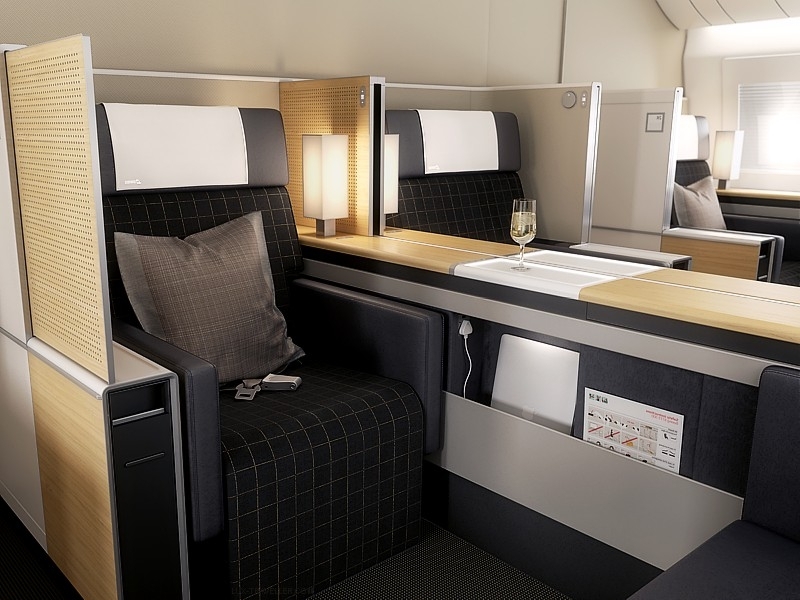 Lufthansa is 100% fully flat in long-haul business class. Not everyone is a fan of the current seat layout, I admit, which means that both of you are sharing a footrest, albeit with a divider. The A350 cabin is pictured below: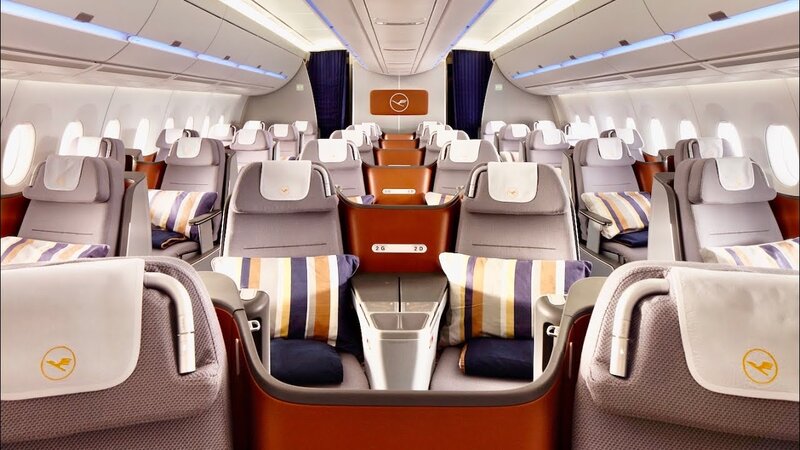 That said …. as these deals require at least two travellers it is highly likely that your neighbour will be travelling with you.
SWISS is better in this regard as the seats are not angled towards your neighbour.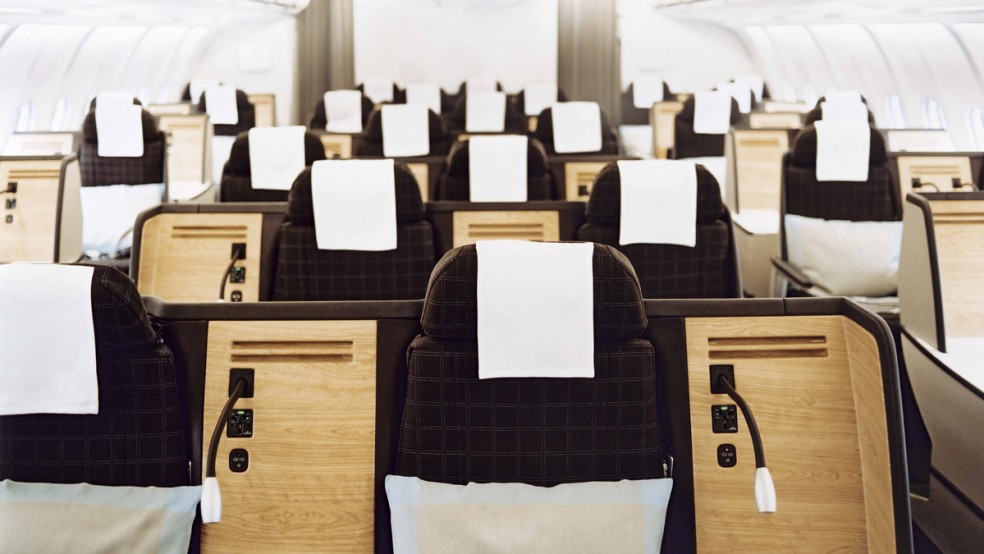 Flight reviews
Here is the review of my Lufthansa First Class flight from 2017. And, of course, the First Class Terminal – yes, a whole terminal – in Frankfurt where you get driven to the steps of your plane is something everyone should try once. You are unlikely to see this unless you arrange an overnight break in Frankfurt, however, and it is currently closed.
I last flew SWISS First Class in 2018, although I didn't review it for the site. It was as impressive as usual, albeit I put it a notch below Lufthansa First Class as the food is not as outstanding. Here is an older review of SWISS First Class I did.
I flew in SWISS Business Class to Dubai in December 2020 with my family and it was equally good, although the seats are showing their age a bit. I didn't review that flight, but here is a 2019 review of SWISS Business Class written by Anika.
How do I earn miles?
The obvious place to credit these flights is Lufthansa's Miles & More scheme.
In theory you can also credit them to any other Star Alliance frequent flyer scheme. However, you should use wheretocredit.com to check the underlying fare class you are sold. Some programmes do not offer much for heavily discounted Lufthansa business class fares in 'P' class, which is what you may get.
One benefit of crediting to Miles & More, if you have a family, is that you get a 25% discount on redemptions for children under 12.
What are the refund rules?
Before you book, it is important to be familiar with Lufthansa's refund rules. These are stricter than those put in place by British Airways and Virgin Atlantic.
You have NO RIGHT to cancel your ticket and request a credit voucher if your flight is operating.
What you can do is change your flight, including changing the destination if you wish. You will need to pay any fare difference. If no heavily discounted tickets are available when you rebook, the fare difference could be steep.
If any leg of your flight is cancelled, you can request a full refund.
You can find out more about Lufthansa's refund policies here.
How to book and pay
You will be charged in £. If you are looking for the best credit card to pay with, American Express Preferred Rewards Gold offers double points on airline spend. This means that you would earn 2 Membership Rewards points per £1 spent. Our review of Amex Gold is here.
You can book on this page of the Lufthansa website. Remember that you need to book for at least two people to see this pricing.