Air Passenger Duty for 12+ hour flights to rise to fund domestic cuts – consultation
Links on Head for Points may pay us an affiliate commission. A list of partners is here.
The Government published a consultation paper yesterday on reforms to Air Passenger Duty. You can download it from this page of gov.uk.
The level of domestic Air Passenger Duty has become a political issue. When Flybe failed, one reason it gave was that the level of APD – £26 on a return domestic economy flight – was wrecking its economics.
It has also became a football in the UK 'levelling up' agenda. With most European countries not having any similar taxes, or not at the same level, it can be cheaper to fly to Munich than Manchester. You would only be paying the £13 economy Air Passenger Duty on the outbound flight rather than on both legs.
Few Governments have ever voluntarily cut stealth taxes, of course. Air Passenger Duty raised £3.6 billion in the 2019/20 tax year, and would have been higher had covid not cut into travel towards the end of the tax year.
As the consultation paper admits, it is also "easy to collect".
What does the consultation paper suggest?
The Government is suggesting that:
domestic Air Passenger Duty be halved
Air Passenger Duty be increased on flights over 5,500 miles
There are two proposals for halving domestic APD
For some odd reason, the Government wants to debate two different ways of halving domestic Air Passenger Duty. One is totally stupid and one is blindingly obvious.
The stupid route is to make the return leg of a domestic flight 'APD free'.
You can instantly see the problem here. If your domestic flight is booked as 2 x one-way flights, the full £26 of Air Passenger Duty will still need to be paid. Only a return booking on a single booking reference would qualify.
As the consultation admits, this would require both flights to be taken with the same carrier. It also screws passengers who only require a single trip or are returning by another mode of transport.
Another problem, not mentioned in the consultation, is that this is likely to reduce competition on domestic routes. Because booking return flights with the same carrier will be cheaper than two single tickets with different carriers, it makes sense for routes to become monopolies.
The sensible route, option two in the consultation, is to halve APD for domestic flights to £6.50 each way.
It is hard to believe that there is even going to be a discussion on which option is better.
The only quirk is that APD in Scotland is to be devolved to the Scottish Government, although this will not happen until agreement is reached on the 'Highlands and Islands Exemption'.
How will APD increase for longer flights?
This is what you currently pay as Air Passenger Duty: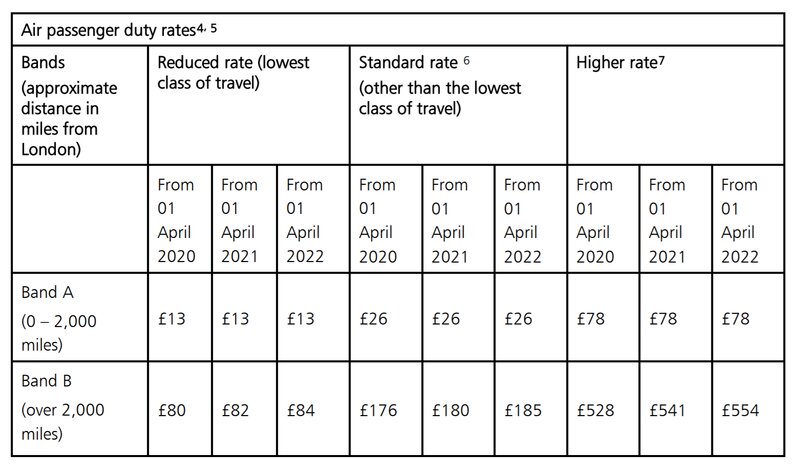 As you can see, the cut-off is at 2,000 miles which is approximately a four hour flight. There is no distinction between, say, Tel Aviv and Tokyo.
There are two proposals for change:
Revert to the pre-2008 structure of bands at 2,000 miles, 4,000 miles and 6,000 miles
Create one additional band at 5,500 miles
The original pre-2008 scheme was scrapped because it created certain disparities. The banding is based on the distance between London and the capital city of the destination country. This meant that the US West Coast was in a low band, because Washington is on the East Coast.
The preferred choice in the consulation is for the 5,500 mile option. This would take in cities such as Tokyo, Cape Town, Mexico City and Bangkok. It would not include the US West Coast, even if the rules were changed to base it on the exact distance rather than the difference between capital cities.
How much would APD be for the 5,500+ mile band?
No indication is given.
How about a frequent flyer levy?
The consultation also suggests launching a frequent flyer lever.
This would require you to submit details of all of your annual flights to the Government. An additional tax bill would be generated based on your annual travel.
The Government is not keen on this option but it is part of the consultation.
What happens next?
The consultation is open until 14th June.
If you wish to make a submission, details are in the paper. You can download the consultation document here.