What happened with IHG Rewards pricing? Some hard facts (Part 2)
Links on Head for Points may pay us an affiliate commission. A list of partners is here.
This is Part 2 of our analysis of the changes to IHG Rewards pricing that took place over Easter. Read Part 1 of our analysis of whether IHG Rewards has devalued first by clicking here.
In order to get a realistic view of pricing, I looked at ALL London hotels for Thursday 22nd July. I compared the points rate vs the IHG Rewards member cash rate for a standard room.
I split the hotels into high-end, mid-market and budget by brand. This is because most members will have a preference for a certain sort of hotel.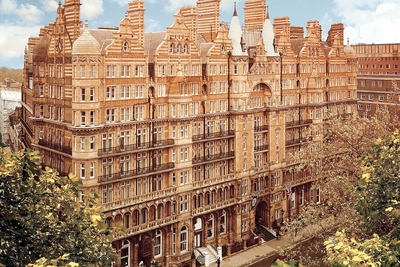 I would generally only redeem for high-end hotels, for example, so I don't care if Holiday Inn Express hotels are now great value. On the other hand, someone only looking for a clean and safe room won't be concerned if the InterContinental hotels are now a bargain.
This is what I found. The numbers represent points for a reward room, the cash price (member rate) for a standard room and the implied value per IHG Rewards point if you redeem.
High end:
Hotel Indigo Leicester Square – 90,000 – £364 – 0.40p
InterContinental Park Lane – 89,000 – £378 – 0.42p
Crowne Plaza The City – 34,000 – £183 – 0.54p
Kimpton Fitzroy (image above) – 99,000 – £203 – 0.21p
Crowne Plaza Kings Cross – 48,000 – £125 – 0.26p
Hotel Indigo Paddington – 50,000 – £130 – 0.26p
Hotel Indigo Tower Hill – 26,000 – £144 – 0.55p
Hotel Indigo Kensington – 55,000 – £142 – 0.26p
InterContinental O2 – 33,000 – £137 – 0.42p
Crowne Plaza London Docklands – 48,000 – £146 – 0.30p
Average for high end sector – 57,200 points – £195.20 cash – 0.34p per point
Unweighted average of best value 33% – 0.49p per point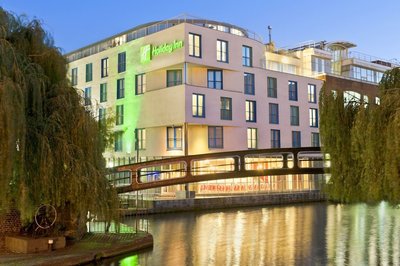 Mid-market:
Holiday Inn Oxford Circus – 50,000 – £122 – 0.23p
Staybridge Suites Vauxhall – 25,000 – £111 – 0.44p
Holiday Inn Bloomsbury – 46,000 – £113 – 0.25p
Holiday Inn Regent's Park – 57,000 – £155 – 0.27p
Holiday Inn Camden Lock (image above) – 44,000 – £117 – 0.27p
Holiday Inn Kensington Forum – 20,000 – £99 – 0.50p
Holiday Inn Kensington High Street – 31,000 – £103 – 0.33p
Holiday Inn Whitechapel – 34,000 – £94 – 0.28p
Staybridge Suites Stratford City – 48,000 – £111 – 0.23p
Holiday Inn Stratford City – 25,000 – £99 – 0.40p
Holiday Inn London West – 34,000 – £83 – 0.24p
Holiday Inn Brent Cross – 14,000 – £91 – 0.65p
Average for mid-market sector – 35,667 points – £108.16 cash – 0.30p per point
Unweighted average of best value 33% – 0.50p per point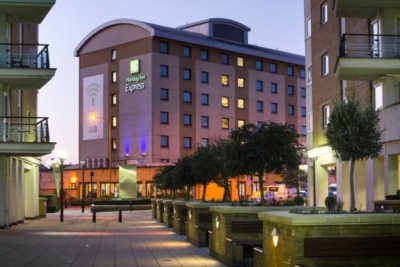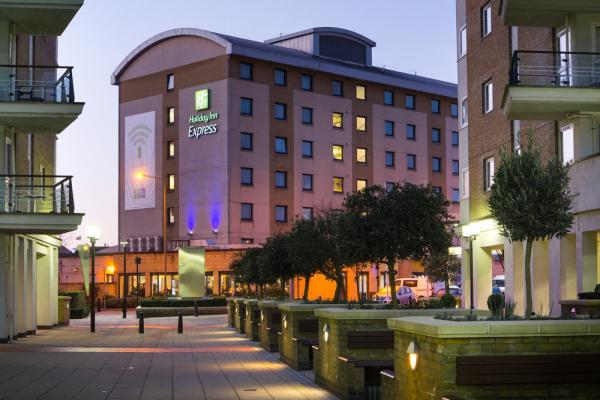 Budget:
Holiday Inn Express Southwark – 46,000 – £124 – 0.27p
Holiday Inn Express Victoria – 30,000 – £154 – 0.51p
Holiday Inn Express Nine Elms – 50,000 – £142 – 0.28p
Holiday Inn Express City – 31,000 – £94 – 0.30p
Holiday Inn Express Earls Court – 20,000 – £93 – 0.47p
Holiday Inn Express Limehouse – 23,000 – £86 – 0.37p
Holiday Inn Express Swiss Cottage – 20,000 – £90 – 0.45p
Holiday Inn Express Wandsworth (image above) – 21,000 – £76 – 0.36p
Holiday Inn Express Hammersmith – 20,000 – £100 – 0.50p
Holiday Inn Express Stratford – 43,000 – £182 – 0.42p
Holiday Inn Express Park Royal – 15,000 – £81 – 0.54p
Holiday Inn Express Royal Docks – 37,000 – £145 – 0.39p
Holiday Inn Express Greenwich – 20,000 – £128 – 0.64p
Holiday Inn Express Wimbledon South – 15,000 – £91 – 0.61p
Holiday Inn Express Golders Green – 23,000 – £63 – 0.27p
Holiday Inn Express Excel – 27,000 – £152 – 0.56p
Average for budget sector – 27,562 points – £112.56 cash – 0.41p per point
Unweighted average of best value 33% – 0.57p per point
Across all London properties:
Average for all of London – 37,921 points – £132.92 cash – 0.35p per point
Unweighted average of best value 33% – 0.52p per point
Should we change our 0.4p IHG Rewards valuation?
I have historically said that IHG Rewards points are worth 0.4p each.
I need to be clear about what this number means. I never meant that you will always get 0.4p. I meant that, in general, 0.4p represents the upper end of what you could expect from a redemption. If I was looking at an IHG Rewards booking and was getting 0.4p, I would probably pull the trigger on using points.
Based on the analysis above, I see no reason to change my valuation.
Yes, the AVERAGE valuation is below 0.4p – but it always was. However, of the 38 hotels listed, 17 get you 0.4p per point or more. This is fine with me.
If we look at the 'best value' third of hotels in each category, I would be getting around 0.5p on 22nd July. Again, I think focusing on the top 33% of hotels in each segment is fair – you can maximise value whilst still having a decent choice of places to stay.
IHG has NOT decimated the value of any particular group of hotels. There is still good value irrespective of the quality of hotel you prefer to book.
Putting the Hotel Indigo Leicester Square at 90,000 is just an unfortunate red flag. It shows why, for PR reasons if nothing else, you need category caps.
It hides bargains such as Hotel Indigo Tower Hill for an excellent 26,000 points, InterContinental O2 for 33,000 points and Crowne Plaza The City for 34,000 points.
The last two are easily amongst the five 'best' IHG properties in London. In fact, a lot of people would say Crowne Plaza The City and InterContinental O2 are THE best IHG hotels in London. Kimpton Fitzroy has issues with its small rooms and InterContinental Park Lane is getting tired.
It's hard to shout 'devaluation' when two of the best hotels in London are under 35,000 points. I doubt many HfP readers would want to stay in Leicester Square anyway, so 90,000 points for the Hotel Indigo is not a cause for concern.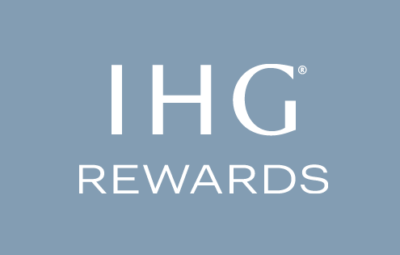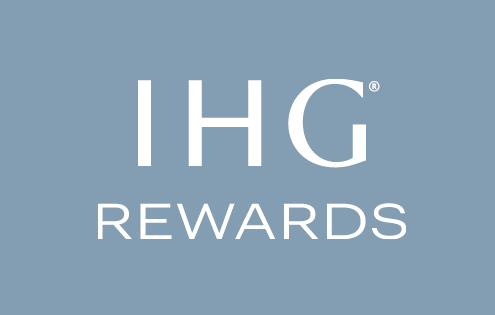 The big question is …. exactly what is IHG Rewards trying to achieve?
This is NOT revenue-based redeeming, by any means. The range above runs from 0.21p to 0.65p per IHG Rewards point.
At the same time, IHG has acted unwisely in doing two things:
removing brand or category caps, which gave members an element of guidance and certainty as to how many points they may need
announcing that points pricing would be updated daily – you can't go to bed knowing with any certainty that the reward you were looking at will still be bookable at the same price in the morning
The ONLY value in the IHG Rewards programme comes from the 'easy to earn, easy to burn' methodology.
You certainly don't stay at IHG for elite recognition, free breakfast, guaranteed upgrades, guaranteed lounge access or guaranteed late check-out, because you don't get it, even as Spire Elite.
You would generally pick up a lot of points from your stay – but this is worthless if members do not have any certainty over what those points will get.
In the real world, there is an element of 'I fancy at weekend at InterContinental Paris which will cost me xx,000 points so I will move my stays for the next two months to IHG'. This link is now broken because there is no longer any certainty that you can get a room for that number of points.
---
IHG One Rewards update – December 2023:
Get bonus points: Our article on IHG's current bonus promotion is here. You will receive 2,000 bonus points for every two cash nights you stay until 31st December. Nights do not need to be consecutive. Click here to register.
New to IHG One Rewards? Read our overview of IHG One Rewards here and our article on points expiry rules here. Our article on 'What are IHG One Rewards points worth?' is here.
Buy points: If you need additional IHG One Rewards points, you can buy them here.
IHG is offering a 100% bonus (some members may be offered less) when you buy points by 30th December 2023. Click here to buy.
Want to earn more hotel points? Click here to see our complete list of promotions from IHG and the other major hotel chains or use the 'Hotel Offers' link in the menu bar at the top of the page.