JetBlue economy is looking good – low fares, free food and unlimited free wi-fi
Links on Head for Points may pay us an affiliate commission. A list of partners is here.
JetBlue will be shaking up the transatlantic market this Summer with flights from London Heathrow to New York JFK and Boston.
It has just revealed its economy "Core" flying experience and it is impressively ambitious.
Whilst we have previously called JetBlue a hybrid low-cost carrier thanks to its Mint business class cabin, this might actually be slightly unfair to the airline. In many ways it will offer a better economy experience than legacy carriers such as British Airways and Virgin Atlantic.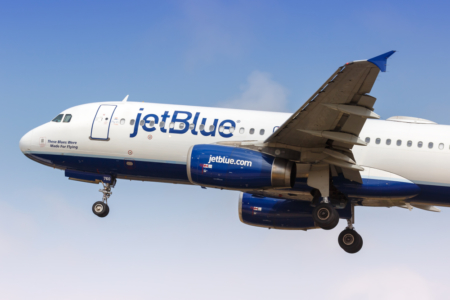 Norwegian taught us that a transatlantic low-cost carrier meant unbundling everything. The only thing included in your ticket was, well, your seat. Additional luggage, food, in-flight entertainment and more had to be paid for on top.
JetBlue is pursuing a completely different strategy. This week it outlined the service concept for its economy cabin, which it calls "Core". In many ways it is a step up from the legacy airlines and bears no relation to the Norwegian model.
What is Core?
Core is JetBlue's economy experience. There will be 114 economy seats on flights between London and the USA, 24 of which will offer extra legroom.
As a reminder, JetBlue will use brand-new Airbus A321LR aircraft – the LR stands for 'Long Range' and allows what would otherwise be a short haul aircraft traverse the Atlantic.
These are single-aisle aircraft as you can see below.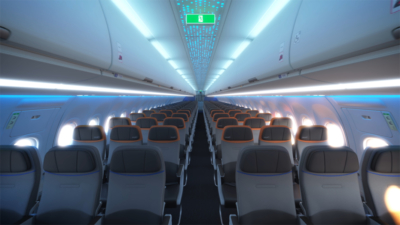 How much legroom will JetBlue have from London?
JetBlue is touting its new Core cabin offering as the most spacious economy seat flying transatlantic routes.
Core will feature 32″ of seat pitch as standard and approximately 35″ for its 24 "Even More Space" extra-legroom seats. For comparison, a British Airways 787 features a 31″ pitch in World Traveller.
Core will be spacious in other regards too. Thanks to the new Airspace cabin interior by Airbus, which improves sidewall sculpting, each Core seat will have a width of 18.4″.
This issubstantially better than British Airways, which offers a seat width of just 17″ on its 787s and 17.5″ on its A350s in World Traveller.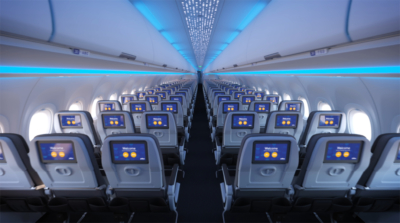 Free in-flight entertainment and wifi ….
JetBlue is making in-flight entertainment free too, which is not always the case with low-cost long-haul airlines.
A 10.1″ full HD seat-back screens will provide "an extensive library of seatback entertainment" including "hundreds of movies" as well as a number of live TV channels focussed on news and sports.
More importantly, JetBlue will also be offering free, unlimited high-speed wifi, even if you are seated in economy.
This is a big deal, given what established airlines charge. A 1 hour wifi package starts at £4.99 with British Airways, with full-flight packages as high as £23.99.
An economy food revolution
Innovation in economy dining has stagnated (arguably declined) in recent decades as legacy airlines try to cut costs to complete with low-cost carriers.
JetBlue will buck that trend as it offers a genuinely new and customisable dining experience for Core passengers – for free. This is new for JetBlue, which has previously charged for economy meals.
Whilst most airlines offer a choice of pasta or chicken with a tin-foil lid, JetBlue will let you choose your main course and sides from the in-flight entertainment screen:
"Customers will have the option to choose one of three main selections including a protein or vegetable that comes with a base, and two out of three hot and chilled side options."
It's a bit like an in-flight salad bar, albeit that the crew will be putting together the meals for you.
Dishes will be served in fully re-usable serving dishes – no tin foil trays or single use plastics here.
Whilst it isn't dine-on-demand, it will allow you to pick and choose from a much greater selection. Typical mains include roasted chicken with brown rice and herbs or spiced aubergine with coconut cauliflower quinoa. Sides include mac and cheese and a mixed heirloom tomato salad.
It looks genuinely inviting: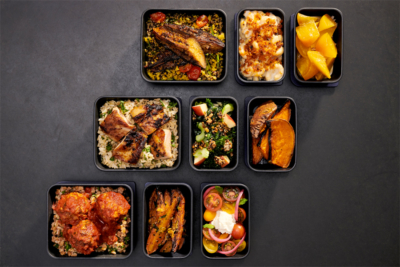 You'll also get two full meals on a transatlantic flight. This is more than most airlines serve in economy on short transatlantic flights, where the second meal tends to be a pizza slice or light snack.
How will JetBlue achieve all this?
In many ways, JetBlue's Core meal offering is closer to business class than it is to its competitors economy food. It looks like a seriously impressive offering both in quantity and quality.
The bigger question is how JetBlue hopes to deliver this. Will JetBlue overstock options in order to allow everyone a choice, or will you be stuck with whatever is left if you're too slow with ordering?
It will also likely increase the work-load of cabin crew, who will have to prepare 114 individual meals based on passenger customisation. It's hard to see how this won't affect delivery times, although JetBlue will believe that it can pull it off.
Conclusion
Whilst we've previously called JetBlue a hybrid low-cost carrier, it may be more accurate to call it a low-cost, full-service airline given the promises it has made for its economy cabin.
Free, unlimited wifi, wider seats and more legroom as well as two customisable full meal services mean it is overtaking its transatlantic competitors when it comes to customer experience. If the price and schedule is right, you'd be crazy not to book JetBlue over other airlines.
(The schedule, of course, could be the sticking point. JetBlue will launch with just one daily flight on each route.)
It will be interesting to see how the incumbents react to JetBlue's launch. A number of airlines, including United, have already announced 'spoiler' flights on JetBlue's new routes in order to try and squash any threat it poses. To compete, they'll have to up their economy experience too.