Review: ExpressTest 'Day 2' arrivals testing at Heathrow Airport Terminal 5
Links on Head for Points may pay us an affiliate commission. A list of partners is here.
This is our review of the ExpressTest 'Day 2' covid testing service at London Heathrow Airport's Terminal 5.
After six fabulous nights in the Balearics it was time to come home …. and that meant more testing.
(If you are planning on travelling to the Mallorca or Ibiza then you may like to read our reviews of the St Regis Mardavall, Sheraton Mallorca, Castillo Hotel Son Vida or the W Ibiza.)
ExpressTest invited us to try out their 'test on arrival' facility at Heathrow Terminal 5. ExpressTest will soon be the exclusive on-site testing provider at all Heathrow terminals so it is worth being familiar with how it works.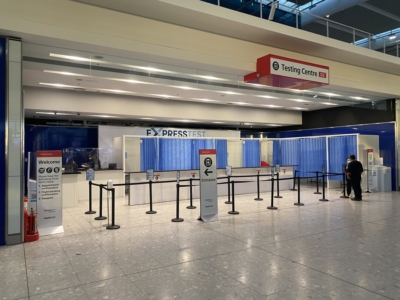 The key thing to remember is that what is commonly called a 'Day 2' test is actually nothing of the sort. You can take the test on Day 0 (your arrival day), Day 1 or Day 2. It is perfectly acceptable to do it within minutes of getting off your aircraft.
Remember that you need to pre-book your test before your arrival in the UK, as you need to use the booking reference when completing your Passenger Locator Form. You will not be allowed entry to the UK otherwise.
Tests can be booked on the ExpressTest website here. They are currently able to process more than 20,000 tests at Heathrow a day, which gives you a sense of the scale of the operation.
When I booked there were slots available pretty much all day. A Green or 'fully vaccinated Amber' arrivals test costs £69, which is competitive for in-person PCR testing.
ExpressTest is currently landside on the Departures floor at Terminal 5. From Arrivals you just take the lift up. It is located behind the check-in desks in Zone G:
There weren't many arrivals into Terminal 5 when I landed so the testing facility was quiet.
It is based on a one-way system. You check in at the desks with your booking confirmation QR code. You then proceed to one of the 10 booths where a staff member will take the swab for you.
The entire staff were lovely throughout – very chatty and friendly. Here I am getting my nostril swabbed ….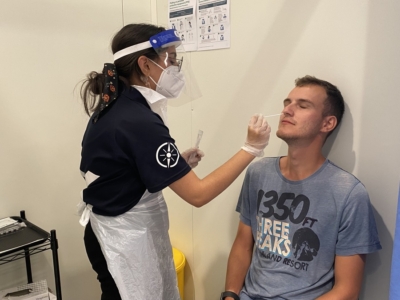 I always find having someone else do it is much better than doing it myself. I'm never sure if I've swabbed deeply enough or long enough, but these people have been trained specifically for this purpose. I also find it much easier not inflicting the awful nose-tickling on myself!
The whole process is over within seconds. The swab is then processed:
…. before being taken to a lab on the Heathrow premises for testing. ExpressTest guarantees the results by 10pm the next day, although this is less important as an arrival. I got my results pretty much on the dot – thankfully I was negative.
If you are departing you can also opt for a fast-track test. I imagine this is mostly used by people who forget or don't realise they need a test to enter their destination country.
Conclusion
I recommend getting your Day 2 test out of the way as soon as you arrive in the UK. Whilst I tried an at-home postal kit when I arrived from Portugal in May, popping into the ExpressTest facility saved the hassle of having to swab myself and post a kit back. I was able to leave the airport and move on.
ExpressTest pricing is competitive with the vast majority of providers. £69 is very reasonable compared to most 'in person' tests, especially given the location. You can find out more on their website here.