How can you maximise the Barclays Avios Rewards upgrade voucher?
Links on Head for Points may pay us an affiliate commission. A list of partners is here.
Earlier this year, Barclays Premier Banking launched a major partnership with Avios to create Barclays Avios Rewards. You can earn 43,000 Avios in your first year!
We are looking at the key features of the account again in a series of article over September and October. You can learn all about Barclays Avios Rewards in this introductory article, which also covers the application criteria for Barclays Premier.
When we first covered this in March, it was being slowly rolled out. Barclays Avios Rewards is now fully up and running and Barclays is now allowing you to open a Barclays Premier account online – click here.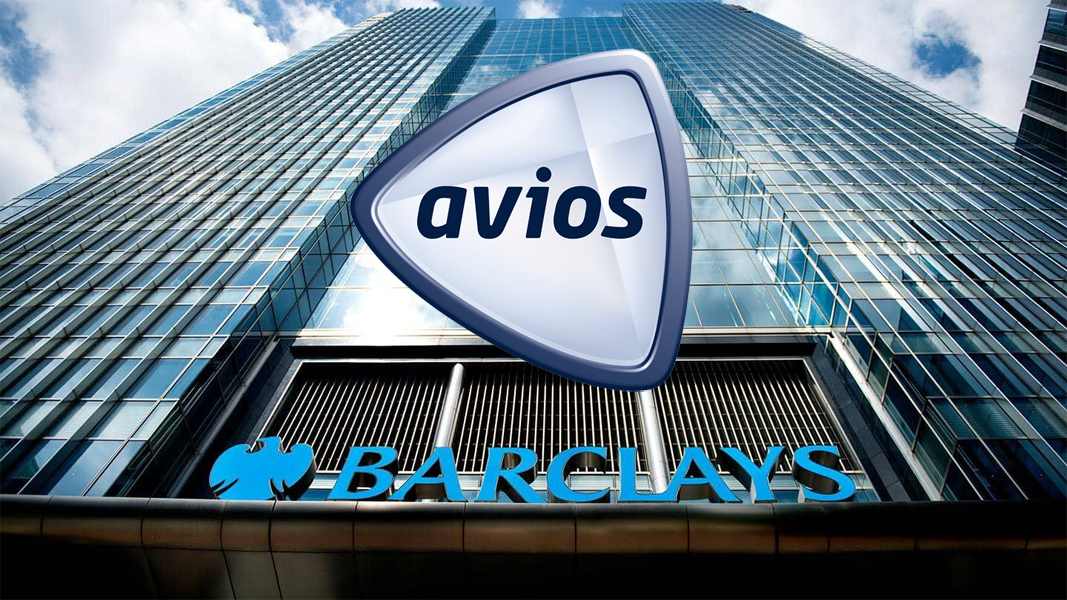 In simple terms:
you receive a sign-up bonus of 25,000 Avios
membership of Barclays Avios Rewards costs £12 per month
you receive a monthly reward of 1,500 Avios
you receive an annual British Airways upgrade voucher, letting you upgrade a return Avios flight for one person or two one-way flights for a couple
We wrote this detailed guide on how the Barclays Avios Rewards upgrade voucher works so I won't cover that ground again today.
Today, I want to look at how to maximise the value of the voucher.
How do you maximise the Barclays Avios Rewards upgrade voucher?
The sensible answer, of course, is 'to go somewhere you really want to go'.
After all, the 'best value' Avios redemptions based on points needed per mile flown include Abuja, Jeddah and Kuwait. It doesn't encourage many HfP readers to holiday there.
That said, I have come up with six points to consider. Before I start, we need to look at the Avios redemption table for British Airways flights: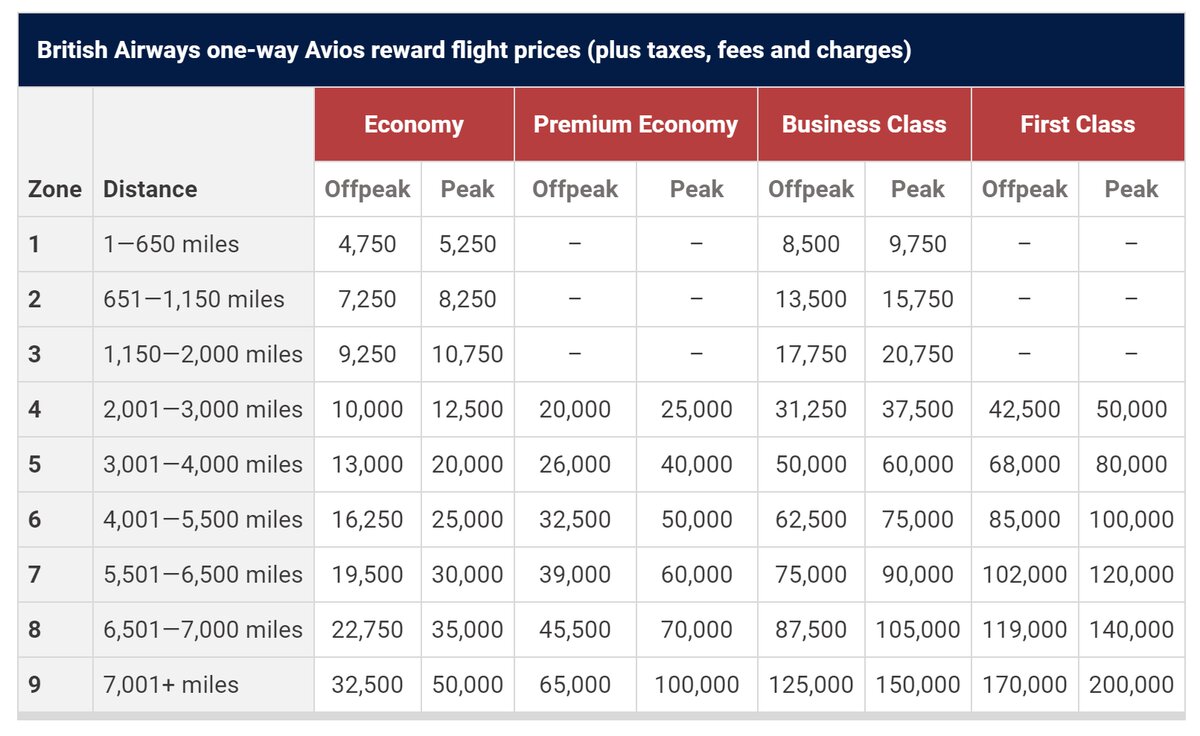 Remember that you cannot use the Barclays Avios Rewards voucher to upgrade from Business to First, so we won't be touching on that.
Your voucher will save you between 7,500 and 120,000 Avios
It's a huge gap, so choose how you use your annual voucher wisely.
The smallest saving of 7,500 Avios is a return Business off-peak short-haul flight to Zone 1. You pay 9,500 Avios instead of 17,000.
The biggest saving of 120,000 Avios is a return Business off-peak flight to Zone 9, where you pay 130,000 Avios instead of 250,000.
In reality, most people will end up somewhere in the middle. Your Barclays Avios Rewards voucher will save you 40,000 Avios on a peak day return Business flight to New York for example.
Even the worst redemption isn't actually that bad
Even if you do end up blowing your voucher on the worst possible redemption – Business Class to Amsterdam, off peak, saving 7,500 Avios – you've still done OK.
At a notional value of 1p per Avios, you've saved £75. It's not a bad return on your annual £144 fee for Barclays Avios Rewards, given that you've also earned 18,000 Avios on top.
You also get a lot for the upgrade if you don't have British Airways Executive Club status – lounge access, fast track security, business class check-in, guaranteed empty middle seat, free drinks including champagne onboard and a free meal.
On a mid-range redemption, you've 'saved' £400
As I said above, a 'typical' redemption (peak Business class return to New York, Dubai etc) saves you 40,000 Avios when you use a Barclays Avios Rewards voucher.
At a notional 1p per Avios, your Barclays Avios Rewards voucher has saved you £400-worth of points.
Remember that, now an Avios can be transferred into 0.8p-worth of Nectar points, a voucher which saves you 40,000 Avios can be treated as saving you £320 of real cash. You can convert the Avios you saved into Nectar points of that value.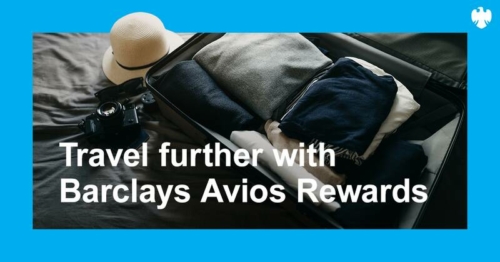 The one you didn't spot – you save MORE Avios when you travel off-peak
Because of the odd way that the Avios redemption chart was drawn up, your Barclays Avios Rewards upgrade vouchers gives you a bigger saving on off-peak dates.
For example, Heathrow to New York in Club World business class, return:
off-peak dates cost 52,000 Avios with the voucher, saving you 48,000 Avios
peak dates cost 80,000 Avios with the voucher, saving you 40,000 Avios
Don't forget that taxes and charges are based on the cabin you fly
If you are using the Barclays Avios Rewards voucher to reduce the Avios cost of the cabin you normally travel in, you will pay the same taxes and charges as you would expect. The voucher gets you an Avios saving but you still pay the taxes and charges of the class you fly in.
If you normally travel in Economy and are using the voucher to treat yourself to Premium Economy, or normally travel in Premium Economy and are using the voucher to fly in Business Class, you will have a higher taxes and charges bill than usual.
There are two reasons for this:
Premium Economy attracts the higher level of Air Passenger Duty (up to £166 return) whilst Economy attracts the lower level
British Airways adds additional surcharges of its own on Avios redemptions which increase by class flown
Upgrading from Premium Economy to Business beats Economy to Premium Economy – despite an identical Avios saving
Ignore all the numbers. At the end of the day, you want the best flying experience possible.
Using the Barclays Avios Rewards voucher 'saves' you the same number of Avios whether you use it to upgrade from Economy to Premium Economy or from Premium Economy to Business.
Upgrading from Economy to Premium Economy is, however, a relatively modest change. Wider seat, bit more leg room, but that's about it. You'll be on the hook for a big jump in Air Passenger Duty and you don't even get lounge access.
Upgrading from Premium Economy to Business IS a huge jump. Lounge access and a fully flat bed (with a door, if you get Club Suite) IS a massive difference.
To maximise the 'value' of your voucher, ignore the Avios saving and focus on the value of the experience. This means, if you can, using your voucher for an upgrade to long-haul Business.
'Maximising' your voucher could also mean, for example, saving the voucher for a flight where you know BA has a decent lounge on the return, or for a short-haul flight which departs at the right time to get breakfast or dinner rather than a snack. It's about more than the absolute number of Avios saved.
Conclusion
Making the most of your Barclays Avios Rewards voucher means looking at both the Avios you need, the Avios you save and the cabin experience you will end up getting.
For a solo traveller, the sweet spot is probably a return upgrade to Business Class on a 10-12 hour flight (eg US West Coast) flying off-peak. 65,000 Avios + taxes and charges for a return flat bed flight to San Francisco can't be beaten.
For a couple who can use a Barclays Avios Rewards voucher to upgrade one leg each when both travel together, the sweet spot is potentially using the voucher for the overnight leg of a flight where one direction is a day flight.
New York is the obvious example here. Off-peak, 52,000 Avios per person plus taxes and charges would get both of you Premium Economy outbound and Business Class inbound. You may find Premium Economy totally fine for the day flight out, but you would get the flat bed for the night flight on the way back.
Whether you save the minimum 7,500 Avios or the maximum 120,000 Avios, the Barclays Avios Rewards upgrade voucher can deliver good value.
The Barclays Avios Rewards website is here if you want to learn more or apply.