App In The Air launches its new Digital Health Passport
Links on Head for Points may pay us an affiliate commission. A list of partners is here.
This article is sponsored by App In The Air
App In The Air, the personal travel assistant app used by more than six million frequent flyers, has expanded its range of post-pandemic travel features with the launch of a digital health passport.
With this new app feature, users will be able to upload their covid test results and vaccine certifications digitally.
What is App In The Air?
App In The Air is an app for frequent travellers, enabling them to combine multiple itineraries and reward programmes in one place.
If you haven't heard of App In The Air and you are a frequent traveller, you might want to check out the app before you plan your next trip.
App In The Air describes itself as an all-in-one personal travel assistant app for frequent fliers. You can find it on the App Store, on Google Play and in the Galaxy Store – if you click here you will be taken to the relevant page for your device. The app is also fully compatible with Apple Watch.
If you join its 6 million users, you can consolidate all of your flight plans, documentation and travel information in one place and benefit from real time status updates when on the go. Over 1,000 airlines globally are supported, along with detailed information on 5,000 airports.
The app covers the three phases of post-booking travel – pre-trip, day of travel and post-trip. It keeps track of all itineraries (past, present and future); boarding passes; and frequent-flier programmes connected to the user's email from across all airlines.
App In The Air can also track your loyalty points balances. Let it know your account details and it will regularly update your balances in most major airline, hotel and car rental programmes.
What other features does App In The Air offer?
There are also a few other features in the app that are handy for any traveller – frequent or otherwise:
Queue busting
App in the Air users can track real-time updates from crowdsourced information on airport security wait times throughout any airport. You can also track your boarding and landing times, receive real-time updates for delays and wait times for check-in.
Augmented reality luggage measurement
Scan your bag with your phone and the app utilises AR technology to make sure all personal, cabin and drop-off luggage bags are within airline size requirements. Never be hit with an oversized baggage fee again!
Airport information
The app shows reviews for each airport and aircraft, some of which will let you know which terminals to avoid, which check-in counters are the quickest, the wifi status and even where to get the best pre-flight beer or where to charge your phone.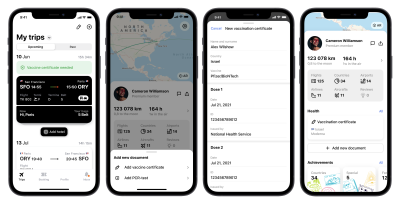 Fly 'Carbon Neutral'
App In The Air helps to combat flygskam (flight shaming) with innovations to help you become a 'Carbon Neutral Traveller'. These include eco filters so you can search flights and hotels by estimated carbon emissions and choose the least polluting options.
The app will also plant a tree for every flight you book, and estimates your personal carbon footprint based on your flight history before helping you to offset your emissions in an easy, affordable and genuinely impactful way.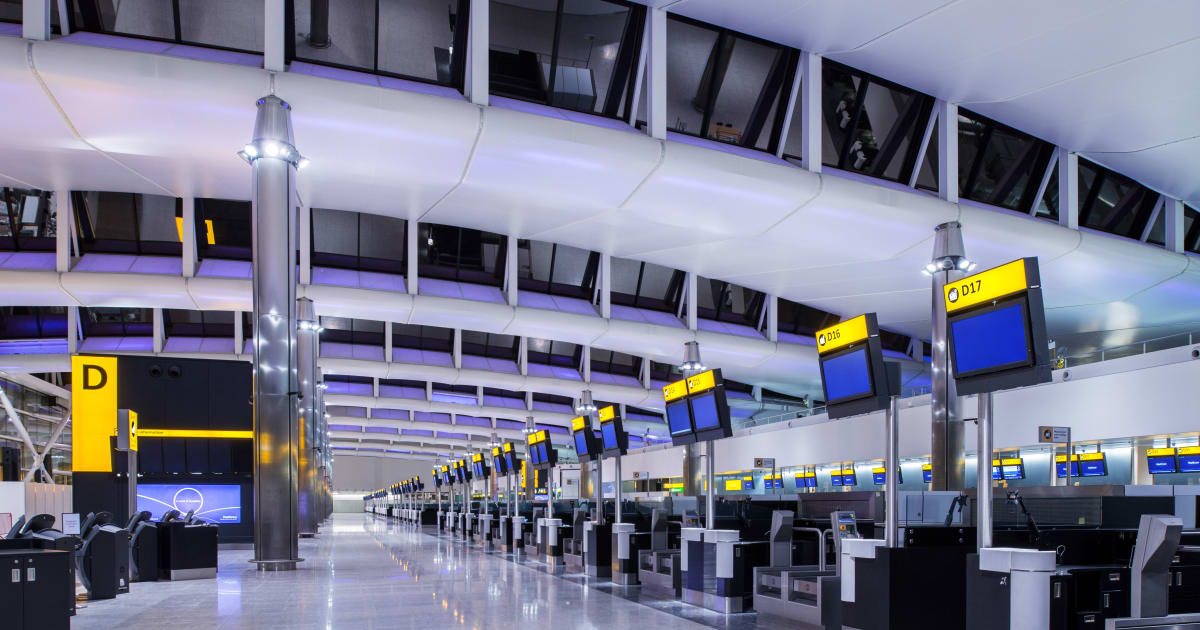 The new App In The Air Digital Health Passport
This new addition to the app will be very helpful in these tricky-to-travel times and features:
The ability to upload and scan PCR tests and vaccine cards digitally ahead of a trip
Real-time alerts notifying travellers if they need to upload a test for their specific destination
Access to a personal QR code, where the digital passport will easily scan for travel requirement approvals in the airport
Assistance finding and booking lab appointments
The app utilises Safe Travel by Affinidi, a technology company that enables authenticated health test results within seconds to deliver travellers a solution that verifies COVID-19 health credentials through the platform. This will offer an in-app verifiable QR technology for a seamless travel experience while preserving privacy. The system is designed to work by directing travellers to partner testing providers whose results can be uploaded directly into the app to be used at check-in
As well as this new feature, App In The Air has pledged to donate a vaccine for every proof of vaccine uploaded to the app.
This will be done via a new partnership with Gavi, the Vaccine Alliance that helps vaccinate almost half the world's children against infectious diseases. App In The Air is also supporting vaccine equity by pledging $25,000 to the COVAX Advanced Market Commitment, helping to ensure the most vulnerable in low-income countries can be protected with vaccines.
This is a philanthropic move by App In The Air, but it has commercial benefits – vaccination opens up travel. According to App In The Air's CEO and Founder Bayram Annakov, the tourism industry should be promoting testing and the equal distribution of vaccines throughout the world.
For more information on App In The Air please use this link or download the app here.