Here's Lufthansa's new premium economy seat, with a fixed-shell design
Links on Head for Points may pay us an affiliate commission. A list of partners is here.
Lufthansa's business class seating might be in disarray but it is making in-roads on updating its premium economy offering.
Lufthansa's first Boeing 747-8 aircraft are coming up on ten years old and will launch the airline's new premium economy seat, originally due on the delayed Boeing 777X.
Lufthansa has selected the same seat as its stablemate SWISS, which announced it was retrofitting the ZIMprivacy fixed-shell as its new premium economy seat last summer. Whilst the seat finishes and branding will be different it does seem as if Lufthansa Group is starting to align its sub-brands more closely.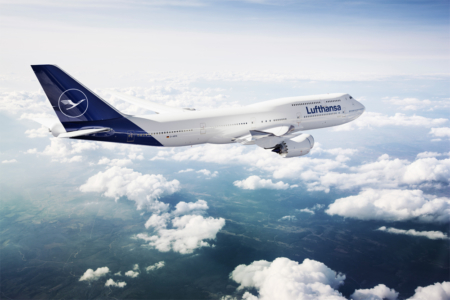 What's special about a fixed-shell seat?
A fixed-shell seat means that the person behind you will not be impacted when you recline. The seat itself is separate from a fixed husk, much like modern business class seats.
Fixed-shell seats are widely seen as more of fusion between traditional premium economy and business class. Last year, there were rumours that Emirates had selected Haeco's fixed-shell seats for its new premium economy cabin, although those rumours turned out to be false and Emirates went down a more conventional path.
Prior to that, Air New Zealand had some truly radical fixed-shell seats that were close to business class than economy. Sadly, it couldn't make the business case work out and eventually ripped them out:
The key benefit of fixed-shell seats is that your personal space is not impacted when the person in front of you reclines.
Lufthansa's new premium economy: the specs
Lufthansa's new premium economy seat will give passengers slightly more privacy than traditional seats, with winged headrests and closed gaps between seats: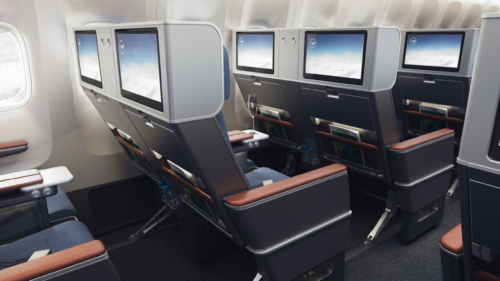 The seats will be rolled out to the 19-strong 747-8 fleet initially, although it will also be fitted to new deliveries of A350 and Boeing 787-9s. It will presumably also be on the Boeing 777X fleet, whenever those start arriving.
The seat also has what Lufthansa is calling an 'extra large IFE screen.' Assuming this is the same as the SWISS seat it measures 15.6″ diagonally – significantly larger than the 12″ on BA's A350s.
Legroom is 39″ – again marginally better than competing premium economy products. The maximum recline is 31 degrees and includes a leg rest.
Here is a picture of the new seat in the colour of SWISS, which is also installing it on selected aircraft: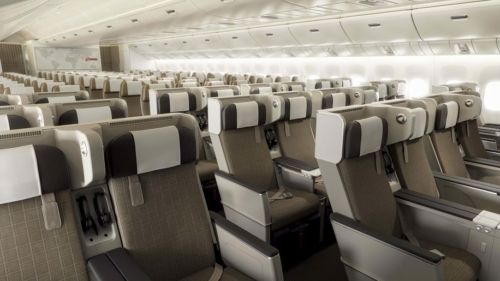 Conclusion
Lufthansa joins a growing group of airlines – including its sister carrier SWISS – choosing to upgrade the premium economy experience with fixed-shell seats.
The seatback IFE screens are a particular draw – the expansive size is not far off what you find in many business class screens. Hopefully Lufthansa also stocks suitably high resolution HD content, which isn't always a given.
It's not clear when the first refurbished 747-8 will be flying but I imagine it will be some time this year.
PS. You may not know much about the Boeing 747-8, since virtually no airlines globally bought it for passenger use, and only Lufthansa in Europe. I wrote about the Boeing 747-8's history here.