Qantas confirms non-stop London to Sydney flights from 2025
Links on Head for Points may pay us an affiliate commission. A list of partners is here.
Qantas has announced its 'Project Sunrise' non-stop flights from Sydney and Melbourne to Europe with a confirmed order for 12 Airbus A350s.
(This article was previously written speculatively but overnight Qantas confirmed the news – fortunately, virtually everything we wrote has been confirmed. The article below has now been updated.)
Qantas has been discussing 'Project Sunrise' since 2017, challenging Airbus and Boeing to propose a solution that would allow such flights. If the pandemic had not intervened then the aircraft would be under construction by now, and in service next year.
Lots of new jets on order for Qantas
Qantas announced the purchase of 12 Airbus A350-1000ULR aircraft today. ULR stands for 'ultra long range'. These will be built with an additional fuel tank which will allow them to fly fully loaded from Sydney to London.
In addition, Qantas has also placed a large order for single aisle aircraft to renew its domestic and short haul fleet. It has ordered 20 A321XLRs and 20 A220 aircraft to gradually replace the 737 and 717s currently in its fleet, with options to purchase up to 94 more over the coming decade. The first of these will arrive in late 2023.
It is interesting that Qantas has chosen the A321XLR version, which offers the largest range of any narrow body aircraft at up to 4,700nm and certainly more than enough for domestic routes. That would be enough for it to fly from Sydney to Hong Kong, Brisbane to Tokyo or Sydney to Bangkok.
It may be that Qantas has opted for a single aircraft that can do both short and longer routes, in order to increase compatibility across its network. The excellent A220 aircraft can then pick up some of the smaller and thinner domestic routes.
Qantas has been trialling direct flights to Australia since 2018 when it launched its non-stop London to Perth service. This uses a standard Boeing 787-9 aircraft and takes 17 hours to cover the 14,498 km distance. London to Sydney or Melbourne is beyond the scope of existing aircraft.
First flights will operate to New York and London, followed by Paris and Frankfurt. Rio de Janeiro and Cape Town could also welcome the jets according to initial plans.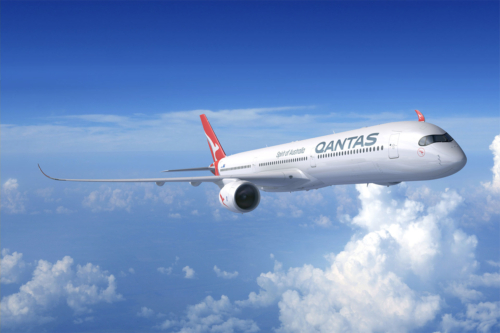 Qantas' new A350-1000ULR
The A350-1000ULR aircraft will have the ability to fly for 21 hours. This is enough for the routes under consideration, even after building in flexibility to deal with bad weather diversions and other potential issues en route.
The aircraft will carry 238 passengers in a four class configuration, including First Class, with internal changes to give passengers more chance to walk around during the flight. Over 40% of capacity (and a much higher percentage of floor space) will be dedicated to premium passengers.
Entirely new seating will be developed, and Qantas has already pulled back the curtain on a very impressive First class suite: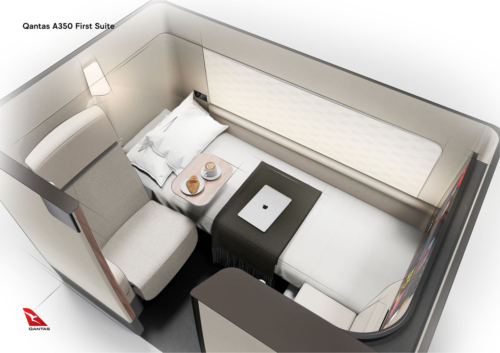 and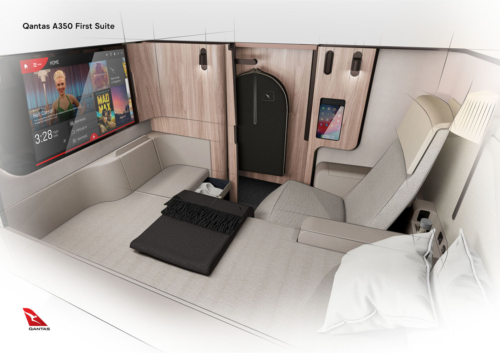 As you can see, each First class seat takes up the wall width – there is no tessellation of other passengers like you would find in most business class cabins. Instead, Qantas has created a suite with a closing door that features both a permanent bed and seat, similar to Singapore's impressive A380 First class. Here is a full video of the new Qantas first class cabin:
Storage appears to be plentiful and the suite features a 32″ in-flight entertainment screen.
The A350-1000ULR solution is believed to be attractive because, whilst the aircraft can handle ultra-long flights, they are equally suitable for shorter intercontinental trips. They will also allow Qantas to bypass international hubs such as Singapore and fly direct – and will eventually replace the hub-to-hub A380 operations.
None of this will come tomorrow, of course. These ultra long-haul flights are due to start in 2025, although whether they start on time is another matter. Fortunately, the A350-1000ULR is just a modified A350 so it is unlikely to be delayed as long as Boeing's new 777X.
How will British Airways respond?
One question worth considering is whether British Airways will drop flights to Australia in 2025. After many years of losses, and after Virgin Atlantic abandoned the route, British Airways had finally started to make money with its flights to Sydney pre-pandemic.
The strategy had been to use smaller, more fuel efficient aircraft, and effectively abandon the backpacker market to Emirates and Qatar. If the business market moves en masse to the direct Qantas flights, irrespective of cost, British Airways may have no choice but to walk away. Running a base in Singapore to handle the Sydney flights adds extra complexity to BA's operations.