How to use your American Express Business Card to travel better in your free time
Links on Head for Points may pay us an affiliate commission. A list of partners is here.
This article is sponsored by American Express
We know first-hand how difficult it can be to run your own business. The last few years have been tough on many SME owners and it came as no surprise to hear that the rate of burn-out amongst business-owners is higher than ever. Holidays and the opportunity to enjoy leisure travel are often elements that many business owners prioritise in order to maintain a healthy work-life balance.
Conveniently, one of the perks of being a SME owner is that by using a rewards business credit card for your business expenditure, you can earn points to use on your personal travel.
The American Express Business Cards are options many business-owning HfP readers have already benefitted from. However, if you are relatively new to Head for Points, this beginners' article will give you an overview of how best you can use the American Express Business Cards to earn points that you can use in your hard-earned leisure time.
Firstly, let's cover a few of the basics ….
The Amex Business cards
There are a number of American Express cards that SME owners can use for business expenditure including the American Express Platinum® Business Card and the American Express Gold® Business Card. Both Cards reward your spending with Membership Rewards® points.
What are Membership Rewards points?
Membership Rewards points are the proprietary American Express reward currency. These can be converted into a large number of things that can benefit a small business, but you are obviously free to use your points from your Business Card however you want, including for your own personal leisure time.
For example, by converting your Membership Rewards points into Avios, you can open up a whole range of flight options, not simply with British Airways, but with other Avios partners such as Qatar Airways.

The American Express Membership Rewards website is here if you want to look for yourself at what is available.
Earning Membership Rewards points
Small business owners can earn 1 Membership Rewards point for virtually every £1 charged to their Card.
Whether you are paying for the sandwich delivery at a lunchtime meeting, or ordering new laptops, you can earn Membership Rewards on any card payments you make.
In addition, both the American Express Business Gold Card and American Express Business Platinum Card come with attractive sign-up bonuses.
The American Express Business Gold Card comes with a sign-up bonus of 20,000 Membership Rewards points. If you converted these points to Avios, this could get you a return flight – in Business Class on some routes – to many European destinations (taxes and charges apply). You need to spend £3,000 in the first three months to trigger the bonus.
Additionally, with American Express Business Gold, you earn an additional 10,000 bonus Membership Rewards points when you spend £20,000 in a calendar quarter. This allows you to earn an additional 40,000 Membership Rewards points per year. Assuming you spend exactly £20,000 per quarter, you will have earned 1.5 Membership Rewards points per £1.
The American Express Business Platinum Card comes with a sign-up bonus of 40,000 Membership Rewards points. If you converted this to Avios, the bonus could get you Business Class return flights to many European destinations, or multiple long-haul destinations in economy. To trigger the bonus you need to spend £6,000 in first three months.
In addition to the sign-up bonus and quarterly bonus mentioned above, Cardmembers can collect points on every purchase their employees make with up to 99 complimentary Additional Cards, and the points can be combined into one Membership Rewards pot to use for team events. Please do note that the main cardmember is liable for the card spending on any of the supplementary cards.

Cardmembers can also earn an additional Membership Rewards point on virtually every full £1 spent on the Card (this is on top of the one they already get – so it's 2 points per £1 spent in total) through American Express Travel.
Do the Amex Business cards come with fees?
Ultimately, yes. However, the American Express Business Gold Card is free for the first year. After that it's £175 per year.
The American Express Business Platinum Card has an annual fee of £595.
Where can I spend Membership Rewards points?
This is where SME owners can really start to treat themselves. Membership Rewards can be transferred into a number of airline loyalty programmes including Avios, Qantas Frequent Flyer and Virgin Atlantic's Flying Club. Alongside these, Membership Rewards can also be used in hotel loyalty programmes, for gift vouchers with brands such as Selfridges and M&S and for use on Amazon.co.uk.
Here are the key links to the American Express website:
the UK Membership Rewards home page is here
the UK airline rewards home page is here and
the UK hotel rewards page is here
Here is a summary of the UK airline rewards and which airline grouping each airline is in.
1 Membership Rewards point gets you:
1 Avios (into BA or Iberia)
1 Asia Mile (oneworld)
1 Delta mile (SkyTeam)
1 Etihad mile (no alliance)
1 Emirates mile (no alliance)
1 Finnair mile (oneworld)
1 Flying Blue mile (SkyTeam)
1 Qantas Point (oneworld)
1 SAS mile (Star Alliance)
0.66 Singapore Airlines miles (Star Alliance)
1 Virgin Point (SkyTeam from January 2023)
Here are the hotel rewards with 1 Membership Rewards point getting you:
3 Radisson Rewards points
2 Hilton Honors points
1.5 Mariott Bonvoy points
You can also convert Membership Rewards points into Club Eurostar at the rate of 15:1.
One SME owner's perspective
We spoke to one HfP reader about how they use their Amex Business card. Paul from London runs a tech start-up and has been reading HfP since he took out his first Amex Business card about three years ago. He tells us:
"I started my brand advocacy tech business Duel 6 years ago and we've grown considerably in that time. When I realised that I could earn points using a business credit card that I could then spend on my own travel, I quickly researched which card was right for me and went for the American Express Business Platinum card. I was immediately attracted by the sign-on bonus, and knew I'd easily spend the amount required to trigger the bonus in the first three months. I use the card for such a range of expenditures including including buying tech, paying for travel to see clients and even team-building events.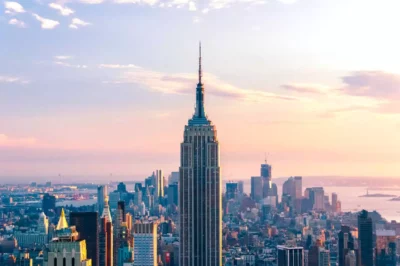 I've now amassed a decent pile of Membership Reward points but I've been careful about spending them. Although that's partly because of the pandemic, it's also because I've had a clear goal in mind! My parents-in-law are now booked next autumn to take our lovely, but noisy toddler for three nights, and my wife and I are using the points I've just converted to Avios to fly in Club World to New York for a child-free weekend. I should still have points left over so we may use these to take a family trip somewhere in Europe, which is particularly helpful now my son is over two so therefore needs his own seat on flights."
If Paul's New York escape has inspired you to consider an American Express Business card you can find the link to the American Express Business Gold Card here and the American Express Business Platinum Card here.
Disclaimer: Head for Points is a journalistic website. Nothing here should be construed as financial advice, and it is your own responsibly to ensure that any product is right for your circumstances. Recommendations are based primarily on the ability to earn miles and points. The site discusses products offered by lenders but is not a lender itself. Robert Burgess, trading as Head for Points, is regulated and authorised by the Financial Conduct Authority to act as an independent credit broker.