Bits: ignore the BA Amex hotels offer, Rosewood and Four Seasons head to Venice
Links on Head for Points may pay us an affiliate commission. A list of partners is here.
News in brief:
Ignore the British Airways American Express hotel promotion
If you have a British Airways American Express card, which is the case for the majority of our UK readers, you may have received an email from Amex last week.
It offered you a special 10% discount off the Avios price of any hotel booked on the British Airways hotel portal. The BA hotel booking page is here.
You need to book by 30th June for travel by 31st December.
This offer isn't worth it, however.
When you book a hotel on the British Airways hotel booking portal and pay with Avios, you get around 0.55p per Avios redeemed. With this offer, you'll get a little over 0.6p.
However, if you turn your Avios into Nectar points and book on the Nectar Hotels website, you'll get 0.8p per Avios. Our article here explains how. This is, clearly, far better.
Even at 0.8p per Avios via Nectar Hotels it is only worth thinking about for independent properties. Big brand hotels will usually have 'member discounts' which are exclusive to their own websites and which make the 0.8p a false valuation. You will also be giving up any hotel loyalty points or status benefits at a branded hotel by booking via Nectar Hotels.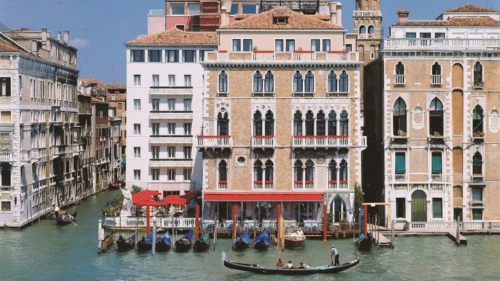 Rosewood and Four Seasons are coming to Venice
We don't normally write about hotel projects which are some years from completion, but as I recently ran a long review of the new The St Regis Venice hotel I thought this was worth mentioning.
There have been numerous stop-start plans in the past 10-15 years to improve the hotel stock in Venice. The Lido, now with a number of 'past their prime' hotels, was meant to be seeing a Four Seasons but the project fell through. For some reason Venice has never succeeded in selling the Lido to tourists – how many people know that you can have a good beach holiday in Venice?
The next move was to develop hotels on abandoned islands in the lagoon. The JW Marriott does OK although it has pivoted towards the family market, which makes sense given the space available for pools and play areas. The St Regis, however, was a spectacular failure – it lasted just one year, if I remember rightly, before the keys were handed to Kempinski.
The big boys have now decided that St Marks Square is where they need to be to attract the wealthy American tourists.
In a surprise announcement last week, the very high end Rosewood Hotels and Resorts announced that it will take over management of the Hotel Bauer. This was, about a decade ago, seen as the best hotel in town although I was always put off by the brutalist modern extension – the front doesn't look anything like the canal-side image above.
The hotel will close in November before reopening in 2025 as the Rosewood Hotel Bauer. Substantial changes are planned, including adding an outdoor pool and turning the modernist part over to retail.
Two weeks ago, Four Seasons confirmed the on-off-on-again rumours about the Hotel Danieli.
This hotel, currently operated by Marriott, will become 'Hotel Danieli, Venezia, A Four Seasons Hotel' in 2025 following major renovations.
The building is located directly on the Grand Canal, adjacent to St Marks. It consists of three buildings: the 14th century Palazzo Dandolo and two 19th century additions linked by bridges – Palazzo Casa Nuova and Palazzo Danieli Excelsior.
The end result could potentially be stunning. Unlike the Bauer, however, the Danieli does not directly hang over the canal – there is a wide pedestrian area in front of it – and there is a busy boat stop outside.
Marriott will retain management of the St Regis and the Gritti Palace, as well as the JW Marriott resort in the lagoon. I wouldn't be surprised to see the Gritti Palace announce a new refurbishment of its own, as it will start to struggle once the Hotel Bauer and Hotel Danieli reopen.