easyJet stops invitations to its semi-secret 'Flight Club' – and what happened to its loyalty scheme?
Links on Head for Points may pay us an affiliate commission. A list of partners is here.
easyJet has a semi-secret loyalty programme called 'Flight Club'.
I say 'semi-secret' because, whilst most easyJet travellers won't know that it exists, and it is not openly advertised, it is discussed on the airline website.
In theory, membership of Flight Club is 'invitation only'. However, easyJet has published the criteria for receiving an invitation:
Booked and flown on 20 flights or more in the past 12 months, or
Booked and flown on 10 flights or more, and spent £1,500 or other currency equivalent in the past 12 months, or
Booked and flown on an average 10 flights or more for 10 years, with at least one flight every year
What does easyJet Flight Club get you?
You won't be getting into any airport lounges with your Flight Club membership, or taking any free flights.
However, the benefits are genuinely useful, even if the savings will be going to your employer, assuming you travel on business, rather than yourself.
(If Flight Club has a weakness, this is it. At their heart, frequent flyer and hotel loyalty schemes are seen by travellers as given them an under-the-counter kickback for all the missed weekends, birthdays and anniversaries they endure. Flight Club doesn't give you anything unless you pay for your own travel.)
Here are the Flight Club membership benefits, as per the easyJet website:
Fee-free changes – Make unlimited changes to the dates and travel routes of your bookings without paying admin fees. Just pay the difference between the original fare and that of your new flight.
Free name changes – Make up to 5 passenger name changes per year, completely free.
Price Guarantee – If you find an equivalent flight of another airline cheaper within 48 hours of making your booking, we'll refund the difference. We'll also give you a voucher worth 10% of that difference for your next flight. Just let our dedicated Flight Team know within that time.
Our price promise – We promise you'll always get the best fares for your easyJet flights. If, on a rare occasion, you find a flight you have already booked on easyJet.com for less, we'll give you a voucher worth the price difference for your next flight.
Preview of schedule seat releases and sales – We think the people who fly with us most often should be the first to know what we're doing and what's coming up, so we'll give you advanced notification of schedule seat releases and sales to keep you in the know.
You can use your Flight Club benefits when travelling with family and friends, as long as you are all on the same booking.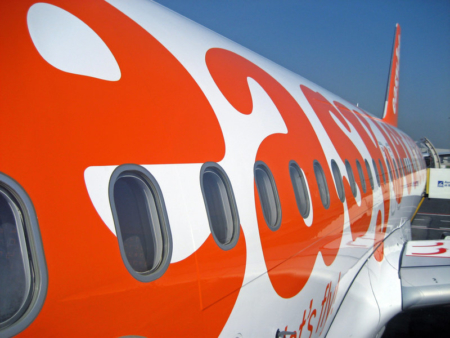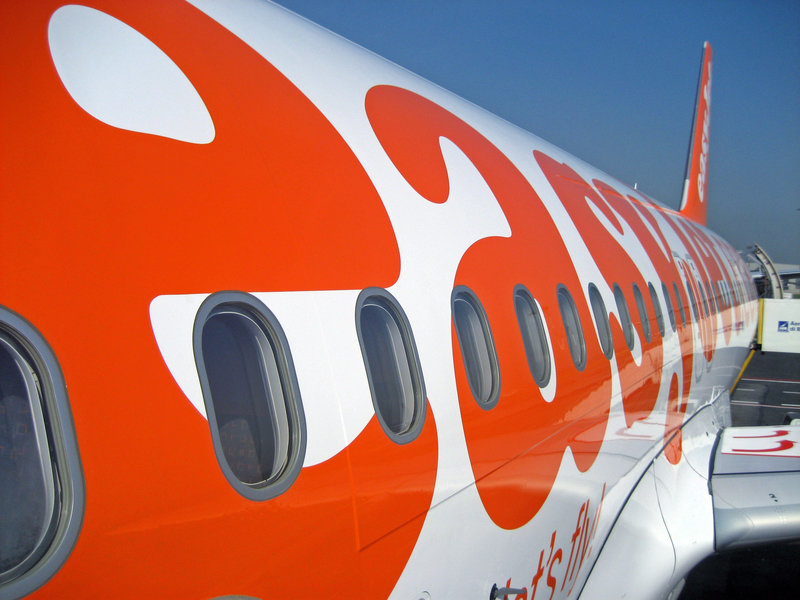 But easyJet is not currently sending out new invitations ….
I have heard from two readers recently who met the Flight Club invitation criteria but hadn't received anything.
After speaking to easyJet, it turns out that no new invitations are being issued. It isn't clear if existing memberships are being renewed.
This could be good news or bad news. easyJet is either gearing up to finally launch a formal loyalty programme or – on the downside – it could have decided to ditch Flight Club alongside its ditched loyalty scheme.
What happened to the promised easyJet loyalty scheme?
Back in 2018, easyJet had serious plans to launch a loyalty scheme. It hired a 'Head of Loyalty' from Etihad, who has since departed for a life outside travel at Avast.
It even put out the following slide in its financial results presentation: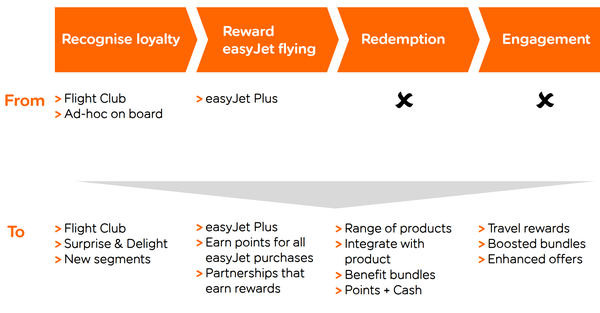 This wasn't a slide put up as a throw-away at a conference. It was announced in a formal presentation to easyJet shareholders to persuade them that the airline remained a good investment. The airline said:
easyJet would introduce a points currency
points would be earned on all purchases
points would also be earned with selected partners including easyJet Holidays
there would be a 'range' of redemption options, which implied that this was NOT a straight cashback programme like Norwegian Reward
'Points & Cash' would be available, presumably allowing people with only a handful of points to still use them by getting a discount on a future easyJet flight
We were told that it would launch in the UK in 2019 with European expansion in 2020.
We were also promised, in 2020, the launch of a Business Rewards loyalty scheme for corporates. This was meant to follow the 2019 launch of Corporate Flight Club for businesses which make a substantial number of easyJet bookings.
None of this happened.
easyJet continues to wobble
It is now almost a year since easyJet rejected a bid from Wizz Air without even putting it to a vote.
The airline forced shareholders to hand over substantial sums during the pandemic to keep it afloat, but it is still seen as caught in a pincer movement – pricier than Ryanair and Wizz Air, and lacking the access to core airports, alliance traffic and status and loyalty benefits to fight off IAG, Lufthansa Group and Air France KLM.
A loyalty strategy was meant to help close the gap with British Airways – not through Flight Club, which does little for the traveller themselves, but via a points based scheme. If the apparent winding up of Flight Club means that a proper loyalty scheme is back on the table, it is good news.