NEW: British Airways Executive Club introduces Avios Subscription – buy for under 0.9p!
Links on Head for Points may pay us an affiliate commission. A list of partners is here.
This article has been sponsored by IAG Loyalty
Avios has launched an interesting new product today, Avios Subscription.
By signing up to Avios Subscription, Executive Club members have the opportunity to get a monthly Avios 'boost' when they opt for a monthly or annual subscription.
The value proposition is very strong – as low as 0.89p when you sign up to an annual commitment. To put this in context, we have never seen Avios sold for as little as this even during promotions.
The landing page for the offer can be found here.
How does Avios Subscription work?
There are four different plans to pick from, giving you a range of Avios earning opportunities.
You can select from a monthly payment or an annual payment. However, even if you select the annual, up-front payment, your Avios boost will still be posted to your account monthly.
The first two plans offer 20,000 Avios per year for £185 per year / £19 per month or you can collect 50,000 Avios per year for £455 per year / £45 per month. This image just shows the annual option: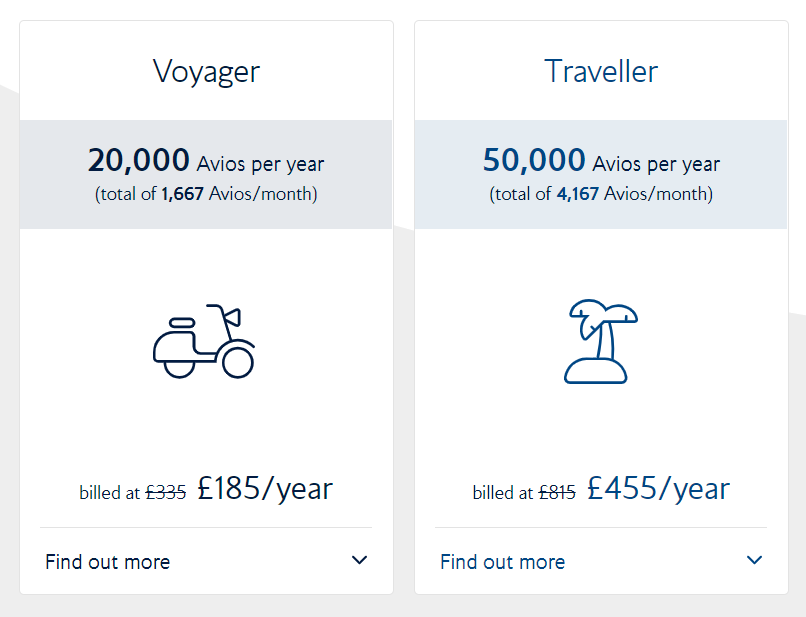 With the next two offering you can collect a chunky 100,000 Avios per year for £899 / £89 per month or 200,000 Avios per year for £1,789 per year / £179 per month. Again, we've just shown the annual pricing below: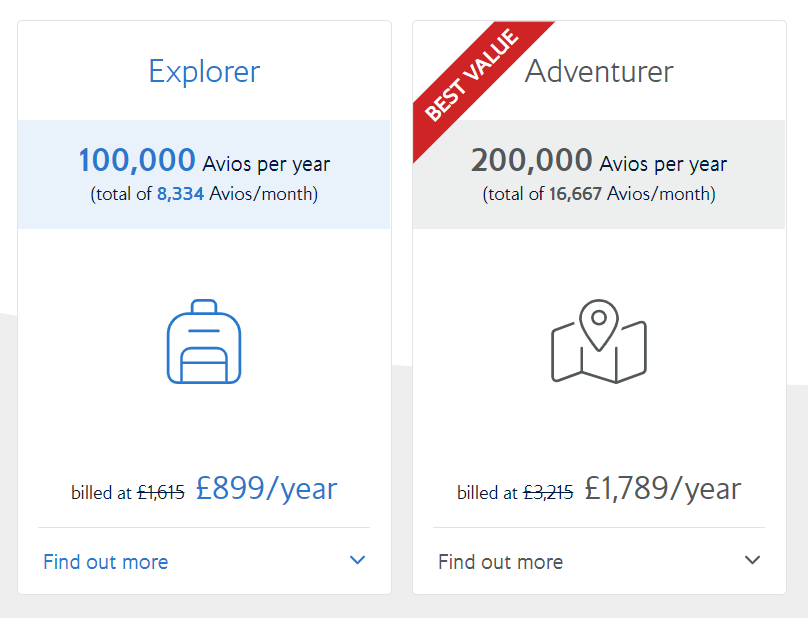 You can buy a maximum of 200,000 Avios with Avios Subscription.
Is the Avios Subscription good value?
In a nutshell, yes, but the real value comes from the annual payment plans rather than the monthly payment plans.
You will get approximately 20% more value for opting for the annual plan rather than the monthly.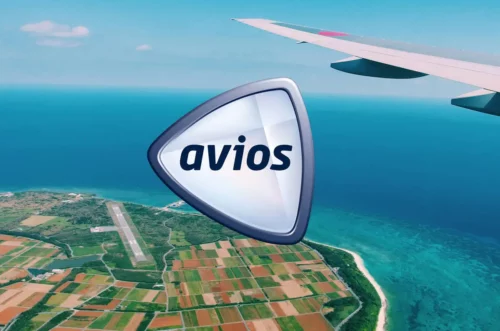 You may remember IAG ran a hugely popular 75% bonus 'Buy Avios' promotion back in 2020, during the pandemic, which meant you could buy Avios at a rate of 0.92p per Avios. We'd never seen an offer this good at the time.
The new Avios Subscription offering is BETTER value than this. It allows you to buy Avios at a rate of rate of 0.92p for the Voyager plan, 0.91p for Traveller, 0.90p for Explorer and 0.89p for Adventurer, based on a yearly commitment.
On top of this, you can pay for the Subscription using a British Airways American Express card, meaning you will earn Avios from the Subscription offering and from your credit card spend.
What is an Avios worth?
Ah, the eternal Head for Points question. For a detailed description of what an Avios is worth, you can read Rob's breakdown here.
As a quick summary, Rob keeps a spreadsheet of all the Avios he has redeemed for the last nine years, and he has got 1.2p of value per Avios based on his valuation of the flights he took. Rob's valuation is arguably low as he bases it on how cheaply he thinks he could have got the same trip if he'd booked in a sale or taken an indirect flight on a different airline, and adds in no value for the flexibility offered by Avios tickets.
If you can buy Avios at a rate of 0.93p or less, you should be getting a good deal.
In the worse case scenario, you know that you can cash out your Avios via Nectar and get 0.8p. You would be taking a small loss but at least you know that your downside risk is modest.
Those pesky terms and conditions
If you commit to an annual payment plan, you commit to the whole year – you cannot cancel your subscription during the year and get a pro-rated refund
If you sign up to the monthly payment plan, you are committed to at least three months.
After a year, the subscription will auto-renew so you will need to proactively cancel the subscription if you don't want to continue.
You can buy a maximum of 200,000 Avios in any one calendar year via Avios Subscription. This is in addition to the 200,000 Avios allowance through 'Buy Avios'.
Full terms and conditions can be found here.
In conclusion ….
The new Avios Subscription is pleasantly straightforward and, to be honest, surprisingly good value if you go for an annual plan.
I can imagine it being particularly popular with people who earn a British Airways Premium Plus American Express companion voucher each year but struggle to earn enough Avios to make full use of it.
You pay monthly or annually for the subscription plan of your choice and in return, every month you get a chunk of Avios added to your balance. Remember that the Avios arrive month by month, even if you pay upfront for an annual plan.
The annual payment plan is effectively 'pay for 10 months, get two free'. If you have the cash available to pay up front, this is a more valuable option. That said, don't feel compelled to push yourself – the 'pence per point' ratio is similar however many you buy.
You can sign up to Avios Subscription or find out more using this link here.