What's it like taking a day flight from New York to the UK?
Links on Head for Points may pay us an affiliate commission. A list of partners is here.
What are the pros and cons of taking a day flight from New York to London?
On the face of it, the idea of taking such a flight shouldn't even be newsworthy. In reality it is a bit of a novelty and, in the weeks leading up to my trip, it attracted strong opinions from the frequent flyers I discussed it with.
I suppose I shouldn't be surprised. After all, I have probably done 20 leisure trips to New York in the last 25 years. I'd guess that I returned directly to the UK on 80% of these flights, and all were 'red eye' overnight services.
There is no practical reason not to operate day flights from New York
And yet …. it is perfectly possible to run day flights on the New York to London route. You don't come up against the evening closure of Heathrow. Leave New York at 9.15am, as I did last Friday, and you arrive in London at 8pm.
An airline could choose to leave 1-2 hours later if it wished before the risk of hitting the curfew in London if there was a delay became an issue. The AA day flight lands in Heathrow at 9.50pm.
Where's the fun in getting under 4 hours sleep?
The reason to fly overnight, of course, is the belief that this is the best use of your time. Sleep time is dead time so if you can use that time to cross the Atlantic, it is ideal.
Except, of course, it isn't. The older you get, the less ideal it seems.
My flight on Friday had an estimated flight time of 6 hours and 8 minutes. You can shave 30 minutes off that with strong tail winds. You can't sleep for the ascent or the descent. Realistically, you would be lucky to get four hours sleep, and in practice even that rarely happens. If you do sleep, it is low quality sleep.
The idea that you arrive in London at 7am or so, bright eyed and bushy tailed and ready to run enthusiastically into work or the arms of your family is nonsense.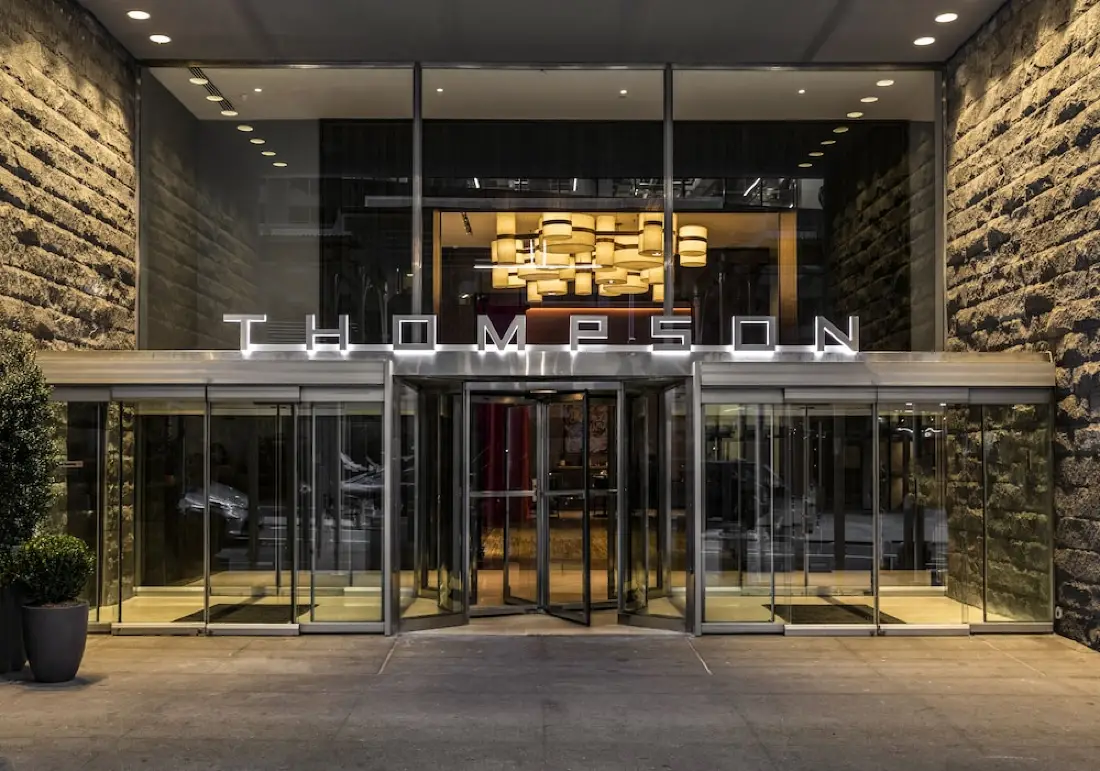 I agree that day flights shorten your holiday
Of course, if you take an overnight flight there is also the advantage that you get to spend more time in New York. I have more sympathy here. After all, given how expensive New York hotels are, leaving at 5am (as I did on Friday) is hardly getting value for money for that final night.
If you are restricted on holiday time, losing a day of your trip to fly back when there is an overnight option doesn't make a lot of sense. The lure of another day in New York is strong.
Except …. some of the overnight flights back are simply too late, in my view. A 10.35pm departure, which is the latest BA/AA option? No thanks, especially if you had to check out of your hotel at noon. If I am taking a red eye from New York, I book one around 7pm and book a hotel where I get a guaranteed 4pm late check-out.
(American Express Fine Hotels & Resorts for Platinum cardholders gives guaranteed 4pm check-outs on all bookings, as does InterContinental Ambassador and Marriott Bonvoy status if you are Platinum and above. I have used all three of these schemes in New York in the past.)
Why did I take a day flight?
In the end, there were four specific reasons why I took the day flight on Friday:
I wanted to be at home on Friday night, so I would be around for my family as soon as we all woke up on Saturday morning
I was in New York on a work event, attending a Hyatt function – they paid for my hotel, so I wasn't concerned about not getting 'full value' for the last night
with two New York trips under my belt already in the last six months, I didn't have a long list of sightseeing or shopping requirements
Hyatt provided me with a car to the airport, so I didn't have to worry about a pricey cab or a dubious (given the early hour) subway ride
How did my New York day flight go?
I enjoyed it.
Getting up at 4.30am to get my car at 5am wasn't fun. Luckily, a media dinner the night before had broken up around 9pm so I wasn't late in bed.
4.30am New York was 8.30am UK time (the time difference last week was four hours) so I was already back on a UK schedule when I woke.
The city that never sleeps was doing a decent impersonation of it at 5am when my car arrived at the Thompson Central Park hotel (hotel image above, nearby street corner below):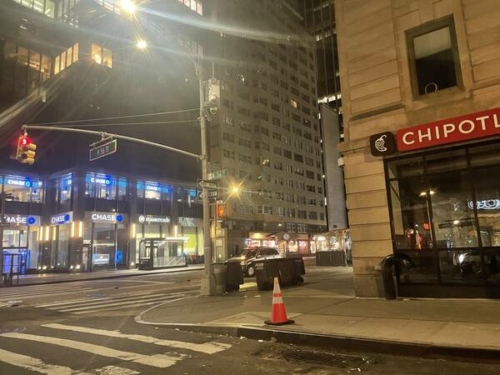 What was shocking was the lack of traffic. I was at Virgin Atlantic's JFK Terminal 4 in 30 minutes. I couldn't quite believe that I would need to wait 3 hours and 50 minutes until my flight departed, even assuming it wasn't delayed.
Security was also a breeze, unsurprisingly. The only issue was after security when, with no signage to the Virgin Atlantic lounge, I headed off towards the Delta one thinking they would be together. Big mistake. It took over 20 minutes to walk to the Delta lounge, learn where the Virgin Atlantic one was and then retrace my steps to get to it …..
Whilst there is only one Virgin Atlantic flight in the morning, the Clubhouse lounge is used by other airlines and there were a couple of other departures around the same time. It was still far quieter than it is during the evening peak though.
Is wi-fi why it works?
Wi-fi is, I think, the real reason why day flights from New York now have a lot more going for them.
A key reason for taking an overnight flight, for business travellers, is so they do not lose any 'productive' time.
With decent quality in-flight wi-fi, however, your flight IS now productive – at least, it is if you pay Virgin Atlantic £20.99.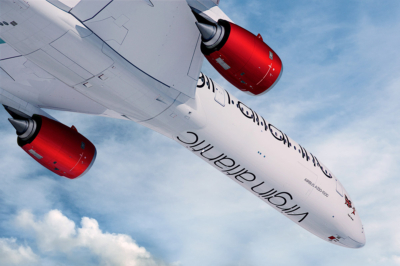 Throw in a couple of hours work in the lounge, plus 3-4 hours on the flight (I typed the first draft of this article in the air) and I made full use of my Friday whilst also being able to sleep in my own bed in the evening.
Virgin Atlantic has been very smart with the food and drink on its day flight.
Two bad options would have been:
serve breakfast (always rubbish on a plane) and nothing else except a light snack, or
skip breakfast and serve a full dinner around four hours in to a very hungry crowd
Instead, it took a better approach. It serves a full breakfast (if you want one, there are also lighter options) AND a full dinner service.
This was a step up from my outbound flight two days earlier, where I had lunch and then only a light snack closer to landing.
I was able to have a 'lighter' breakfast option of a surprisingly good hot bacon roll, pastries and fruit, and then a full three course meal later on. I didn't arrive in London hungry.
Arriving in London
My flight landed in at London Heathrow at 7.50pm.
Despite delays in getting a stand, with no children in tow to force me to use a manned immigration desk, and with no baggage to collect, I was in an Uber by 8.40pm. I was home by 9.15pm.
Having been up since 8.30am UK time, and not having slept on the flight, I had little difficulty in going to sleep at my standard Friday time of around 11pm. I woke around 9am which is as good as it gets for me on a Saturday.
Would I do a day flight from the US again?
Absolutely, yes, on the basis that you can work on the plane to avoid 'losing' a work day and for the benefit of being fully fresh the next morning.
The real crux, however, will come when I am on my next tourist – as opposed to work – visit. Will I be able to handle paying for a hotel room only to leave at 5am, and knowingly 'missing' a day in the city? We'll have to see.
Whilst we didn't talk about cost ….
One aspect which wasn't an issue on my trip was cost, because Hyatt paid for my flight and hotel.
Given the short flight time, some people may be willing to settle for Premium Economy on their return flight if it is during the day, even if they would want a flat bed Business Class seat for an overnight flight.
This could tweak the maths on whether the day flight stacks up financially, because the saving on your flight cost would help make up for the hotel value you 'lose' by checking out at 5am.
Your options for a New York to London day flight
Based on a random day this week, the following airlines are currently running day flights between New York and London. The departure times are one hour earlier than for my trip due to daylight saving changes in the US:
British Airways (Newark to Heathrow) – 07.55, lands 19.35
United Airlines (Newark to Heathrow) – 08.30, lands 20.35
British Airways (JFK to Heathrow) – 08.05, lands 19.50
Virgin Atlantic (JFK to Heathrow) – 08.15, lands 19.50
American Airlines (JFK to Heathrow) – 10.00, lands 21.50