Book review: Mileage Maniac by Steve Belkin, the man who earned 40 million miles
Links on Head for Points may pay us an affiliate commission. A list of partners is here.
This is my review of Mileage Maniac, the story of how Steve Belkin acquired 40 million frequent flyer miles.
Regular readers will remember that I originally ran this review about 18 months ago. However, at the time the book wasn't available via Amazon in the UK and copies were being imported from the US. As a result, virtually no readers were able to buy it.
It does now show as in stock on Amazon UK for next day delivery if you have Prime – you can order Mileage Maniac for £7.49 on Amazon here. I doubt they have many copies, so don't hang around this morning if you want one.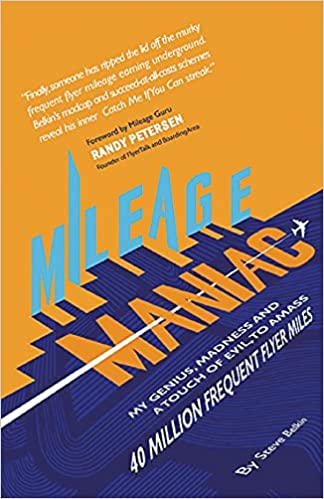 This book is the story of Steve Belkin and the various promotions he has pushed to the limit over the years in his desire to earn frequent flyer miles.
(For clarity, I don't think I have ever met Steve. I do know various other people mentioned in the book, but not Steve. I paid for my copy of Mileage Maniac.)
The book isn't about one particular mileage scheme or loophole. It is the story of many, many mileage promotions that Steve has exploited over the last 15 – 20 years. He has a very particular way of looking at mileage offers – most are dismissed out of hand, but when he decides to go for it, he goes for it hard.
Steve is best known for flying to Thailand and hiring 20 disabled Thai rice farmers and masseuses – on a substantial salary by local standards – to each fly 200 $8 domestic flights on Thai Airways to earn generous top tier benefits (x 20) from Air Canada's Aeroplan programme.
A good promotion would often require Steve to drop everything and fly to the other side of the world immediately – literally within hours – to put it into action before the airline woke up to what it had unleashed.
You may have heard the Thai rice farmers story before, especially the bit where Steve is accused by the US Government of running a group of drug mules. If you have, you haven't heard the full version as outlined here. The full story is more bizarre, and indeed sadder, than the short version often circulated.
The book contains multiple stories like this, including a section dedicated to good old bmi British Midland.
It is hard to explain today how generous the bmi British Midland Star Alliance reward chart was. The airline, having virtually no long haul routes, priced its reward flights at levels which were achievable by short haul flyers. Those who credited long haul premium cabin flights on other Star Alliance airlines – or did huge amounts of credit card spend as I did, earning 2.5 miles per £1 on a Mastercard – were laughing. These were also the days when HMRC accepted personal credit cards with no fees ….
In my case, as my group of oldest friends all hit 40 between 2009 and 2011, I paid for all four of us to fly First Class to Dubai, Cape Town (for a weekend, as you do) and New York over three years. It didn't make a serious dent in my bmi miles stash and I still had 1 million Diamond Club miles when the British Airways acquisition took place.
His best bmi 'earn' was a 26 SEGMENT $2,500 First Class flight from Colombo, one of the cheapest places in the world to start flights at that time, to San Diego. Yes, 26 segments – 13 flights in each direction. The routing was Colombo – Bangkok – Seoul – New York – Washington – Cleveland – Chicago – Kansas City – Denver – Salt Lake – San Francisco – Santa Barbara – Los Angeles – San Diego. And back.
Because of the high minimum mileage earning per segment which bmi awarded, plus the huge First Class and elite status bonuses, Steve earned 252,000 bmi Diamond Club miles from this one trip. As bmi only required 37,500 miles for a return Business Class flight from the US to Europe using 'cash and points', this one trip earned enough miles for SIX transatlantic Business Class redemptions.
The book also covers the development of frequent flyer miles over the years as the airlines finally woke up. Steve's plans are always based on the cost of earning 80,000 miles for a 'no taxes' Business Class reward flight from the US to Europe. Today, with the legacy US airlines abandoning fixed mileage charts, those flights will often cost over 200,000 miles.
At the same time, US credit card sign-up bonuses have got out of control. The British Airways US Visa card, for example, currently has a bonus of 100,000 Avios for a fee of $95. The Aer Lingus and Iberia US credit cards have identical deals. Why hire a small army of Thai rice farmers when you can (as Steve did in later years) sit at home and earn 5 million miles purely by taking out multiple US credit cards for himself, his wife and his children?
The US airlines also woke up to the fact that their most profitable customers are not necessarily those who fly the most. For better or worse, elite status with US airlines now requires a minimum cash spend on top of a minimum number of flights.
You can run your own business and voluntarily choose to put 50 economy short haul flights per year to American Airlines but you may not spend enough for top tier status. An investment banker whose firm pays for fully flexible tickets between New York and London will hit the threshold in two trips. The game moves on, however, and players like Belkin adapt.
As well as covering multiple crazy frequent flyer mileage schemes, Mileage Maniac also gives an interesting insight into Steve's own life and businesses which inevitably intertwine. For many years he ran the award booking service for US blog View From The Wing.
If you are reading Head for Points then you can't fail to get £7.49 of entertainment value from Mileage Maniac.