Why I'm fed up with free hotel minibars
Links on Head for Points may pay us an affiliate commission. A list of partners is here.
'Free' minibars have become a selling point at certain hotel brands. Examples include Hyatt's Andaz and IHG's Hotel Indigo.
Why? Well, apart from reducing the effort required to ensure minibars are fully stocked and accounted for, the real reason is that it is very hard to tell the difference between most upscale hotel brands these days.
An easy way to differentiate your brand is with a benefit such as a free minibar. It's a feature you can roll-out brand-wide very easily and it's easy for the customer to understand.
I'm sick of them, though.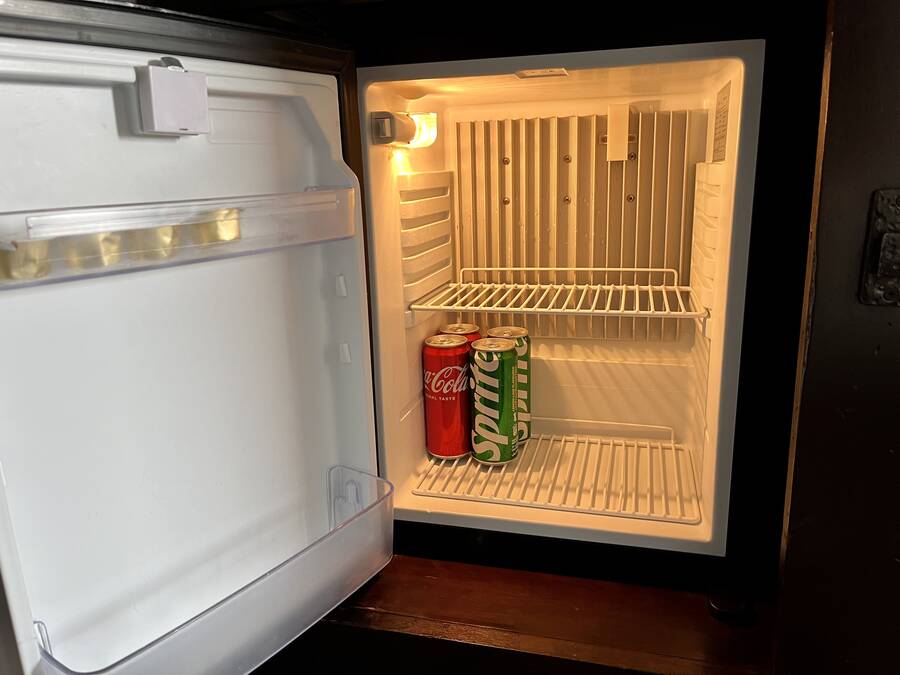 Take a look at the photo above.
I am typing this in a luxury hotel room in Oman which, with taxes and service, will come to over £750 per night.
One of the 'benefits' of this resort is a free minibar.
Let's take a look inside and see what I get for my £750 per night. Hmm ….
two cans of regular full sugar Coke
two cans of regular full sugar Sprite
four capsules of milk for the coffee machine
That's it. Bizarrely, the room comes with a full set of wine glasses even though no wine is available.
It's a joke. It's actually a dis-benefit to me:
I've no interest in full sugar soft drinks
at this particular resort, I am a decent walk away from the main building where all of the F&B options are – to get anything else is a real drag
I am in a room with a lovely balcony and a great view – yet there's nothing I want to drink whilst sat out there
there are no light snacks for me or the children, which would be handy as we are basically eating the huge free breakfast, one additional meal and then snacking our way through the rest of the day
What should a hotel minibar look like?
I think the last time I wrote about minibars was when I reviewed Virgin Hotels Edinburgh earlier this year.
This is what I wrote at the time:
I should mention the minibar, including a Smeg fridge. The hotel has clearly paid someone heavily to 'curate' a minibar experience. To some extent it doesn't even matter what it contained – all you need to know is that the items on display were all achingly cool food and drink brands.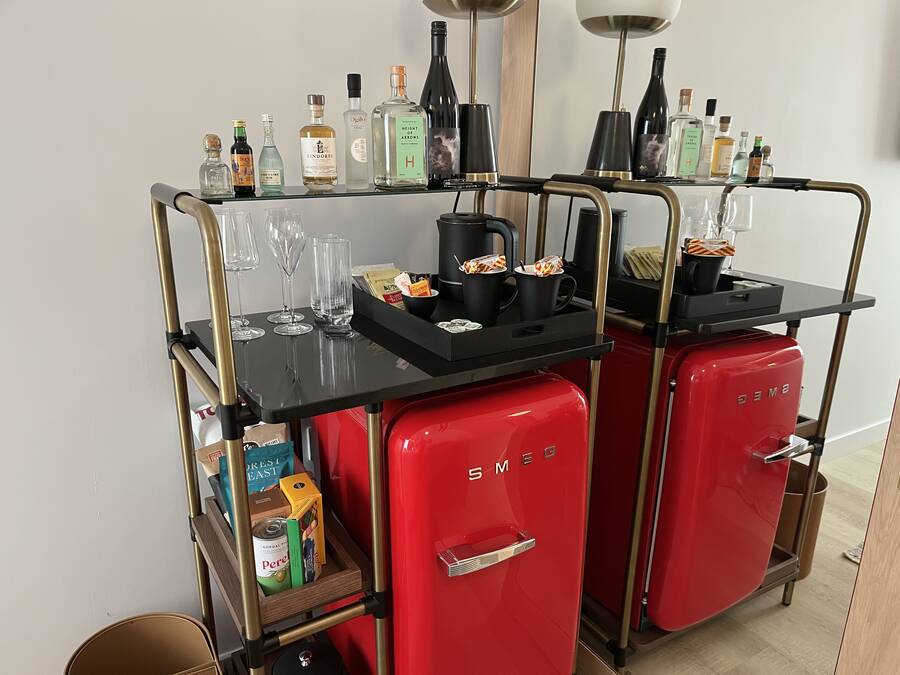 Open the fridge and there was – amongst many other items – a can of Tennents lager (ok, not exactly 'cool') with a bottle of Veuve Cliquot sitting next to a bottle of Irn-Bru.

Even the coffee was cool, coming in posh coffee bags. Only the cartons of UHT milk spoiled the look. Two free Tunnock's Caramel bars were provided to accompany your tea or coffee.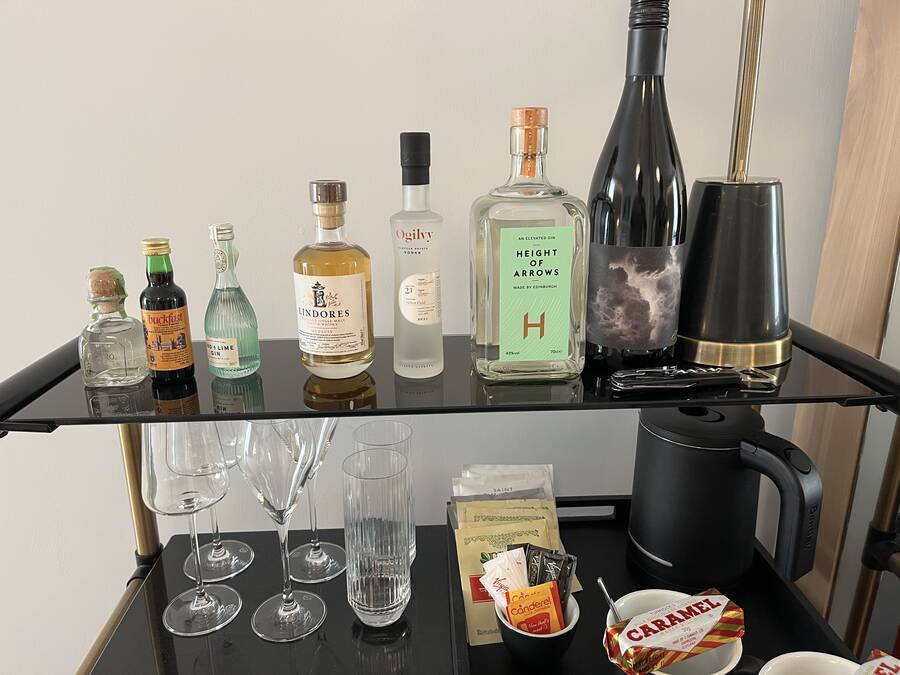 I know this all sounds a bit silly but someone had probably spent weeks putting all these brands together. The fact that I didn't touch any of the paid stuff was immaterial.
If you look at what Virgin Hotels Edinburgh offered, none of it was free – except the Caramel bar – but it sent a real signal about the hotel and its sense of style. For someone who was keen to tuck in, there was a lot to go for.
Compare the images above to the empty fridge at the top of the page. When you're paying £750 per night, you should expect – if the minibar is free – to have a range of options as wide as any paid-for minibar, at least on the soft drinks side. (I accept that as we're in the Middle East I should not expect a fridge full of alcohol, free or not, and neither do I need it.)
It should also be painfully clear that someone paying £750 per night can afford items from a hotel minibar, and may even be prepared to splash out on more upmarket or esoteric options.
Frankly, I've stayed at 3-star hotels with free minibars with a better selection than I have in my current resort. The free minibar isn't a benefit to me – it is actually causing me inconvenience as I need to head over to the main building for anything I need and can't buy basic snacks there at all. I think substantially less of the resort for offering it.
It's sad that this specific hotel, which will get a full review soon, doesn't have the imagination – it's certainly not short of budget – to put something together that would really impress the guests.
If you have any recommendations for hotels with genuinely impressive free minibars, let us know in the comments.
Rant over!
---
Hotel offers update – December 2023:
Want to earn more hotel points? Click here to see our complete list of promotions from the major hotel chains or use the 'Hotel Offers' link in the menu bar at the top of the page.
Want to buy hotel points?
IHG One Rewards is offering a 100% bonus (some members may see less) when you buy points by 30th December. Click here.
Marriott Bonvoy is offering a 30% bonus when you buy points by 20th December. Click here.