By way of background, the night before I signed my life away to Mrs Froggee, we took 17 of our friends to the Edinburgh Tattoo. It should have been 18 but there was a cancellation which I am still totally not bitter about to this day. Even before this memory was created, Mrs Froggee very much enjoyed the Tattoo. Me? Not so much – once you've seen one, you've seen them all. For a few years, we went as part of our ritualistic anniversary celebrations but one of the few benefits of having children is the annual trip to the Tattoo fell by the wayside.

Mrs Froggee is a big believer in giving our boys new experiences. I like things just the way they are. I have considered giving them the new experience of having a fully engaged and loving father but it really is too much like hard work. So in the spirit of compromise and in a moment of weakness I suggested that we revisit the Tattoo avec le offspring. Mrs Froggee jumped at the chance.

Booking tickets was surprisingly easy. I have memories from 20 years ago that it sold out quickly with tickets then going at a premium on Ebay. For some time, my winning strategy involved taking a view on the weather on the day, and getting out of bed early and queuing at the Tattoo ticket office for returned tickets. This had the downside of me getting up early and wasting two or three hours of my Saturday but had the upside that we could be fairly certain we would not get rained on. Mrs Froggee felt this was a sacrifice worth me making.

You might think the chance of it raining in the summer is low but this is Edinburgh. There have been many years where most August nights saw heavy rain. It can also get surprisingly frigid, particularly in late August so if you dress as if you are off to watch a rugby match you will not go far wrong. We were fortunate with the weather being a balmy 18 degrees centigrade at the beginning of our 6:15pm performance, down to 16 by the end. The strong breeze made it feel cooler though. But it was blissfully dry.

Anyway, tickets. I bought tickets for Saturday at 6:15pm. On Saturdays (and the final Friday) there are two shows. Historically these were at 7:30pm and 10:30pm but this has been changed to a child-friendly 6:15pm and 9:30pm. The other days of the week are at 9pm except Sunday when the performers get a well-earned rest. Five of the 26 shows have flyovers and I booked the only Saturday show with one. Much like on planes, seat selection is very important to me. I consider a successful Edinburgh Tattoo as one where I can leave as quickly as possible at the end. For this reason, I plumped for seats low down in Section 11 with direct aisle access to enable a quick getaway. There is an added benefit of being on a corner which results in more space between the seats. This isn't a huge issue now as when they replaced the grandstand in 2012, the seats had 35% of additional space to the prior ones which did indeed feel cramped. One further advantage of being low down is the seats at the back are 15 metres off the ground. I don't trust Scottish engineers enough to sit that high up. They have to slot together 6,799 pieces of steelwork over 40 days to construct the stand and everybody has an off day. I think I'd have an anxiety attack that high up.

Sorry, tickets! The tickets cost an obscene amount of money at £95 each. Children are full price. Plus, there is a per seat booking fee of £6.65 meaning I had to pay an additional £26.60 for the privilege of printing my own tickets. Getting them posted to me would have cost more. Total = £406.60. which is a kick-in-the-balls-with-run-up sort of OUCH. I believe if you go to the Tattoo ticket office there is no booking fee (at least there did not used to be). With hindsight I should have done this. Tickets are slightly cheaper Monday-Thursday although these would be too late for young children so in effect there is a premium on taking your kids. The bargain seats are to be had on preview Thursday as they are half price which means they start at £15 instead of £30. These sell out quickly and are in the same ballpark as obtaining Avios flights to Singapore in business class. The bulk of tickets are now priced at £60 (or £65 at the weekend). This is serious money to see a bunch of men in skirts march up and down a few times.

To give an indication of the Edinburgh Tattoo price index, I bought seats in the same section in 2012 at £46. Therefore, the annualised increase over a decade is 7.5%. There was a single internet booking fee of £4 in 2012 covering all tickets bought in a single purchase. This cost included posting the tickets out. I feel they have gone too far and I suspect this will be the first Tattoo in 20 years that is not sold out. The Tattoo is not a profit seeking enterprise with any surplus passed to charity. But the Chief Executive is well paid. In 2020 he earned £154,000 despite only serving as Chief Executive for part of the year and there being no actual performance in 2020.

Rant over.

With the show starting at 6:15pm, we had to eat super early. I considered going to the Devil's Kitchen (the one what serves pizzas that Rob's kids like) but had no idea how busy it would be so instead we had spaghetti bolognaise at home as this is a meal the boys like and eat quickly. Over the years I have drastically increased the veg:mince ratio and it is now borderline healthy as a result. We had fruit plates for dessert. "Dinner" was on the table at 5pm, the boys commenced eating at 5:02pm and were finished at 5:15pm. Job done. Table chat was limited. Kermit asked what was going to happen at the show and I told him we were going to see men in skirts march up and down. Freddo asked "mummy is that true!?" I got glared at so answered more fully that we would also be seeing women in skirts marching up and down. It is 2022 after all. It took us 15 minutes to get out of the house after a failed search for the pair of socks that Kermit had been seen wearing earlier in the day; an argument with both boys about wearing coats (we lost so I had to carry them); and ensuring both boys had made peepee.

Transport options to Edinburgh Castle were bus, taxi or walk. As it is beneficial to tire the boys out before making them sit still for 1.5 hours we chose to walk. It took 26 minutes to get to (near) the Castle at which point the queue management system made us walk down Johnstone Terrace away from the Castle. This became particularly frustrating when there was no queue but we had to keep walking further away. It did not hinder us by much though as it only took a further 14 minutes before we were in our seats, five minutes before the show started. Pretty nicely timed. Just as we sat down, there was a huge cheer from the crowd. I looked up to see that some poor bald fellow, wearing a pink sweater had dropped one of the beers he was carrying as he walked across the esplanade to his seat.

#loser

I passed KitKat Santas to Freddo and Kermit which cheered them up. I bought a packet of these shortly after Christmas from the pound store to give as special treats. Seven months later there has been such a dearth of special behaviour they were past their best by dates (these two Santas went to Jersey and then returned from Jersey) so I grudgingly let the boys have them. We were just in time for the flyover being a sole RAF C17 transporter. The boys had no interest whatsoever. I kind of see their point as in the past we've had close formation fighter jets. The show started at 6:15pm and Kermit immediately adopted an expression halfway between boredom and contempt, putting his fingers in his ears to emphasise his displeasure at the volume. Freddo went for a sullenly bemused expression which was preferable. There were some large blocks of empty seats meaning either broken down coaches or unsold tickets.

After half an hour, during the spirited performance by Banda Monumental De Mexico, Kermit turned to me and said "I need to pee". Of course you do. Off we went. To be fair, the gents' facilities had running water. I tried to tell myself that this was what was all over the floor but I think we all know it was something else. Kermit peed for Scotland. He rinsed his hands under the taps and asked why there wasn't any soap. "Soap is only for people that bought premium tickets son – £95 just doesn't cut it." He accepted some hand sanitiser and we were done. Mission accomplished. We got back to see Banda Monumental De Mexico still going. Their set was pretty good being an enjoyable amalgam of several different Mexican themes.

Speaking of themes, the theme for 2022's Tattoo was Voices and I'm guessing because of this it seemed as if there was more singing than usual. Quite why anybody thinks we want to witness people in military uniform rapping, I have no idea but we saw and heard it. I wish the theme had been motorbike stunts. My expression started to match Kermit's. Things were saved by the United States Air Force Honor Guard Drill Team. Not so much because they were good, although they were. But because they had big rifles with bayonets attached and that very much piqued Kermit's curiosity. I tried to keep the volume of the conversation as quiet as I could about how when you run out of bullets, you use your rifle like a sword and stab people. At last Kermit was interested. I was delighted when one of the US Air Force's most highly trained riflemen dropped his gun. Hah! Mrs Froggee only entertains watching the Tour de France with me because she likes the crashes (she denies this) and it is such errors which save the Tattoo for me. There was a hushed silence from the crowd and the drill instructor marched up to the poor serviceman, carrying another rifle. For a minute I thought he was going to impale him but he handed over the rifle, picked up the one on the ground and about turned. I couldn't tell but it would not surprise me if it was the poor fellow that dropped his rifle who had to do the walk of death through spinning bayonets later.

Shortly after this Freddo then needed to pee. This is a surprise as Freddo's bladder capacity is legendary throughout the lowlands of Scotland and indeed much of middle England. But Freddo is yet to master the art of peeing standing up so I sent Mrs Froggee with him on the basis that ladies get individual porta-cubicles and I could not possibly imagine they could be as grim as the gents portacabin. On his return I could see that Freddo was freezing having point blank refused to wear his coat so far. I told him if he didn't put it on, we were going home. Immediately I realised my error but surprisingly he responded by putting on his coat, choosing a late night to the alternative. He can't have been that bored. Yay.

There was one other hit being Norway's Top Secret Drum Corps. They combine drumming and flag waving with humour but are impressively serious about it all. They also let off a modest explosion which is always a winner. An interesting fact is that Norway has compulsory military service and conscript approximately 8,000 each year. After 12 months training, the best of these are sent to the Edinburgh Tattoo to perform. I don't know if they have time to learn how to fight also. Weirdly Kermit had a fascination with the Norwegian flag or as he called it, "symbol". I say weirdly as when I asked him to pick out the Scotland flag from the dozens flying up high, he incorrectly identified the Australian flag so flags clearly aren't his thing.

Having survived the stiff breeze and too much singing we were done. The lone piper started to play from high up on the walls of the Castle. Freddo immediately asked if he fell in the water would he die. Mrs Froggee told him there was no water. "If he fell on the ground, would he die?". Yes Freddo, he would. Apparently this answer was satisfactory. Freddo liked the fireworks at the end. Particularly the bit of detritus from them that just missed him and landed at his feet. Kermit's favourite bit was the Norwegians which was a surprise win for Norway over USA in my view.

As usual the entire cast was rounded up at the end and as they dispersed, I was ready to effect my plan of a quick escape. Leaving is my favourite bit. As we stood up and started to march, Kermit asked the inevitable "can I go to the toilet?". NO YOU CANNOT. I WILL NOT HAVE ALL MY EXIT PLANNING BE IN VAIN. It took 24 minutes to get from our seats back home. Kermit clearly just needed a little motivation. Despite supposedly needing to pee, Kermit questioned me relentlessly about different types of weapons and their mechanisms and impact. I was dreading cluster munitions but thankfully he does not yet know of these. Freddo was knackered but managed to have a quick shower and story from Mrs Froggee before hitting the hay.

Mrs Froggee was also tired and decided to retire early. She hugged me, looked a bit sad, and said "it wasn't as good as I remember". I prefer it when she says this to me and we are not in bed. But it is true. It felt lacking. The only obvious difference I can think of is that since 1992 the Tattoo has been scripted and narrated by Alasdair Hutton. He is marvellously gifted, has a wonderful voice and adds greatly to the show. This year there was silence apart from what sounded like a couple of pre-recorded announcements over the PA system. The acts entered and exited unheralded. I don't know why Mr Hutton wasn't there but I hope he is okay. The Tattoo very much missed him. If he has retired, he has left a void that absolutely must be filled.

Kermit was not tired. I left him at 9pm canvassing for another chapter of Planet Omar: Accidental Trouble Magnet. I told him he could read for 15 minutes. 45 minutes later I heard him sprauchle to the toilet which is an integral part of his bedtime process. He always endeavours to ensure everyone else is awake when it is time for him to go to sleep. He needn't worry as there were the fireworks from the second show still to come and wake us all up.

Oh well – at least it was better than Jersey.

The end.
You must be logged in to reply to this topic.
New to Head for Points?
Welcome! We're the UK's most-read source of business travel, Avios, frequent flyer and hotel loyalty news. Let us improve how you travel. Got any questions? Ask them in our forums.
Get 100,000 bonus Avios for getting the Barclaycard Avios Plus credit card and Premier Banking with Barclays Avios Rewards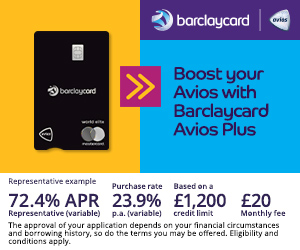 Check reward flight availability instantly for free!
Booking a luxury hotel?
Our luxury hotel booking service offers you GUARANTEED extra benefits over booking direct. Works with Four Seasons, Mandarin Oriental, The Ritz Carlton, St Regis and more. We've booked £1.7 million of rooms to date. Click for details.