Turkish Airlines has matched my BA Gold, I am now Star Gold for two years!
Links on Head for Points may pay us an affiliate commission. A list of partners is here.
A couple of weeks ago I wrote a lengthy piece on Star Alliance airlines who are taking pity on ex-BMI Diamond Club members and matching their old BMI status to enable them to retain status in Star Alliance.
This status match offer was not much use to me as I was only BMI Silver. And, sadly, Silver status in Star Alliance offers very few benefits when flying with a different airline from the one that issues your card. Since almost all my Star flights are on Lufthansa or Swiss, and there was no Miles & More match available, there was little benefit in taking that route. I also have Miles & More status until next February in any event.
As part of my research for that post, I realised that Turkish Airlines was matching pretty much anyone – SkyTeam, OneWorld or Star Alliance. This is not totally surprising, as Turkish is (fairly quietly) on a mission to create a hub airport similar to Dubai or Abu Dhabi. It has invested in a large new fleet with impressive cabins, and wants to use its Star Alliance status to win transit business that would otherwise have gone to a Middle East carrier. Here is their business class seat, which seems totally acceptable: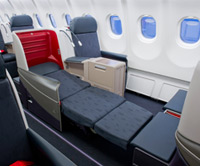 I therefore decided that I would try to get a status match via my British Airways Executive Club Gold card. This is how it went:
Last Thursday – joined Miles & Smiles and email Turkish (address in the status match post above) with a PDF of my BA Gold card, a screenshot of my British Airways Executive Club home page (which only shows the last two transactions), and my Miles and Smiles number
This Monday – received an email saying that my BA card was indecipherable!
This Tuesday AM – rescanned my BA card, having first taken a colour photocopy to quadruple the image size and lighten the background colour, and emailed it to Turkish
This Tuesday PM – checked my Turkish account and found I had been upgraded to Elite status (Star Gold equivalent). A confirmatory email followed a few hours later.
My Miles & Smiles Gold card will run until 31 July 2014. This is a real result, giving me lounge access across ALL Star Alliance carriers, plus all the other benefits of Star Gold. (I should probably have waited until 1st August to match, and thus get an extra month of status, but I honestly didn't expect them to process my match so quickly.)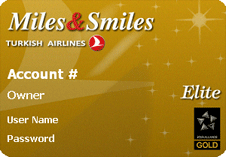 Now, it is fair to say, from other reports online, that Turkish can be inconsistent in granting status match requests. However, it worked well for me, and shockingly quickly (although I don't know how long it will take to receive the physical card).
It is not clear how long Turkish will continue with its generous status matching policy, so you should move sooner rather than later if you are interested. (Although it would be good if readers of this blog staggered their applications over the next few weeks!) Remember, though, that it is only worth doing if you are matching Gold to Gold, as a Miles & Smiles Silver card won't do you much good with any airline other than Turkish.