New Priority Club PointBreaks list released – and it's not too bad!
Links on Head for Points may pay us an affiliate commission. A list of partners is here.
A while ago I wrote this post about the possible decline of Priority Club's PointBreaks, the specially reduced redemptions that can be 90% cheaper than a standard redemption.
Priority Club did eventually release a new list of properties, but it was pretty poor.
Suprisingly, though, a new list emerged yesterday and it has some decent properties on it! Take a look below.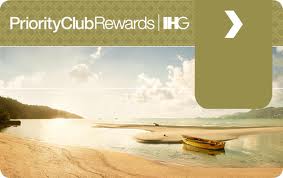 You can click on the red hotel names below to be taken to the home page on the Priority Club website for that hotel. All are available for just 5,000 Priority Club points per night – saving up to 45,000 points on InterContinental redemptions.
PointBreaks availability is very limited so book ASAP if you are interested. You can book for stays up to 10th December. Bookings are refundable as with a standard reward reservation.
Of special interest, I think, are the 3 InterContinental properties in the Middle East which would make a decent three-centre holiday! Of the European properties, the Indigo in Berlin and the InterContinental in Murcia seem the best options. And if you fancy a trip to Vietnam, you can't complain at an InterContinental beach resort for 5,000 points per night!
Europe
FINLAND HOLIDAY INN OULU
FRANCE HOLIDAY INN EXPRESS STRASBOURG – SUD
GERMANY HOTEL INDIGO BERLIN – CENTRE HARDENBERG STR
ITALY CROWNE PLAZA HOTEL CASERTA , HOLIDAY INN SALERNO – CAVA DE' TIRRENI
POLAND HOLIDAY INN BYDGOSZCZ
PORTUGAL HOLIDAY INN EXPRESS LISBON – ALFRAGIDE
RUSSIA CROWNE PLAZA HOTEL ST. PETERSBURG AIRPORT
SPAIN HOLIDAY INN ELCHE , INTERCONTINENTAL LA TORRE GOLF RESORT MURCIA
TURKEY HOLIDAY INN EXPRESS ISTANBUL – ORA
UKRAINE HOLIDAY INN KIEV
UNITED KINGDOM HOLIDAY INN STEVENAGE , HOLIDAY INN EXPRESS BEDFORD , HOLIDAY INN EXPRESS COLCHESTER , HOLIDAY INN EXPRESS CREWE , HOLIDAY INN EXPRESS LIVERPOOL – HOYLAKE , HOTEL INDIGO NEWCASTLE
Africa
EGYPT CROWNE PLAZA HOTEL SAHARA OASIS PORT GHALIB RESOR
Middle East
BAHRAIN INTERCONTINENTAL BAHRAIN
JORDAN INTERCONTINENTAL AQABA (RESORT AQABA)
QATAR INTERCONTINENTAL DOHA – THE CITY
Asia
CHINA-PEOPLES REPUBLIC CROWNE PLAZA HOTEL MAANSHAN , CROWNE PLAZA HOTEL SHANGHAI XIAYANG LAKE , CROWNE PLAZA HOTEL ZHONGSHAN WING ON CITY, HOLIDAY INN MUDANJIANG , HOLIDAY INN SHENYANG ZHONGSHAN , HOLIDAY INN EXPRESS BEIJING AIRPORT ZONE , HOLIDAY INN EXPRESS TIANJIN DONGLI , INTERCONTINENTAL TANGSHAN
INDIA CROWNE PLAZA HOTEL NEW DELHI ROHINI
INDONESIA CROWNE PLAZA HOTEL SEMARANG
VIETNAM CROWNE PLAZA HOTEL WEST HANOI RESIDENCES , INTERCONTINENTAL DANANG SUN PENINSULA RESORT
Mexico
CROWNE PLAZA HOTEL NUEVO LAREDO, HOLIDAY INN SALAMANCA , HOLIDAY INN EXPRESS TOLUCA GALERIAS METEPEC , HOTEL INDIGO VERACRUZ BOCA DEL RIO , INTERCONTINENTAL PRESIDENTE SANTA FE MEXICO
Canada
ALBERTA HOLIDAY INN HOTEL AND SUITES LLOYDMINSTER
BRITISH COLUMBIA HOLIDAY INN EXPRESS AND SUITES SURREY
NEWFOUNDLAND AND LABRADOR HOLIDAY INN STEPHENVILLE
ONTARIO CROWNE PLAZA HOTEL HAMILTON HOTEL & CONF CENTER , HOLIDAY INN EXPRESS AND SUITES NEW LISKEARD
QUEBEC HOLIDAY INN MONTREAL-LONGUEUIL
Central & South America
ARGENTINA HOLIDAY INN BUENOS AIRES EZEIZA AIRPORT
BRAZIL CROWNE PLAZA HOTEL CURITIBA, BRAZIL
COLOMBIA CROWNE PLAZA HOTEL SUITES TEQUENDAMA BOGOTA
COSTA RICA HOTEL INDIGO SAN JOSE FORUM COSTA RICA
HONDURAS CROWNE PLAZA HOTEL SAN PEDRO SULA
PARAGUAY CROWNE PLAZA HOTEL ASUNCION
VENEZUELA INTERCONTINENTAL MARACAIBO
Oceania
FIJI ISLANDS HOLIDAY INN SUVA
NEW ZEALAND HOLIDAY INN ROTORUA
ALABAMA CANDLEWOOD SUITES ENTERPRISE
ARKANSAS CANDLEWOOD SUITES NORTH LITTLE ROCK
ARIZONA CANDLEWOOD SUITES NOGALES
CALIFORNIA HOLIDAY INN SAN JOSE – AIRPORT , HOLIDAY INN EXPRESS BRENTWOOD, HOTEL INDIGO SAN DIEGO DEL MAR
COLORADO HOLIDAY INN EXPRESS AND SUITES GUNNISON , STAYBRIDGE SUITES DENVER TECH CENTER
CONNECTICUT HOLIDAY INN EXPRESS AND SUITES STAMFORD
DELAWARE STAYBRIDGE SUITES WILMINGTON-NEWARK
FLORIDA CANDLEWOOD SUITES MELBOURNE/VIERA , HOLIDAY INN EXPRESS AND SUITES ARCADIA , HOLIDAY INN EXPRESS AND SUITES SEBRING
GEORGIA CANDLEWOOD SUITES MACON , HOLIDAY INN EXPRESS FAYETTEVILLE , HOLIDAY INN EXPRESS AND SUITES MILLEDGEVILLE
IOWA HOLIDAY INN EXPRESS AND SUITES OMAHA AIRPORT
IDAHO CANDLEWOOD SUITES IDAHO FALLS
ILLINOIS HOLIDAY INN CHICAGO MATTESON CONF CTR , CANDLEWOOD SUITES AURORA-NAPERVILLE , HOLIDAY INN EXPRESS AND SUITES JACKSONVILLE , STAYBRIDGE SUITES SPRINGFIELD-SOUTH
INDIANA CANDLEWOOD SUITES CRAWFORDSVILLE , HOLIDAY INN EXPRESS BLUFFTON , STAYBRIDGE SUITES ELKHART NORTH
KANSAS CANDLEWOOD SUITES WICHITA-NORTHEAST
KENTUCKY HOLIDAY INN EXPRESS BOWLING GREEN
LOUISIANA CANDLEWOOD SUITES NEW IBERIA , HOTEL INDIGO BATON ROUGE DOWNTOWN
MASSACHUSETTS HOLIDAY INN FITCHBURG – WATERPARK , HOLIDAY INN EXPRESS BROCKTON – BOSTON
MARYLAND HOLIDAY INN SALISBURY DOWNTOWN AREA , HOLIDAY INN EXPRESS LA PLATA
MICHIGAN HOLIDAY INN EXPRESS AND SUITES GRAND RAPIDS – SOUTH , HOLIDAY INN HOTEL AND SUITES FARMINGTON HILLS – NOVI
MISSOURI CANDLEWOOD SUITES JEFFERSON CITY , HOLIDAY INN EXPRESS SALEM
MISSISSIPPI HOLIDAY INN EXPRESS AND SUITES GREENVILLE
MONTANA STAYBRIDGE SUITES GREAT FALLS
NORTH CAROLINA HOLIDAY INN EXPRESS WILLIAMSTON
NORTH DAKOTA HOLIDAY INN EXPRESS AND SUITES WILLISTON
NEBRASKA CANDLEWOOD SUITES LINCOLN
NEW JERSEY STAYBRIDGE SUITES NORTH BRUNSWICK , CROWNE PLAZA HOTEL PARAMUS
NEW MEXICO CANDLEWOOD SUITES ROSWELL NEW MEXICO , HOLIDAY INN EXPRESS SILVER CITY , HOLIDAY INN EXPRESS AND SUITES TRUTH OR CONSEQUENCES , STAYBRIDGE SUITES ALBUQUERQUE – AIRPORT
NEW YORK CANDLEWOOD SUITES SYRACUSE , HOLIDAY INN EXPRESS OWEGO
OHIO HOLIDAY INN EXPRESS CLEVELAND DOWNTOWN , CROWNE PLAZA HOTEL CINCINNATI NORTH , HOLIDAY INN EXPRESS WILMINGTON
OKLAHOMA CANDLEWOOD SUITES MCALESTER , HOLIDAY INN EXPRESS AND SUITES PRYOR
OREGON HOLIDAY INN EXPRESS PORTLAND EAST – TROUTDALE
PENNSYLVANIA CROWNE PLAZA HOTEL PHILADELPHIA – VALLEY FORGE , STAYBRIDGE SUITES ALLENTOWN WEST
SOUTH CAROLINA STAYBRIDGE SUITES GREENVILLE I-85 WOODRUFF ROAD
TENNESSEE CANDLEWOOD SUITES KNOXVILLE AIRPORT-ALCOA , HOLIDAY INN EXPRESS HURRICANE MILLS (WAVERLY)
TEXAS CROWNE PLAZA HOTEL HOUSTON GALLERIA AREA , HOLIDAY INN HOTEL AND SUITES SAN ANTONIO NORTHWEST , HOTEL INDIGO WACO – BAYLOR , CANDLEWOOD SUITES BELTWAY 8/WESTHEIMER ROAD C, ANDLEWOOD SUITES MOUNT PLEASANT , HOLIDAY INN EXPRESS CROCKETT , HOLIDAY INN EXPRESS AND SUITES CLEVELAND S, TAYBRIDGE SUITES DFW AIRPORT NORTH
VIRGINIA CANDLEWOOD SUITES FREDERICKSBURG , HOLIDAY INN UNIVERSITY-BLACKSBURG , HOLIDAY INN EXPRESS KILMARNOCK , STAYBRIDGE SUITES QUANTICO-STAFFORD
WASHINGTON CANDLEWOOD SUITES OLYMPIA/LACEY
WISCONSIN CANDLEWOOD SUITES WAUSAU-RIB MOUNTAIN
WEST VIRGINIA HOLIDAY INN HOTEL AND SUITES CHARLESTON WEST
WYOMING HOLIDAY INN EXPRESS AND SUITES GILLETTE