Ramada London Docklands and Holiday Inn Kensington Forum reviewed
Links on Head for Points may pay us an affiliate commission. A list of partners is here.
This is my review of the Ramada Hotel & Suites London Docklands and the Holiday Inn Kensington Forum.
I usually find myself in a Regus business centre in Central London once a week, where I can get some work done of the site.  However, over the last three weeks, I decided to try out some of the £20 hotel rooms that were offered in recent promotions. After all, any office is improved when it comes with its own bed and TV!
First up was the Ramada Hotel & Suites London Docklands.
I snagged that on this £20 promotion. This hotel is next to the massive Excel exhibition centre – adjacent to the Aloft hotel and opposite a Premier Inn. It is about 5 minutes walk from Prince Regent DLR station. It overlooks the dock and, from my window, there was an outstanding (and outstandingly soundproofed!) view of the runway at City Airport which is only metres away.
From the outside, the hotel looks pretty new (and it is):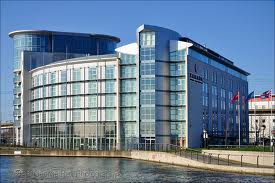 Inside, though, it is looking a little worn.
This photo was not taken by me but is representative of the small room I had: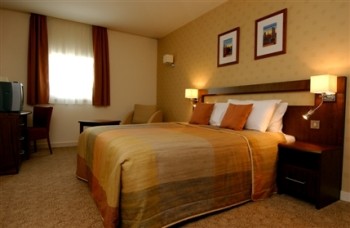 The best thing about the hotel was the free wi-fi, which worked really well. The desk was very narrow but usable. No mini-bar, but that is the norm in three-star hotels these days. There is a restaurant and a bar, neither of which I used. I should give credit to The Fox pub behind the Premier Inn, who did me a great lunch of 3 fish cakes, chips and salad for £6.95, which is £10 less than I'd pay in SW3!
For £20, of course, the room was a steal. You wouldn't have a bad time staying here, but there is certainly nothing exciting about the hotel. The Aloft Excel London hotel next door is 100 times funkier.
Next up was the Holiday Inn Kensington Forum. This is walkable from my house, which was an improvement on the 50-minute door-to-door trip to the Ramada.
Whilst overlooking the main road out of London to the west, it is also decently situated. Gloucester Road tube is very close, and there are a lot of shops and restaurants nearby.
I booked this hotel on the £20.12 promotion rate, which I promoted in this post.
The good news is that my Platinum status was recognised. I was offered a free drink or 500 points (I took the beer!) and was upgraded to an Executive Room. However, this was not a refurbished room. You could be fooled if you look at the hotel website that the Executive Rooms are all refurbished and the standard rooms are not – this is not true.
This picture – which the hotel website shows as a standard room – is EXACTLY what I got as an Executive:

From what I can tell, Executive Room benefits are a robe, a bigger and better TV, an 'executive swivel chair' (which was too high for the desk – I'd rather have had the chair in the picture above) and a mini bar. I also got a Kit-Kat Chunky – I'm not sure if this was a Platinum or an Executive Room perk! You do not get lounge access or free wi-fi. However, for £20.12 a night I can't complain!
The hotel itself is stuck in a 1980's time warp – it even has a Corby trouser press on the wall!  It is dispiriting – the rooms are small and the corridors a weird cream colour. It is the epitome of the bland chain property. And, with impressive chutzpah, they charge £4.95 a day if you want to watch foreign language TV channels.
Despite its huge size, it does not have a swimming pool. The gym is small, laughably so for the number of rooms. There is a new business lounge but I am not in a club room and so can't access it. Interestingly, I was told that I could have breakfast (not that I was staying overnight) in a smaller private room which was only for Priority Club members. It is hard to believe how little public space it has given how big the building is. Some guests will get great views, but I was on the third floor.
The upsides, such as they are, are friendly staff, some Platinum recognition, a decent coffee shop in the lobby and a location adjacent to Gloucester Road station. It is one of those places you stay if you want to be on the right side of town for Heathrow (most guests are aircrew or tour groups). There is a Waitrose supermarket and a Boots in the arcade directly next door, and plenty of cafes and shops round the corner. That said, unless you get a refurbished room I would find it too dispiriting to stay here.
Next week I will report on my final £20 stay – Holiday Inn Stratford City. As a brand new property, I am hoping for good things!
---
Hotel offers update – September 2021:
Want to earn more hotel points? Click here to see our complete list of promotions from the major hotel chains or use the 'Hotel Offers' link in the menu bar at the top of the page.
Want to buy hotel points? There are currently special offers running with Marriott Bonvoy ('mystery' 45% or 50% bonus to 25th September), Hilton Honors (100% bonus to 30th September), IHG Rewards ('mystery' bonus, usually 100%, to 8th October) and World of Hyatt (30% bonus to 31st October).