Meet your Amex sign-up bonus spend with a home delivery of £ travellers cheques!
Links on Head for Points may pay us an affiliate commission. A list of partners is here.
Last year I ran a number of posts about American Express Currency Exchange, the new bureau de change partner of British Airways Executive Club. See here, here and here.
What we discovered was that Amex Currency Exchange treats pre-ordered foreign currency purchases on an Amex Platinum or Amex Preferred Rewards Gold card as a purchase. I tested this myself, with a test purchase of Euro 200 generating:
166 Avios via Amex Currency Exchange (you get Avios for using them)
166 Membership Rewards points on my Amex Platinum charge card
16 BAA WorldPoints (as I collected the currency at Heathrow and you earn 1 per £10 spent)
As well as being a profitable way to get your foreign currency (especially as the Amex Currency Rates are competitive if you pre-order), the fact that it goes through as a 'purchase' on your card means that it counts towards the minimum spend for a sign-up bonus.
Over at Flyertalk (see this thread, eg post 18 and post 48), some posters have been taking this further, with interesting results.
Here were the questions they set out to answer:
Does a transaction on a British Airways American Express card (and therefore also a Starwood Amex) work the same way, counting as a purchase?
Does this work if you order Sterling Travellers Cheques?
Does it work if you arrange for home delivery rather than airport collection?
The answer to all these questions is Yes.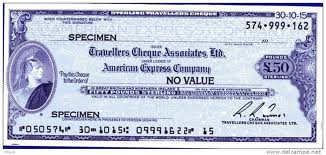 Why Sterling Travellers Cheques?
On the face of it, you may wonder why you would want to buy Sterling Travellers Cheques. After all, Amex Currency Exchange charges a 1.5% fee for buying them, and you do not earn Avios on such purchases.
The reason is simple – they can be paid into your bank account like a normal cheque. I have done this in the past with no difficulties.
Let's assume you need to meet the £2,000 minimum spend on the Amex Preferred Rewards Gold card. For a fee of £30 (1.5% of £2000) you can, in theory, order £2,000 of Sterling Travellers Cheques from Amex Currency Exchange. It will go through your card as a purchase, triggering the 20,000 point bonus, and you can immediately pay them into your bank account to pay your credit card bill.
The BA link for ordering currency from Amex Currency Exchange is here.
Now, is it that simple?
Well, yes and no. All credit card companies are security conscious. Any large order of travellers cheques (which, until signed, can be cashed by anyone and so are equivalent to cash) will arouse suspicion. If it is the first payment on a new credit card, your chance of getting a large order away is very slim!
If, however, you have already spent £1,000 on your new card and place a £400 order for Sterling Travellers Cheques, then I would imagine you would be OK.
All Amex cards have a 'daily cash advance' limit on them. Even though Amex Currency Exchange transactions are treated as purchases, you are still limited by the size of the 'daily cash advance' limit on your card. This seems to be £400-£500 but the Flyertalk thread reports figures as high as £1,300.
Please note that this is still an 'idea in progress'. If it sounds interesting, read the Flyertalk thread and give it a go. Start small, though, and be prepared for potential bumps along the way.
(Want to earn more Avios? Click here to see our latest articles on earning and spending your points and click here to see our list of current Avios promotions.)