My wife gets her Cathay Pacific Marco Polo Gold card renewed (via Amex Platinum)
Links on Head for Points may pay us an affiliate commission. A list of partners is here.
I receive a continual stream of emails about the Cathay Pacific Marco Polo Gold card that comes with the American Express Platinum charge card.
The first question is, not unreasonably:
If you get this amazing Gold card from Amex Platinum – which gives you all the benefits of British Airways Silver status, including lounge access – why isn't it mentioned on the Amex website?!
This is a very fair point. The answer, I imagine, is that Amex is very protective of its relationship with British Airways and does not want to openly annoy them more than is necessary.
(After all, why bother spending money chasing Silver status with BA when you can get the same benefits by paying Amex £450 instead?)
There is one oblique reference to the Cathay Gold card on the Amex website. It says that Platinum gets you 'unlimited access to over 1,000 airport lounges'. That number actually refers to the 600 Priority Pass lounges plus the 550 oneworld lounges around the world (knocking off a few like Galleries First at Heathrow and Gatwick and The Concorde Room at Heathrow which require a higher class of card).
I admit, though, it is a bit odd.
The second question is:
Is Cathay Pacific Marco Polo Gold just for one year?
Well, according to the private (log-in required) Amex Platinum website where you apply for the card, it is just one year. However, so far, I don't think that anyone has NOT had it renewed.
And yesterday, this dropped through our letterbox for my wife (albeit without the stones ….):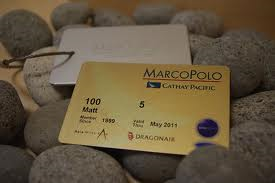 The covering letter said:
"Welcome to a new year of Gold membership

Cathay Pacific and American Express hope you have enjoyed your complimentary one-year Gold membership in The Marco Polo Club, and we are delighted to renew it for another year. This is an exclusive benefit offered to you as a Platinum Cardmember."
Just to be clear, my wife has credited a total of ZERO flights to her card in the past year, and accumulated ZERO points.
Now, of course there is no guarantee that this will continue for a 3rd year. It is possible that Cathay thought that a one year period was too short, given that people tend to book long-haul flights well ahead. (Although, if that were the case, it would have been more helpful to tell people earlier it would get renewed.)
If you like the sound of getting a Gold card for BA lounge access, there is unfortunately no sign-up bonus at present on the Platinum card. You could still get the card (£450 fee), apply for the Cathay card, and then cancel Platinum – you would get a pro-rata refund on your membership fee, so probably wouldn't be more than £100 out of pocket.
(To see our complete list of all current credit card bonuses, click here to visit our 'Credit Cards Update' page or use the link in the menu bar at the top of the page.)