Lufthansa solves the 'can I bring my whole family into the lounge?' problem (or does it?)
Links on Head for Points may pay us an affiliate commission. A list of partners is here.
In airport lounges around the world over the Summer, the same scenario plays out time and time again.  Road Warrior Dad (or Mum) finally hopes to show the rest of the family that there is some upside to his constant travelling and time away from home.  He pitches up to the lounge, shows his Silver or Gold card, and asks if he can bring in his kids as extra guests.
In general, unfortunately, the answer is 'No'.  Road Warrior Dad is humiliated, and he suddenly hates the airline very much indeed – so much for so-called 'loyalty' ….
(I am fully sympathetic, by the way.  We are a 'two Silver card' family, but in reality there are not that many of those about.  And if you've got three kids then you're totally stuffed!)
Lufthansa has now launched its answer to the problem, although it is not one I would recommend.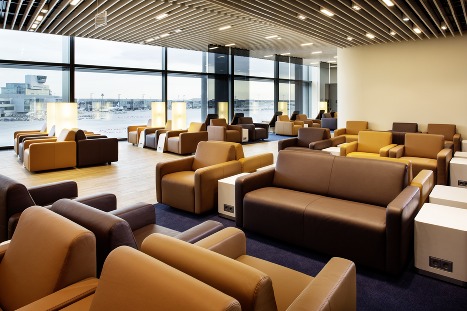 When I log in to Miles & More, as a Silver / Frequent Traveller member, I get this message:
There is no better start to your holiday: with Lufthansa relaxation for the whole family begins even before your flight.

Because as a Frequent Traveller you have the opportunity of purchasing lounge access for the whole family to lounges in Germany, the USA and at Paris Charles de Gaulle until 31 August 2013.

Frequent Travellers and their families can buy a voucher before their lounge visit at the Lufthansa ticket counter at their departure airport, or at the business lounge reception desk at Duesseldorf, Frankfurt and Munich airports, for 40 euros or 50 US dollars.

This voucher will give them access to the relevant Lufthansa Business Lounge. The Frankfurt Business Lounge in Departure Area B, right next to Gate B46, is especially exciting for families with younger children.

Here the little ones can spend their time in a play corner in the 'JetFriends' area – which means the whole family can enjoy a relaxed start to the best time of the year.

(The Frequent Traveller's family (wife or partner as well as an unlimited number of children under 18 years of age) are entitled to enter the lounge provided that they are flying with the Frequent Traveller on a Lufthansa-operated flight.)
Now, Euro 40 may – on first reading – not sound too great.  However, you need to remember that (unlike British Airways Executive Club) a Lufthansa Silver / Frequent Traveller member cannot take a guest into the lounge.  The Euro 40 therefore covers your partner and your children.
Is there Euro 40 of fun to be had in a Lufthansa Business Lounge?!  They are usually pretty awful, soulless places.  However, at least Lufthansa now has a response to everyone who tries to sneak in their family.
Is there a similar offer for Gold / Senator members which would let you bring your kids in?  (A Senator can already bring one guest in.)  Do let me know.