How to track hotel prices over various dates (for The Big Win etc)
Links on Head for Points may pay us an affiliate commission. A list of partners is here.
(EDIT, December 2013 – unfortunately, Travelocity now seems to have removed this functionality from its website.  The information in this post should now be ignored.)
Two people have asked me recently if I know a way of tracking prices at the same hotel over long periods of time.
Both were trying to do 'mattress run' nights for "The Big Win" promotion, currently being run by IHG Rewards Club, the Holiday Inn, Holiday Inn Express, Crowne Plaza etc group.
Basically, "The Big Win" offers a big bonus for completing a set number of nights, often in selected cities or on certain days of the week. The end bonus is often big enough to make it worthwhile booking hotels you don't intend to sleep in.
(I did this in Madrid last week. I was there for a day and popped into a Holiday Inn Express to check in for a three night, €50 per night, stay! I did not return …. hopefully the points post on Friday.)
Anyway, back to the point.  Is there a way of checking the price of a hotel for 60 days in one go?
The answer is "Yes", luckily. You need to use travelocity.com. Note I said .com and not the .co.uk version.
Let's imagine I want to stay at the Holiday Inn Express in Croydon as part of my "Big Win' promotion (worryingly, I do!). I search for the hotel on travelocity.com without selecting a check-in date.
When it comes up, I click on the name of the hotel and then click "Check Rates" from the next page. I am presented with this grid (it includes early October because I did this search a couple of weeks ago):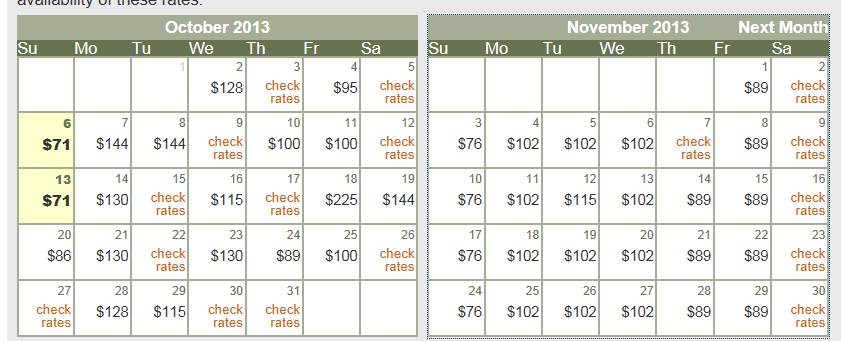 The 6th and 13th October looked pretty good. However, those were bad days for me to head to Croydon, so I think I will aim for one of the Thursday nights in November, at $89 (£55 in reality – these prices may have moved by now as this was two weeks ago).  The $89 will not exactly match what you see on the hotels own site – in a good way, as Travelocity adds in its own fees to the prices shown – but it is a pretty accurate guide as to what days have the lowest prices.
You learn something new every day ….
(PS. If you are booking mattress run nights – or even normal nights, or even reward nights (they count for volume) – at IHG properties, please consider using our affiliate link here or in the right hand margin. Thanks!)