EDIT:  This article has NOT been updated to reflect the Avios changes which took place on 28th April 2015.  A revised version of the article will be published on Head for Points in late May.
The "Avios Redemption University" series is a good starting point for beginners, although I hope everyone will learn something from them.  Click here to see the other articles.
When British Airways sold its regional operations to Flybe a few years ago, it became an airline with NO flights which do begin or end in London.  Reward Flight Saver redemptions were designed so that you would not lose out (in terms of Avios) if you lived in the regions – Manchester to London to Nice costs the same as London to Nice – but connecting still adds 2 hours to your travel time.
Luckily, there are some options available.  This article summarises direct flights from the UK regions which can be booked with Avios points.  If you click through the links you will be taken to older Head for Points articles which cover each topic in more depth.
Short haul options
British Airways is, for Summer 2014, running one very obscure regional flight – from Edinburgh to Ibiza!  You can read more about it here.
Vueling offers flights from Cardiff and Edinburgh which can be booked via Iberia Plus, if you transfer your Avios points across using 'Combine My Avios'.  The current regional routes are:
Edinburgh to Barcelona
Cardiff to Barcelona, Majorca, Alicante, Malaga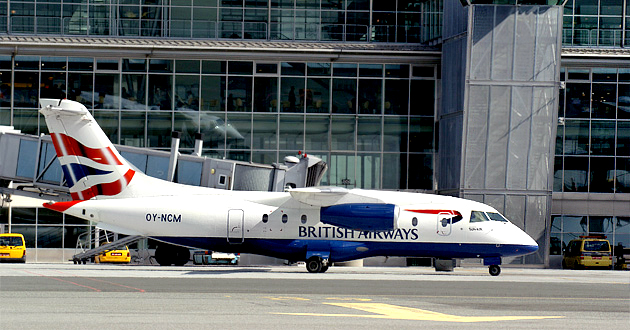 Sun-Air runs a couple of services to Scandinavia from Manchester.  (The photo above is a Sun-Air flight, operated as a BA franchise in BA colours.)  This can be booked via ba.com.
Finnair runs a Manchester-Helsinki service.  This can be booked via ba.com.
Air Malta (operates Manchester to Malta), Aurigny (the Channel Islands airline, flies from Bristol, Gatwick, Manchester, East Midlands and Southampton), Monarch and Flybe are avios.com partners.  You can book flights on these airlines by using 'Combine My Avios' to move your points across to avios.com.  This earlier Avios Redemption University article explains more.
Whilst Aer Lingus is a British Airways partner, it does NOT seem possible to book short-haul Aer Lingus seats with Avios.  However, if you live in the regions and want to fly to the US, you should consider an Aer Lingus redemption from Dublin and paying for the connection in cash.
Be wary when redeeming for non-BA European flights.  They are not eligible for Reward Flight Saver (except Sun-Air) and so you need to pay full taxes and charges.  This may mean that you are getting poor value for your Avios.
Long haul options
The continued expansion of the oneworld alliance has opened up some interesting long haul redemption options from the regions.
Qatar Airways joined oneworld in 2013.  They fly from Manchester and will also fly from Edinburgh from May 2014, allowing you to connect in Doha to destinations worldwide.
US Airways joins oneworld in April 2014.  This will allow you to redeem your Avios on these regional departures (full story here):
Manchester to Charlotte (starts May 2014)
Manchester to Philadelphia
Edinburgh to Philadelphia (starts May 2014)
Glasgow to Philadelphia
Dublin (I know its not UK!) to Philadelphia
Dublin (ditto) to Charlotte (seasonal)
Shannon (ditto) to Philadelphia (seasonal)
American Airlines has a service from Manchester to New York and Manchester to Chicago.
If I have missed out any long-haul flights from the UK regions flown by other oneworld partners, please let me know and I will update the list.
It is also worth remembering that most oneworld partners fly to other European capitals.  Instead of flying from Manchester to London to pick up a Malaysian Airlines redemption flight to Kuala Lumpur, why not fly Manchester to Amsterdam instead and connect there?  If you separate your tickets, you would make a substantial saving on Air Passenger Duty.
The only thing to check is the type of plane used.  Airlines generally send their newest aircraft to Heathrow because demand and competition is higher.  Routes like Amsterdam often get older equipment with older-style seats – this often means no flat beds in business class, for example.