Signs of life at the Business Travel Show last week ….
Links on Head for Points may pay us an affiliate commission. A list of partners is here.
I was down at the Business Travel Show at Earls Court last Wednesday, as followers of our Twitter feed will have noticed.
This is the big annual get-together for the business travel industry, a place where major corporate travel bookers can meet airlines and hotels.  There is a conference and a few guest speakers as well, and the Travel Technology Show takes place at the same time at the other end of the hall.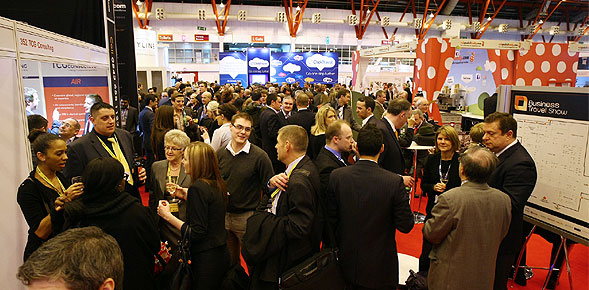 BTS has had a difficult few years.  It shrunk from three days to two days.  Some of its main exhibitors, including BA, deserted it for a start-up show called Business Travel Market at Excel.  This was a major flop (see my 2012 report here) and this year it was to be merged into World Travel Market.  In the end, though, it was put out of its misery and cancelled entirely.
This year, Business Travel Show seemed to have got its mojo back.  It is difficult to put my finger on 'why'.  Ironically, the thing I like best about it – the chance to try out the latest lie-flat seats – wasn't possible as none of the airline exhibitors had brought any!
One thing in its favour is that the organisers have realised that budgets have shrunk.  They created some very, very tiny booths – in many cases just a table and a chair with a sign behind them, all lined up in a row.  These were taken by smaller airlines like airberlin and Oman Air.  Whilst not generating much money for the organisers, it did generate a feeling that 'everyone' had turned up.  Everyone except BA, that is.
A similar set-up for hotel companies meant that, for the first time I can remember, IHG was present as well as smaller groups like Supranational.  Its a sign of the times, though, that for the second year running the biggest hotel stands were taken by Premier Inn and Travelodge.
Business Traveller magazine was also running its annual 'Cellars in the Sky' wine tasting, letting you try a few of the winners of their annual 'best in-flight wine' awards.  I'd picked a good session, and spent 90 minutes with a friend enjoying Dom Perignon 2004 and an impressive village Chassagne Montrachet, courtesy of Eva Air of Taiwan.
I wish I had some exciting exclusive stories from the show, but I don't!  Everything that was being promoted was already in the public domain and previously on Head for Points.  The new Terminal 2 at Heathrow was being promoted heavily, but there was nothing new to share.  It looks like I need to be booking an Aer Lingus flight for mid July to try it out, which will be the first short haul departure.
Next February the show moves to Olympia, as the bulldozers move into Earls Court ….