In my other article today, I outlined 'the facts' of the IHG Rewards Club loyalty scheme.  This post is my personal opinion, highlighting areas where I think you might want to focus.
The 10-second summary:
Strong points – excellent global coverage at all price points, InterContinental hotels in key gateway cities usually impressive, bonus point promotions make it easy to earn free nights, free internet at all hotels, PointBreaks 5,000 point redemptions, free top-tier status with the £99 fee credit card
Weak points – Platinum status is a joke except at some Crowne Plaza hotels, benefits do not apply to InterContinental hotels which have their own programme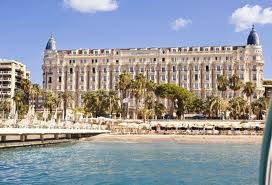 The longer version:
IHG Rewards Club has been my dominant hotel loyalty programme for many years.  This is despite the fact that – by a huge margin – it has the worst elite benefits of any hotel scheme.  How do you resolve this contradiction?
The fairest thing to say is probably this – if you are a heavy user of hotels for business, and you are reliant on elite benefits to make the most of your stay, then IHG Rewards Club may not be the best option for you.
Your elite card won't get you much, if anything, at an InterContinental.
Crowne Plaza hotels are better, and you may get an upgrade and lounge access.  A Holiday Inn or HI Express cannot offer you much more than a room on a higher floor or occasionally a larger one than booked.  No free breakfast (except for Crowne Plaza guests upgraded to a club room), no suite upgrades, generally no room upgrades.
The irony is that – since the rule change in 2013 which meant that only base points count towards status – IHG Rewards Club Platinum status is now incredibly difficult to earn.  You would need to spend around $4,000 excluding VAT to earn 60,000 base points.  And, in return, you won't get much!
For the lover of points and free nights in luxury hotels, though, the scheme is ideal.  The large number of cheap UK properties (even in the London area you can get the Holiday Inn Express Croydon for £55 much of the time, and the Arial at Heathrow can be £29 at times) means that – when bonus point promotions are running – it is easy to run up points very cheaply.
There is currently an anomaly in the IHG rewards chart that works to your benefit.  Reward nights are capped at 50,000 points.  Combined with the fact that InterContinental generally has very good properties in the major 'gateway' cities, you can use the bonus points you earn cheaply to redeem at very smart hotels.
(Mid tier redemptions are less useful.  Most Holiday Inn Express properties in Central London are now 35,000 points per night.  You would need to be crazy to redeem for those when the InterContinental Park Lane is only 50,000 points.)
The PointBreaks offers every two months are also excellent value – in fact, it is the best hotel loyalty scheme deal available.  100 or so properties are offered for just 5,000 points per night.  If you can plan a trip to correspond with a participating property, you will get a very good deal.
What don't I like?
The 'free' internet for elite members is, in some hotels, very slow and you are 'encouraged' to pay to trade up.  To be fair, I have never experienced this in my stays since free internet was introduced but it is an issue.
The benefits of Platinum are now totally out of kilter with the difficulty in obtaining it.  Free breakfast should be a minimum.  The potential for suite upgrades would be welcome, as would the opportunity to use additional points for club rooms or suites.
InterContinental has its own loyalty programme, Ambassador, which I wrote about here.  This means that they tend to put a low value on IHG Rewards Club status.
Non-US and non-UK members do not have the ability to get status by taking out the IHG credit card.  In the UK, you can pay £99 for the Black credit card and you are immediately Platinum.  If you are French, you have little choice but to spend $4,000 in IHG properties.
Like Hilton and Marriott, the oldest brand in the chain – Holiday Inn – tends to have the oldest and dirtiest properties.  Check reviews carefully before booking a Holiday Inn.  The other chains are more uniform, although there are always unwelcome surprises.
IHG Rewards Club withdrew from Amex Membership Rewards a few years ago.  This means it is harder to obtain IHG points without staying.  You can, if necessary, transfer Amex points to Virgin Flying Club and then on to IHG but the 1:1 ratio is not great.  The UK IHG credit cards do offer very generous sign-up deals of up to 40,000 points, see our 'Credit Cards Update' page for links.
Finally, it is worth noting that all customer service queries are dealt with via a contact centre in the Philippines.  This can make it very difficult at times to get a sensible response to any semi-complex issue.