Eurostar Standard Premier reviewed – a bit of a mess
Links on Head for Points may pay us an affiliate commission. A list of partners is here.
This is my review of my Standard Premier trip on Eurostar to Paris.
As I wrote yesterday, I was out in Paris a couple of weeks ago on Eurostar. My photographs of the Eurostar lounge in St Pancras showed that it is not a place to go if you are hungry. Lucky for me (I thought) that I have booked Standard Premier on the outbound and will get a decent breakfast.
Er, no.
Standard Premier has an odd history. When the Eurostar trains were ordered, they massively overestimated the demand for First Class seats. In order to fill the first class seating, a 'middle class', initially called 'Leisure Select' but now 'Standard Premier' was introduced.
You effectively get a first class seat but with a lower food and drink offering and no lounge access. That is it. American Express Platinum cardholders get lounge access thrown in anyway, so for them the only difference between Standard Premier and Business Premier is the food.
Here are a couple of pictures of the seating. The seats are an excellent size, but there are few single seats and you are likely to have a seatmate.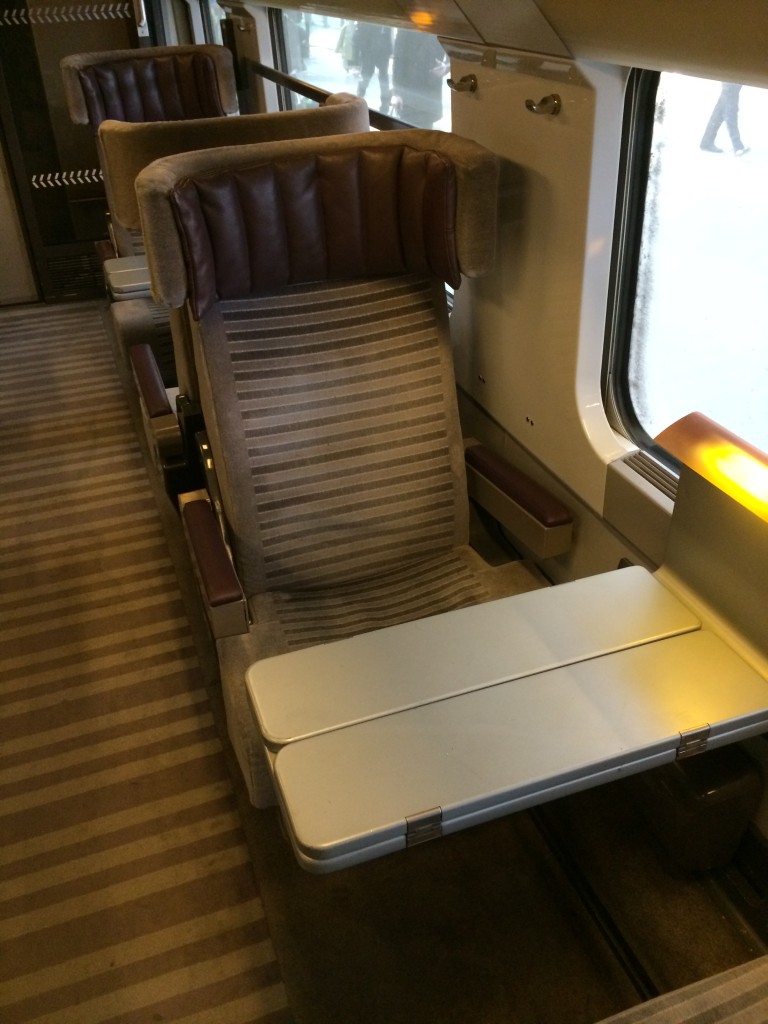 and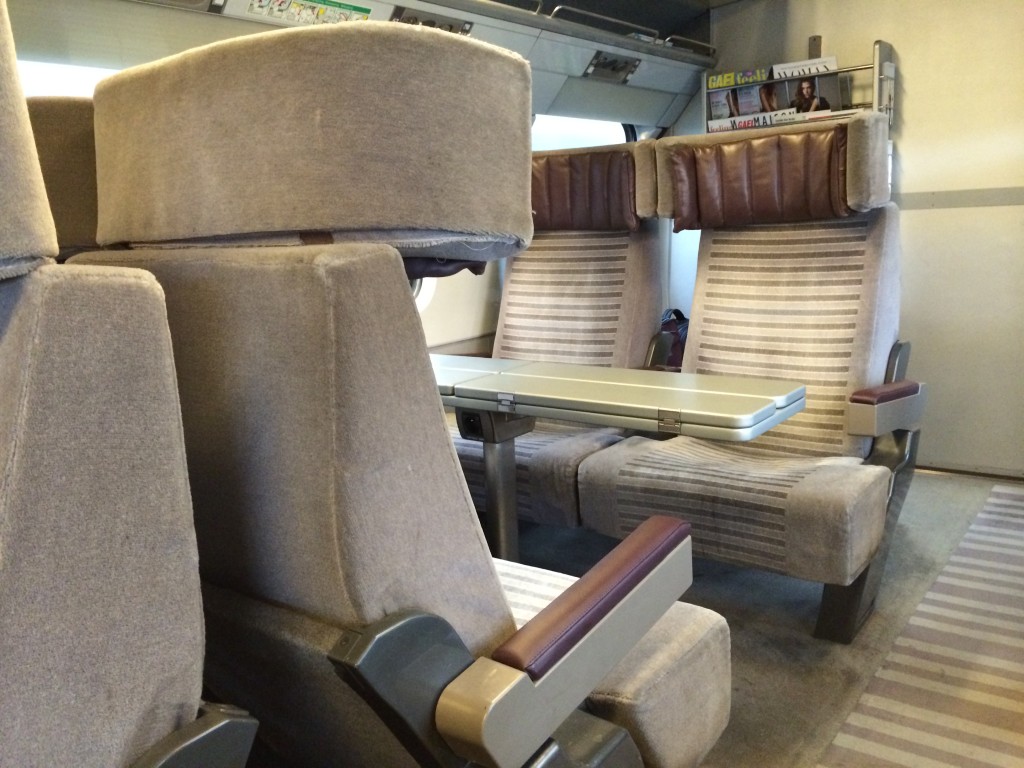 Now, let's get down to the food. This is what passes for breakfast in Standard Premier: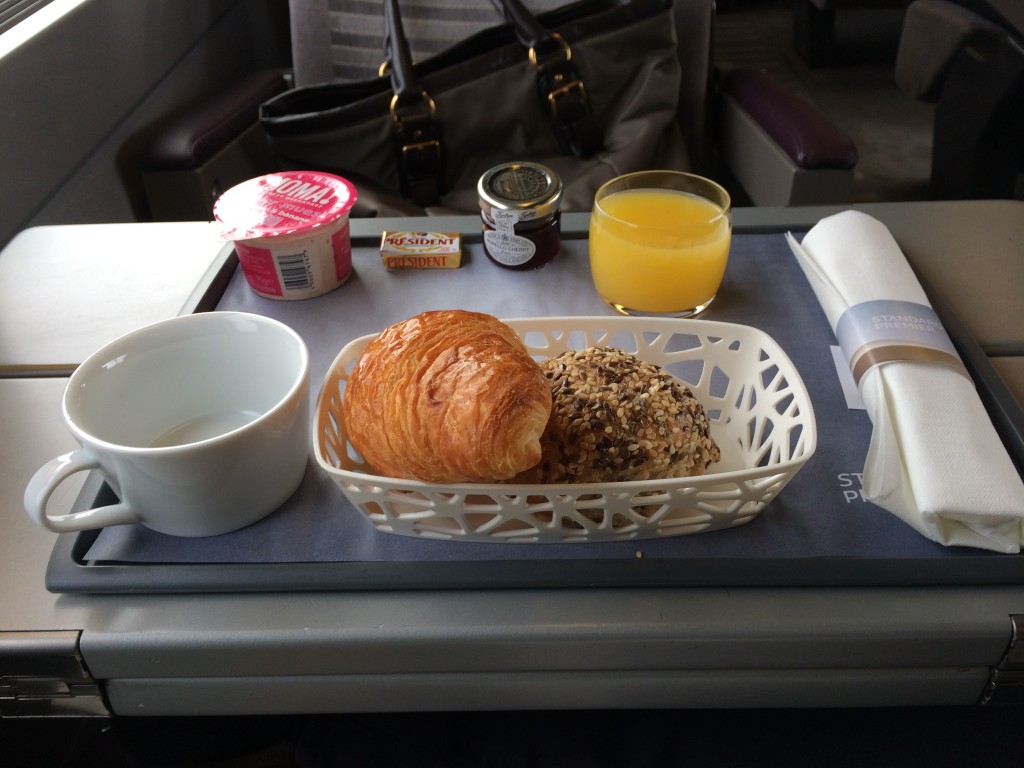 That is it. I wasn't entirely sure for a while if that was it or if it was just an appetiser, but unfortunately that was the lot. One croissant (dry), one weird seed roll, one small pot of yoghurt, tiny cup of (non fresh) juice.
It makes the British Airways Club Europe breakfast look good – at least you can drown your sorrows in Club Europe with free champagne over breakfast!
OK. Let's be fair here. Standard Premier is not ludicrously expensive (£150 in a Eurostar sale return). However, take a look at what I served in Business Premier on the way back, where seats can run at close to £500 return: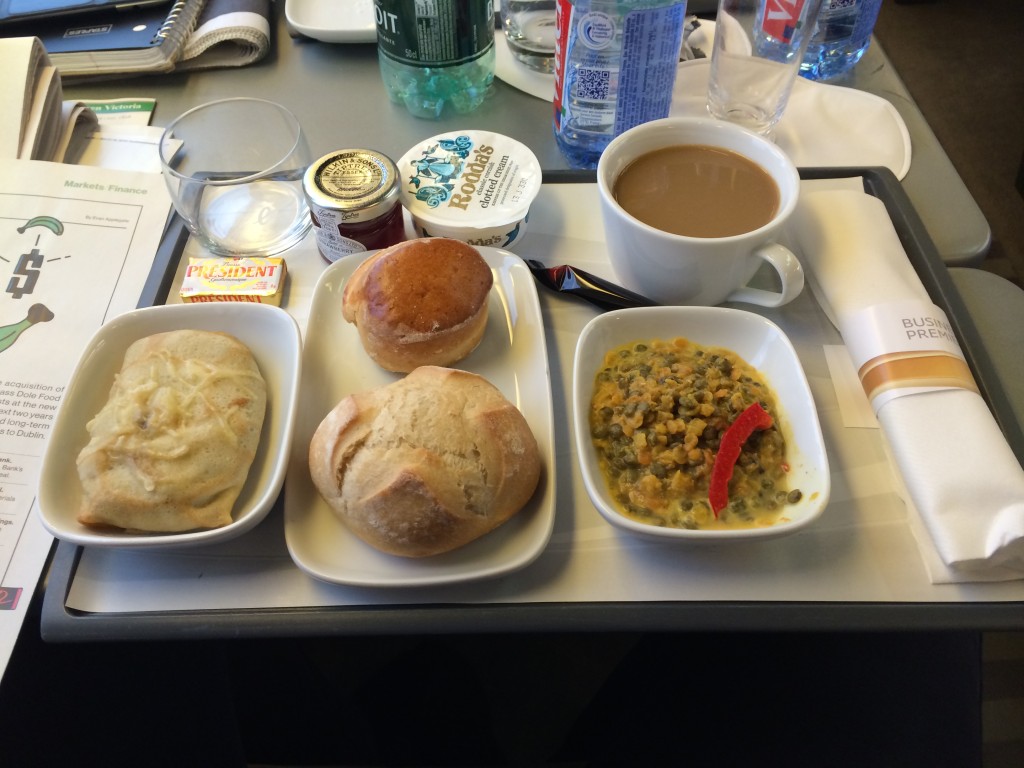 It really was as bad as it looks. You have a mushroom wrap topped with cheese on the left, a roll, one tiny scone and then some weird curry chickpea salad on the right! There is no separate dessert – that is what the scone is for! That wine glass at the very top of the picture was also very small.
There is also no food OF ANY SORT to be had in the Paris lounge, as you will see in a couple of days.
I was, genuinely, lost for words. The service was also dreadful, with huge waits for drink refills (my wine in that tiny cup was never refilled), although I will be slightly lenient on them because it was the day of the French air traffic control strikes and the trains were busier than usual.
It is a real shame. Leisure Select, back in the days before it was renamed Standard Premier, was well known for providing decent food presented as separate courses. Now you get this truly pathetic 'one tray' offering.
I was mortified to see that the same approach had reached Business Premier. I hadn't been on Eurostar for about four years, but before that I used to take it a couple of times a year on business and had fond memories of the food and drink served.
There was absolutely nothing about the food or service I received this time to convince me that I wouldn't have been better off heading to Heathrow instead, especially with lounge access.
---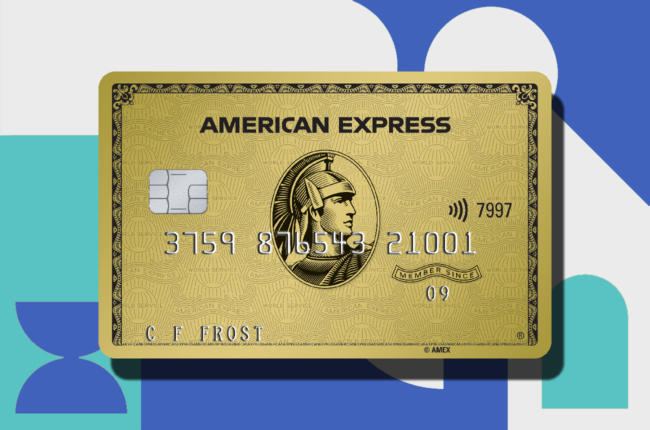 How to earn Club Eurostar points from UK credit cards (November 2020)
Club Eurostar does not have a UK credit card. However, you can earn Club Eurostar points by converting Membership Rewards points earned from selected UK American Express cards. These are:
Membership Rewards points convert at 15:1 into Club Eurostar points which is an attractive rate. The cards above all earn 1 Membership Rewards point per £1 spent on your card, so you will get the equivalent of 1 Club Eurostar point for every £15 you spend.
American Express Platinum comes with a great Eurostar benefit – lounge access! You can enter any Eurostar lounge, irrespective of your ticket type, simply by showing The Platinum Card at the desk. No guests are allowed but you can get entry for your partner by issuing them with a free supplementary Amex Platinum card on your account.