Clearing my inbox – lots of news in just one article
Links on Head for Points may pay us an affiliate commission. A list of partners is here.
I have decided to make a determined effort to clear my inbox of stories this week!
Here are a few things which are worth a look but which I have been sitting on for a while because I couldn't justify a full post:
Virgin Atlantic launches a sale for flights until March 2015
Virgin has launched a one-month sale covering all travel classes.  You can fly at any point up to the end of March 2015.  Full details on the Virgin site here.
Airport Angel members get access to the great Plaza Premium lounge in Heathrow Terminal 2
Airport Angel is a (much smaller) competitor to Priority Pass which gives members airport lounge access.  You can get access via the Barclays Premier Life package and there may be other deals as well.  Whilst Priority Pass does not have a deal with Plaza Premium at Heathrow, Airport Angel does as you can see from the search box on their home page.  This is an impressive perk.
Hilton / Virgin promotion from the Spring finally settled
Back in March, Hilton offered 6,000 Virgin Flying Club miles for completing three stays – an impressive deal.  Unfortunately, Hilton – due to an administrative, technical, IT or whatever oversight – did not award the miles to anyone who had registered for a similar Virgin deal in 2013.
According to reader Steve, Hilton is now finally on top of this.  If you were missing Virgin miles from this promotion then you should have received them in the last two weeks.  If not, it is worth contacting Hilton again.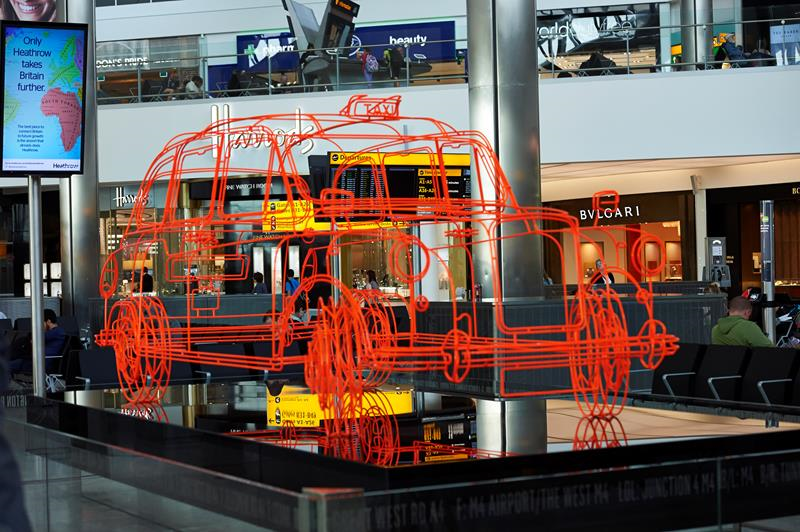 Heathrow Terminal 2 has unveiled a sculpture of a red taxi inside the terminal
…. by Benedict Radcliffe, which gets around the problem of what picture I should insert into this article.
Ikea now accepts American Express cards ….
…. according to reader Tim, although old signage to the contrary may still be up.
As has ParentPay for a few months now ….
…. if your kids school uses that to collect money for lunch, outings etc.
… and the DVLA should be fully taking Amex from September
So far this year, only the 'original' DVLA site has taken Amex whilst the beta version of their new site did not.  The new site is scheduled to take Amex from September.
FoundersCard offering 10% discount on British Airways tickets
Entrepreneur / small business group FoundersCard is now offering a 10% discount on BA fares to its members.  Unlike their other airline partners, this applies to UK departures as well as US departures (FoundersCard is a US group).  More details here.  Do your research on FoundersClub first though.
The My Flights app saves my bacon
I wrote recently about the My Flights app.  It is the only flight tracking app which actually checks your booking on a regular basis against Amadeus and Sabre.  Most commonly, you will be alerted about a change of plane, a minor time change or a change of seats.
This week, though, My Flights came through in a big way.  I had a flight ticket which had been arranged by telephone, not email.  The reservation was created, I had been able to select seats etc and I left it at that.  A week later I had an email from My Flights to say that my reservations had disappeared.  And it had.  The airline involved had forgotten to issue the ticket and so the reservation had automatically been cancelled after a week.  I would have been in serious doo-dah had My Flights not alerted me.