Why am I going to Las Vegas this weekend?
Links on Head for Points may pay us an affiliate commission. A list of partners is here.
I have done quite a few weekend breaks in the past which, to a normal person, would seem fairly crazy.  New York, Dubai, Cape Town … these are not the sort of places where you normally head to after work on Thursday or Friday night, only to be back at your desk on Monday.
I have considered a weekend break in Las Vegas in the past with friends to celebrate landmark birthdays, but I always rejected it as crazy.  The jet lag on a flight westwards is far more painful than flying east.  (South Africa is actually a dream weekend break destination as long as you fly business or first class as you fly overnight both ways and there is minimal time difference.)
This weekend, though, I am going for it.  Vegas, baby.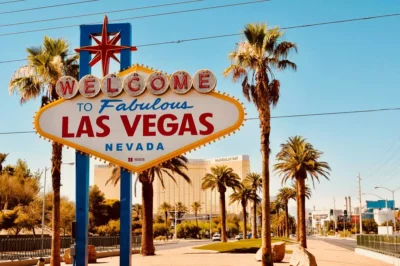 Do I plan to spend three days at pool parties?
No.
Do I plan to spend three days in the casinos?
No.
Do I plan to spend three days repeatedly watching Matt Goss from Bros in his acclaimed new career as a Vegas headline act?!
No.
I will be spending three days discussing frequent flyer blogging.
Randy Petersen, the original founder of Flyertalk, current owner of US frequent flyer network Boarding Area and all-round nice bloke has invited me to join his network of writers for their annual conference.  I am genuinely looking forward to meeting a lot of the people whose work I have read over the years.
As you would expect, I have structured the trip to maximise the new products I can try out.
Outbound, I am flying to Los Angeles on a British Airways A380.  This will be the first time that I have flown a BA A380.  I look forward to seeing how the new, slightly bigger, First Class cabin compares to other aircraft.
I will also write an article on The Concorde Room at Heathrow which I have never reviewed on HfP before.
From Los Angeles, I will be taking a Virgin America flight.  Whilst other American airlines are in a race to the bottom, Virgin America has invested in what looks like a very impressive Business / First Class hydrid short-haul seat which seems to knock anything else in the US or Europe out of the water.
Coming back, I am on the direct BA Las Vegas to Heathrow flight.  That is an overnight flight so I don't expect much from that.  I do intend to check out the new American Express airport lounge in Las Vegas, open to anyone with a Platinum charge card.
It will take me a few days to recover from the flight, but hopefully I can get some trip reports up on the site late next week.
For the avoidance of doubt …. posting will continue as normal over the weekend!  Responses to your comments will be delayed, however, unless BA decides to install in-flight wi-fi in the next 48 hours ….