British Airways still offering £250 / 50,000 Avios for 'old First' – as I found out!
Links on Head for Points may pay us an affiliate commission. A list of partners is here.
Back in December 2013 I highlighted the new British Airways policy for people who find themselves in 'old First'.
British Airways had launched a generous (in my view) compensation scheme. On most routes, you were being offered a £250 British Airways voucher or 50,000 Avios points as compensation.
For reference, this is the new BA First Class seat: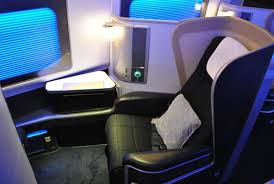 However, there still a chance that you may end up with this: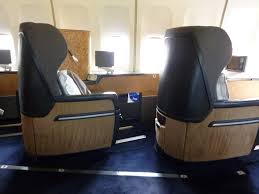 And, yesterday, that is what I got on my way back from Las Vegas.  I took the 50,000 Avios points, in case you were wondering!
I was also given this: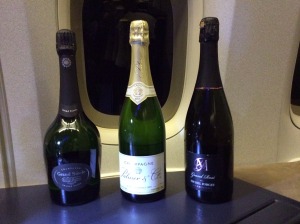 as additional compensation!  The Grand Siecle alone (far left) is £100 per bottle at your local Majestic Wine.
What was a little disappointing was how the other passengers in the (full) First Class cabin were treated.  I told the guy next to me in 1K what I was doing and he did the same (but he didn't get the champagne).  The guy by the window in Row 2 had a mild fit when he saw the size of the TV screen, called for the Customer Services Director and made his feelings known – he also got compensation (but, again, no champagne).
However, no-one else got anything.  Whilst we were all waiting for the transit from T5B to T5, I did a quick survey of the other First Class passengers and they had not been pro-actively offered compensation.  To put it mildly, they were a little surprised to realise it was available.
The lesson appears to be that, if you find yourself sitting in the old First Class seat, speak up as quickly as you can.  I recommend doing it whilst you are being shown to your seat so that you can get the paperwork filled in early.
Whether you decide to educate the rest of the cabin on what is on offer is up to you …..
This problem will naturally go away by itself in a few weeks.  From late October, the old First Class seats will be sold as part of the Club World cabin.  No First Class seats will be sold and Club World passengers will be able to book directly into the old First Class seats – which is not a bad deal.  Selected flights to Cape Town, Vancouver, Phoenix and Las Vegas will be impacted.