This article is about how to fly – often redeeming your Avios – on short haul European flights which are flown by long-haul aircraft (ie a 747, 777, A380, A330, A340 etc).
Why would you want to do this? Well, for fun!
European business class flights are rarely exciting. Yes, British Airways offers you an empty middle seat, free champagne and some average food. At the end of the day, though, you are still sat in pretty much the same seat as everyone else.
However, wouldn't it be great if you could fly a long-haul plane around Europe? It may only be a couple of hours to Madrid, but if you could get yourself a flat-bed seat – and for the same number of Avios as a seat on a standard plane – that would be pretty cool, wouldn't it?
The reason you can (very occasionally) do this is mainly due to 'fifth freedom' flying rights. This allows an aircraft to fly between two countries as a 'tag' to another flight. The flight would not be viable if the aircraft could not drop passengers in both cities.
(British Airways has a number of 'fifth freedom' flights of its own, around the Middle East and Caribbean.  See this post for details and how you can book them as Reward Flight Saver.)
This post from US blog The Forward Cabin offers a pretty comprehensive list of all of the 'fifth freedom' flights currently operating.
Here are the European ones worth a look.  I have added the airline alliance the airline is with, so you know whose miles you would need to redeem.
Air China (Star) – Munich to Athens
Air China (Star) – Barcelona to Vienna
Garuda Indonesia (SkyTeam) – London Gatwick to Amsterdam (I wrote about this here albeit prices have risen)
Singapore Airlines (Star) – Manchester to Munich
LAN (oneworld) – Madrid to Frankfurt
Emirates (no alliance) – Malta to Larnaca
Qatar Airways (oneworld) – Budapest to Zagreb
Qatar Airways (oneworld) – Baku to Tbilisi
Qatar Airways (oneworld) – Bucharest to Sofia (ends 1 March when Sofia goes direct)
Korean Air (SkyTeam) – Vienna to Zurich
If you want to use your Avios points, you are looking at the LAN and Qatar Airways options.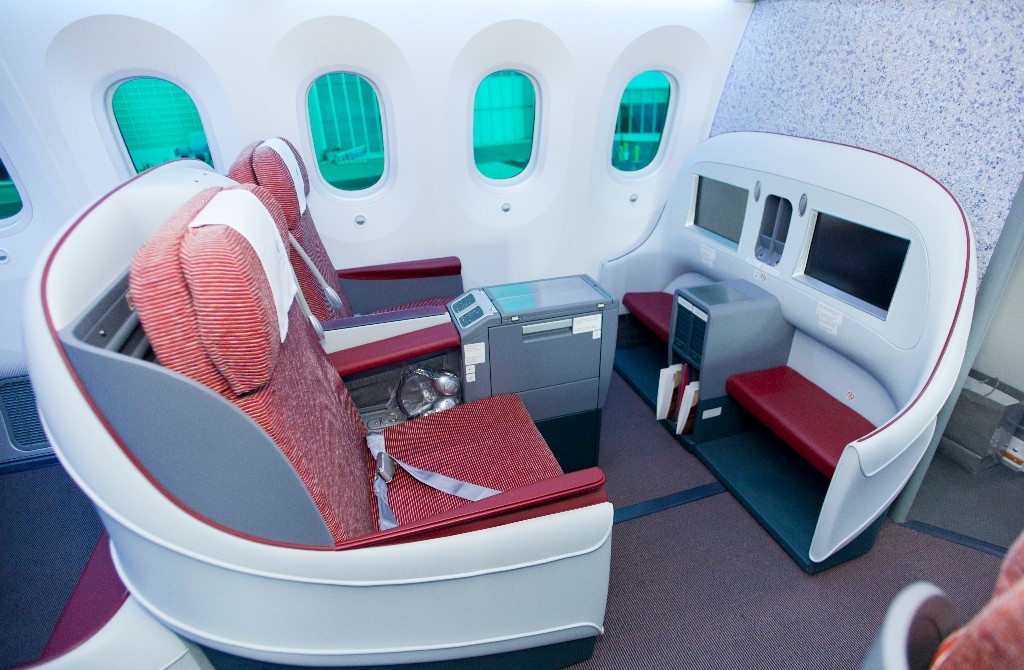 The LAN Chile Madrid to Frankfurt service uses a brand new Boeing 787.  The business class seating is excellent as you can see here from the photo above.
A return trip in business class is 30,000 Avios plus £49.
You could tie this in with another long-haul oddity. Iberia often runs a long-haul A330 or A340 from Heathrow to Madrid for, I believe, cargo purposes.  It tends to be the 6.30pm-ish departure.
I have taken this flight in business class which comes with the new fully flat Iberia seat: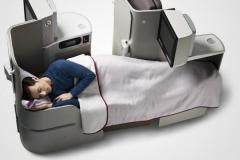 The Qatar Airways flights definitely exist – I can see them on their website – but ba.com does not seem to be able to find them for Avios redemptions.  In any event, they all appear to be operated by short-haul A320 and A321 aircraft which isn't anywhere near as fun!