Is redeeming points for cash EVER a good deal?
Links on Head for Points may pay us an affiliate commission. A list of partners is here.
Last week I wrote about the temporary improvement to the British Airways 'part pay with Avios' offer.  Until April 29th, you can use your Avios for a discount on selected long-haul BA flights.  You effectively receive 0.67p per point up to a maximum of £400 on a Club World seat.
This is one of a few methods by which reward programme allow you to redeem your points for cash or a cash equivalent.  In general, these are terrible deals and best avoided – although the BA offer above is on the verge of being acceptable.
Etihad Guest has one of the most interesting schemes.  Called PointsPay, it is a way of cashing out airline miles – for real cash – via a Virtual Visa Card.  With Etihad, you receive around 0.4p per point.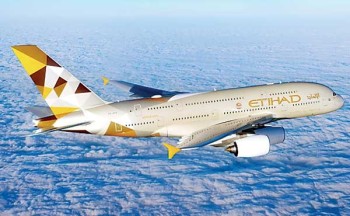 PointsPay is not new, launching in 2012. It has failed to take off in a major way, since Etihad Guest is the only airline programme currently associated with it. It is an interesting model, though.
The company describes itself as:
PointsPay offers a mobile wallet and payment system that enables members of participating loyalty programs to redeem points and miles in-store and online at over 30 million merchants worldwide. You convert your miles and points into Cash (Virtual Visa Card or Mastercard) and then use it anywhere.
You use your PC or smartphone, via an app, to transfer your Etihad Guest miles to or from PointsPay. You can then either generate a 'virtual Visa' number online, for online shopping, or order a physical plastic Visa card from PointsPay which can be used in retailers like a normal debit card.
0.4p per Etihad Guest point is certainly not fantastic – I would normally look to get at least double that, and hopefully more, if redeeming for flights. However, you are cleanly exiting your miles. There is no minimum or maximum load, and no 'round number' requirement, so you can empty your Etihad Guest account down to exactly zero miles if you want.  I used PointsPay to cash out a small number of miles from a Korean Air flight which was credited to Etihad Guest.
Here are a few other examples of 'pseudo cash' redemptions:
IHG Rewards Club lets you redeem 7,000 points for a £10 gift voucher for various retailers via 'Exclusively Yours'. I would expect to get around £35 of free hotel room for the same number of points.
Lufthansa's Miles & More lets you redeem 8,250 miles for a €25 Radisson Hotels gift card. That is a shocking 0.25p, roughly, per mile. I would be looking at 1p per mile from a flight redemption, albeit 8,250 won't get you far. 
Lufthansa also lets you redeem 7,500 miles for a £20 Heathrow Airport shopping voucher.  This needs to be ordered via the Heathrow Rewards website, oddly, which you means you need a Heathrow Rewards account to access it.
Virgin Flying Club lets you redeem 12,500 miles for a £50 Virgin Group voucher or £50 of Theatre Tokens. This is 0.4p per mile – the same as Etihad offers.
Club Carlson lets you redeem points for Visa gift cards.  UK residents are offering a £25 card for 30,000 points.  I would expect to receive £150 of free nights from 30,000 points if I redeemed smartly.
PartnerPlusBenefit, the Star Alliance scheme for small businesses, lets you redeem for real cash – although I don't have the ratios to hand.
There are also various ways of cashing out Membership Rewards points, either for statement credit, travel products, retail gift cards or into Nectar points.   The redemption rate is never better than 0.5p per point compared to 1p per point for a good airline mile redemption.  This recent article looked at the value you get.
I HAVE redeemed American Express points for travel statement credit in the past when I felt my balance was too high and I had no other obvious use for the points.  I may regret this at some point in the future!
In general, the best deal is always to redeem for the proprietary product offered by that loyalty scheme.  Use Avios for flights, use Eurostar Frequent Traveller points for trains and use hotel points for rooms.  Take advantage of the fact that these companies have unsold spare capacity they are happy to offload.
Cashing out points for cash or a cash equivalent is very rarely worth it.