My review of Garuda Indonesia business class – flying Gatwick to Amsterdam!
Links on Head for Points may pay us an affiliate commission. A list of partners is here.
One of the perks of running this site is that I can justify doing slightly odd trips in the name of 'research'.  When Indonesian airline Garuda announced that it would add a tag to London Gatwick to its existing Amsterdam to Jakarta flight, I knew that I should give it a go.
Garuda used to fly from Amsterdam to Jakarta using an Airbus A330, a flight which required a stop in Abu Dhabi.  When brand new Boeing 777-300ER (the ER stands for 'extended range') aircraft arrived in 2014, it had the capacity to fly non-stop from Amsterdam to Jakarta.
When the Gatwick flights were first announced, Garuda was selling one-way tickets in business class to Amsterdam for just £100.  It later crept up to £150 and is now at £235.  I couldn't justify that, but luckily Garuda Indonesia is part of the Skyteam alliance.
I had a few Flying Blue (the Air France / KLM scheme) miles sitting around and topped them up to 30,000 with some American Express Membership Rewards points.  The Garuda flights can be booked online via Flying Blue.
Garuda uses Gatwick North, the British Airways terminal.  Check-in was, unsurprisingly, fast given that the plane departed with only 9 of the 32 business class seats filled.  The premium security lane – which is now totally separate from the main security area – was almost empty.
Garuda uses the excellent No 1 Traveller lounge at Gatwick North which I reviewed here.  You are guaranteed entry – I mention this because the lounge has a reputation for turning away Priority Pass visitors at busy times.
Departure was 12.25.  Annoyingly, Garuda has joined the list of airlines who no longer put departure times on their boarding passes.  All it said was 'Boarding time:  11.20'.  You would have to be a bit of a mug to turn up at the gate for that time.  You would be an even bigger mug if you followed their advice to "please be at the boarding gate at least 30 minutes before boarding time" – which would be 95 minutes before departure.
The aircraft is a new Boeing 777-300ER: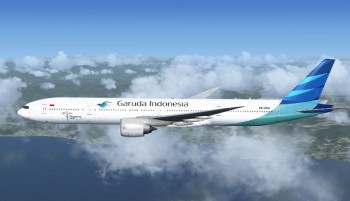 The 32 business class seats are split into two cabins.  Eight seats are between first class and galley with the remaining 24 behind.  I was in the the latter.
The layout is 1-2-1.  It uses the staggered layout which is becoming more and more popular.  This means that some centre pairs have the seats adjacent and are great for couples: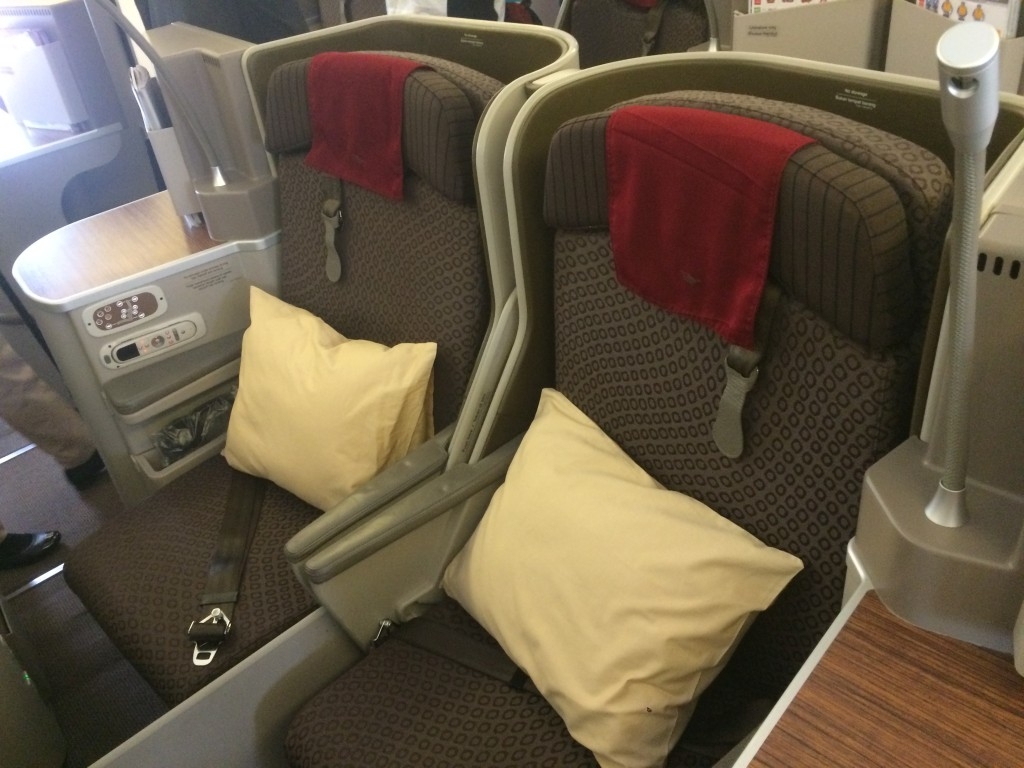 whilst the row behind has the seats further apart, ideal for solo travellers: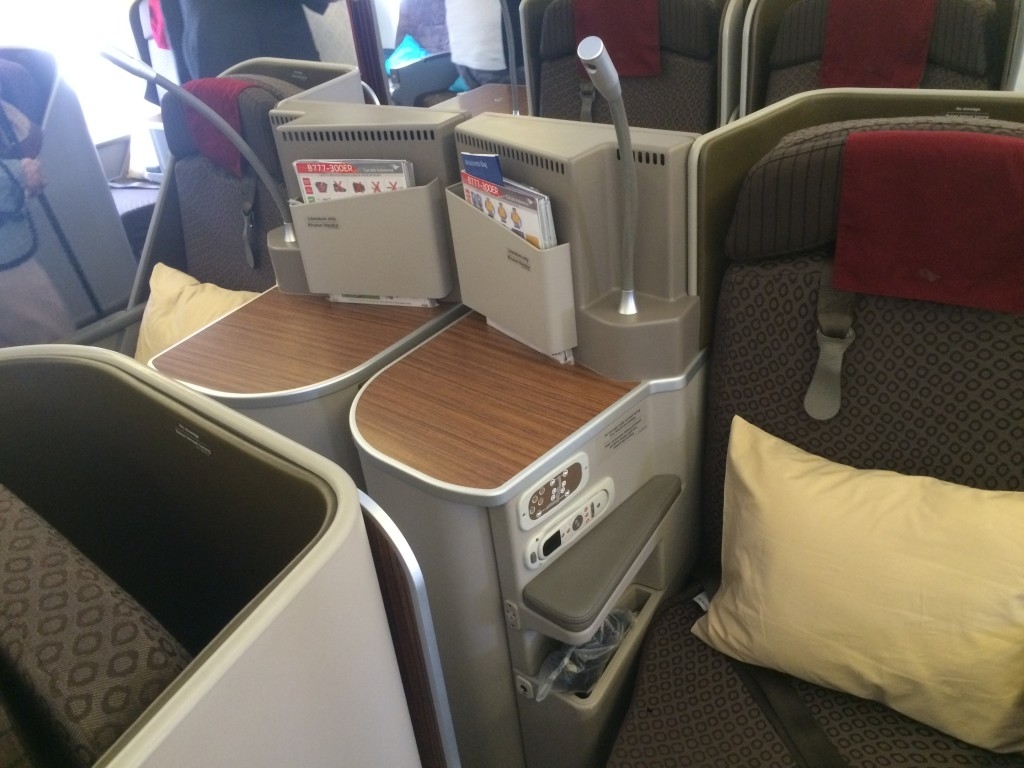 Similarly, some window seats are directly next to the window, such as mine in 14A: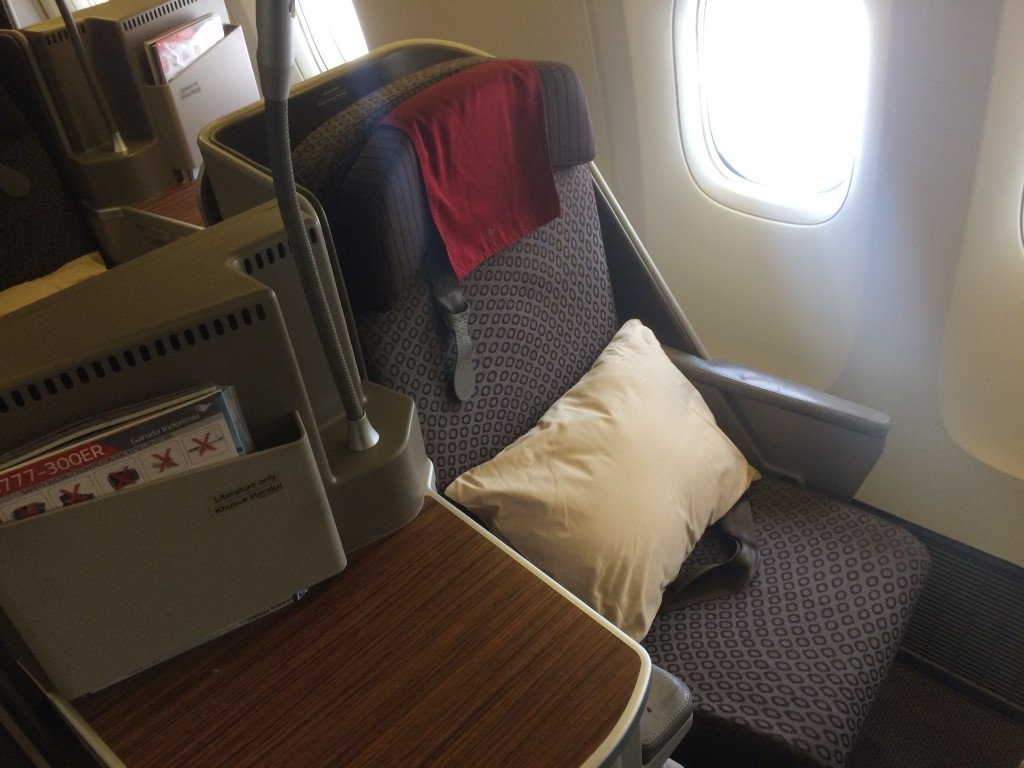 whilst others have the side-table by the window and the seat directly next to the aisle.  The seat would extend into a fully flat bed but that would have been overkill on such a short flight!  For eating, a table flips down – it is not concealed in your armrest: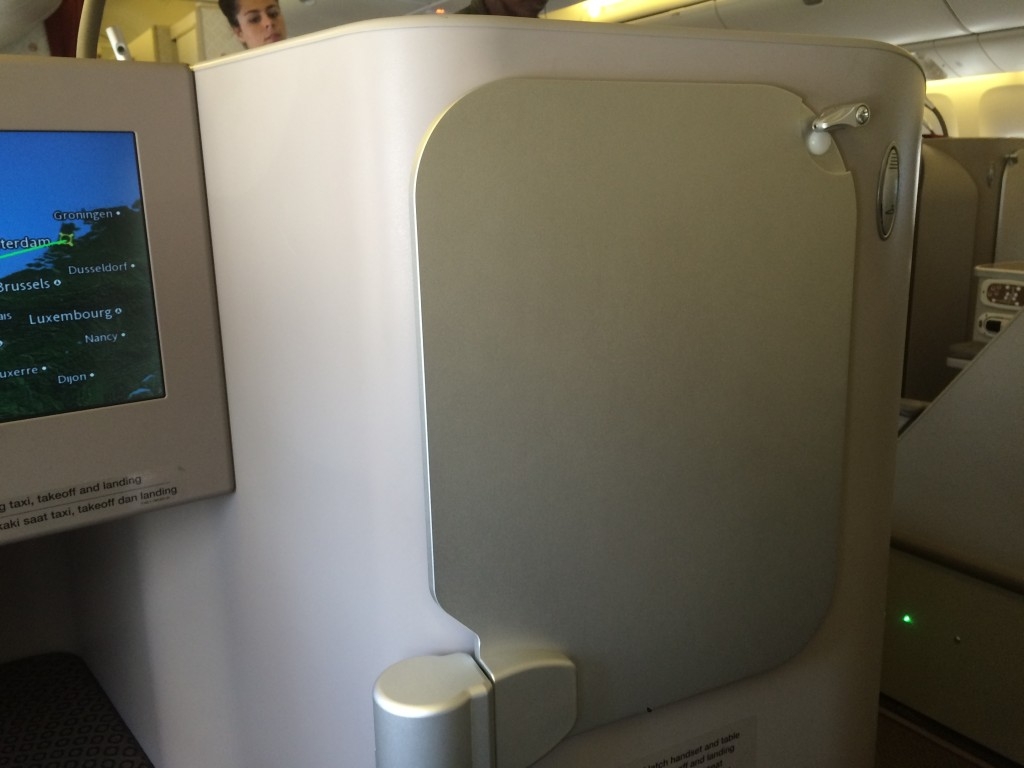 The cabin crew were excellent, although with only nine passengers it wasn't that tricky for them.  They did make an effort to use my name at every opportunity.  Pre-departure I was offered a glass of Billecart-Salmon Rose (£45 per bottle in the UK):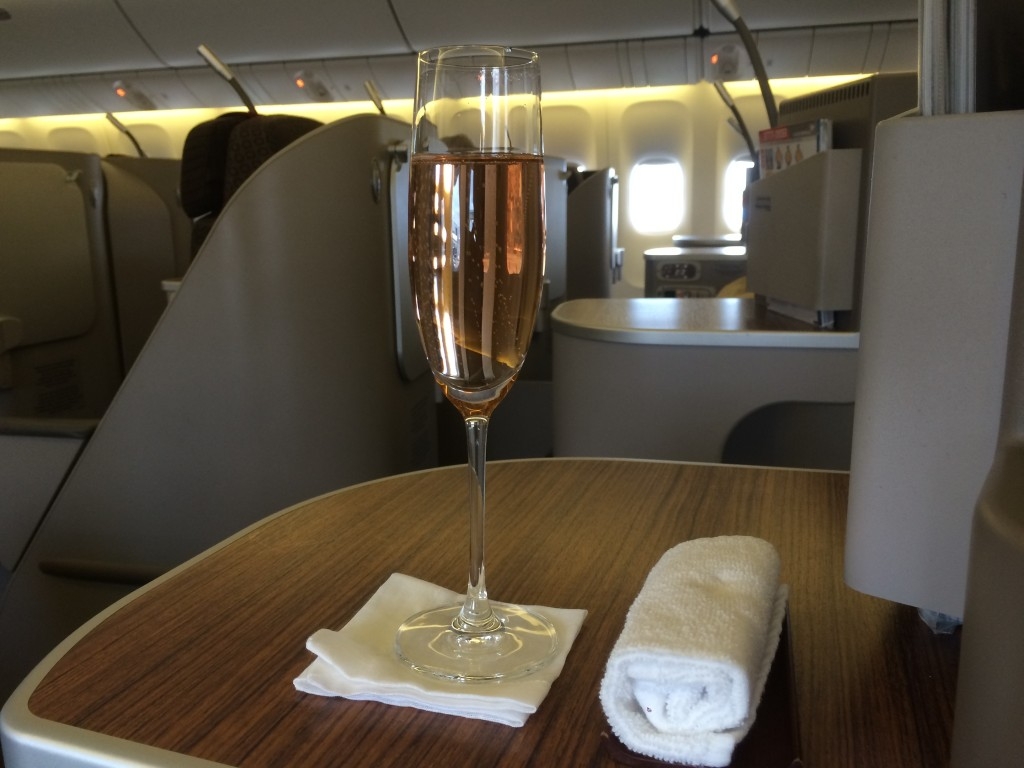 Food is always a tricky one on a short 'fifth freedom' flight like this.  After all, the majority of the passengers were heading on to Jakarta, albeit that they would be twiddling their thumbs in Amsterdam for 1 hour and 40 minutes.  I was served this: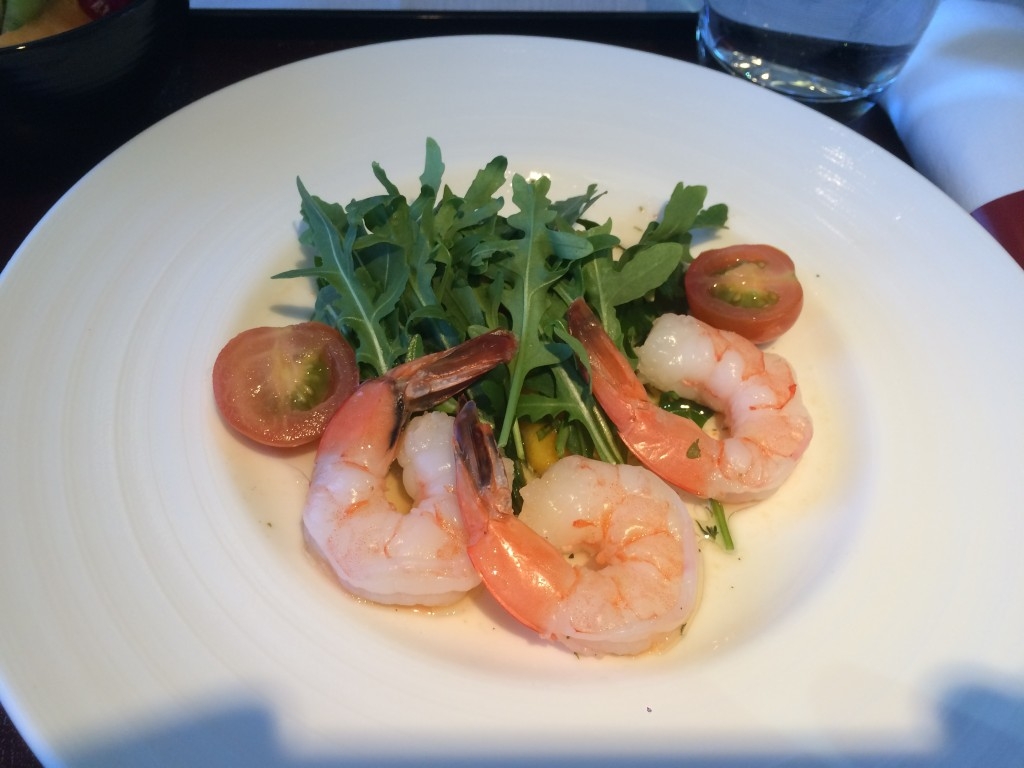 …. which may bring a smile to regular British Airways Club Europe passengers who are used to the famous BA 'three prawn' salad.
It certainly didn't count as a substantial meal, but those passengers heading to Jakarta would be getting a full meal two hours later anyway.  With more passengers joining in Amsterdam, it would also not have been possible to serve the first part of the main meal.
And that's about it.  London to Amsterdam is not exactly a long flight!  On the back of this short taster, though, I would be happy to recommend Garuda Indonesia's business class service to anyone heading down to Jakarta.