A full review of La Compagnie's £500 business class flights from Luton to New York
Links on Head for Points may pay us an affiliate commission. A list of partners is here.
Last Saturday, I published a few pictures taken by reader Sam when she took advantage of the '£500 business class return' fares to New York offered by 'all business class' airline start-up La Compagnie.
The article was very popular and I'm delighted that Sam has now written a full review of her flight for us.  Over to you Sam …..
Report on La Compagnie flight – London Luton to Newark
Disclaimer:  I am not the most experienced premium airline traveller – I've only travelled in BA Club World a couple of times, so I can't really compare the experience with much of the competition.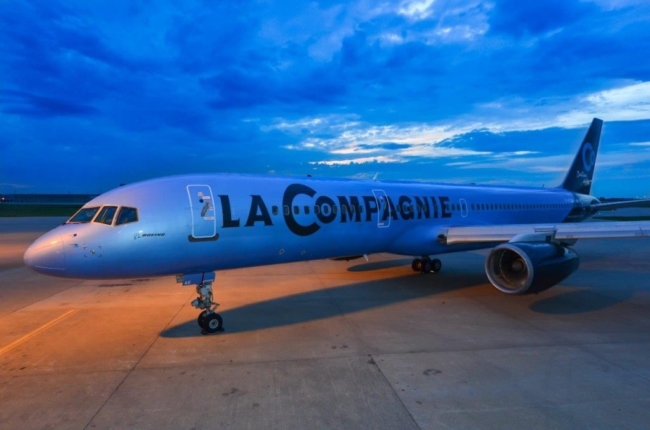 Let's start with the negatives
Rob has already mentioned the dangers of booking onto a flight like this with an irregular '4 flights per week service'.  If there's a problem, cancellation or delay, there's no later flight to be put onto – you have to come back the next day. And if that flight is full, you have to wait again.
On our return flight there were several passengers who had been due to fly the previous day, but due to a technical problem with the aircraft the flight was cancelled and they were put on the next one. Our flight was almost totally full, but they all got on.
Apparently La Compagnie is more generous than other airlines in this case.  They got their base compensation under the Denied Boarding Regulations (La Compagnie is an airline based in the EU) – €600 which was apparently first offered in the form of a voucher, but when they declined, they were offered it via bank transfer.
Additionally, for anyone who suffers a cancellation, La Compagnie ALSO offer a free return trip. So, if you didn't have any place to be the next day, you'd be praying for a delay – of course they also provided a hotel room.  If you had to be back for work, as one couple did, this can of course be a major problem.
However, I view this as a relatively minor issue.  If you have good travel insurance, you should be able to pay for another flight, and there are plenty going out of NY to London, and be reimbursed if you REALLY had to get home.  This wouldn't impact on your ability to claim the compensation or the voucher for a free return trip, and it might also (at late notice) give you the added opportunity to earn some extra airline/status miles.
The lounge experience
At Luton, La Compagnie uses the 'Aspire' Servisair Lounge. Not only is this BOTH a dump AND a construction zone but it was so full (mostly with Priority Pass passengers it seems) that it was not only a bunfight to get a drink, but it was barely possible to find somewhere to sit down.
Coming back, in Newark, you are in the 'Art & Lounge' lounge pictured below.  This is pre-security, oddly, but they call you all together at the same time so there's no worry about missing a flight.   The experience was sadly similar.  The lounge is used by El Al and there was a busy flight that day – again it was hard to find a seat, and I almost jacked it in and went to sit in the departure lounge which was pretty empty.
The seats
One problem I noticed was that some of the seats seem to have technical problems in lying flat. On the way out this was no problem – we were moved to another row by the stewardess even before we sat down because they were aware of it, and the flight was only a third full.
But coming back, one passenger was in a dodgy seat, and because there weren't any spare, she had to sit straight up the whole trip. That would NOT be ideal, since the ability to lie down is pretty much the main reason why someone books business class in the first place.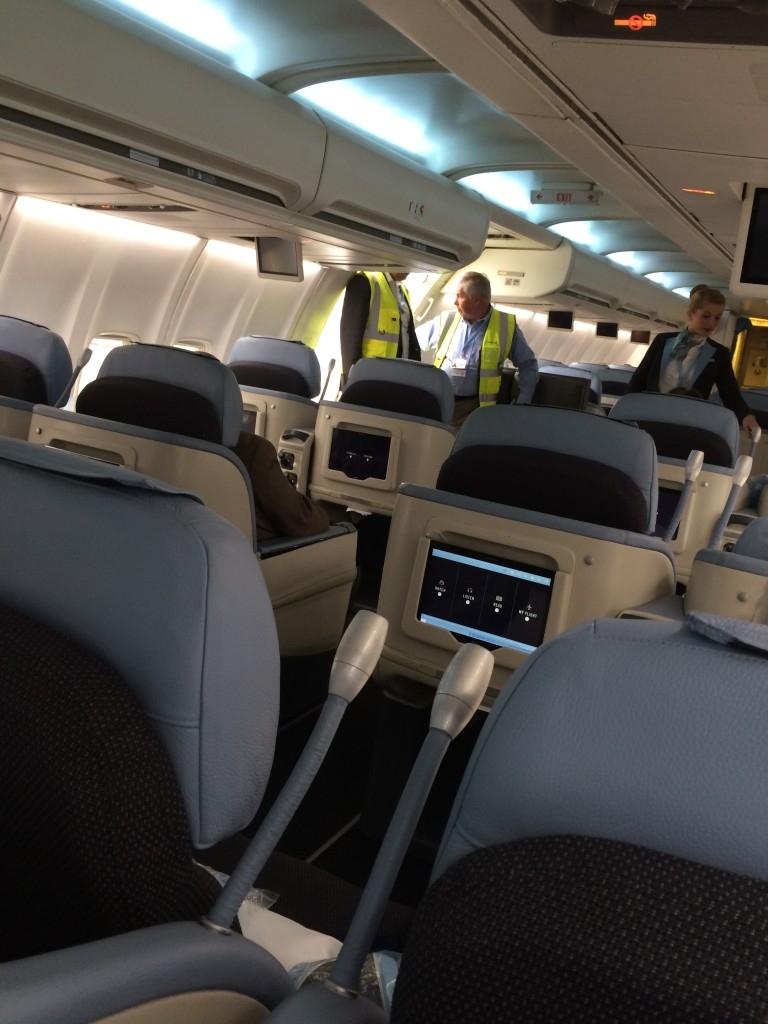 Moving onto the positives ….
For the leisure traveller, the flight times are pretty ideal. We left on a Sunday, so had the whole day to get ready (the flight leaves at 17:30) and coming back is overnight, so unless you have a broken chair you should be able to get a good sleep in before arrival.
Despite the problems with the lounge, the check-in/boarding experience is great. The flight is so small (74 passengers), that there's barely any queuing at any point. At Luton, there's a VIP security lane which was super quick. Boarding the aircraft is actually through the middle of the plane, not the front, and there's no waiting for people to put things up in the lockers etc. etc. All very relaxed.
The seat
This is the official publicity photograph of the seat, which you can compare with my personal pictures used elsewhere: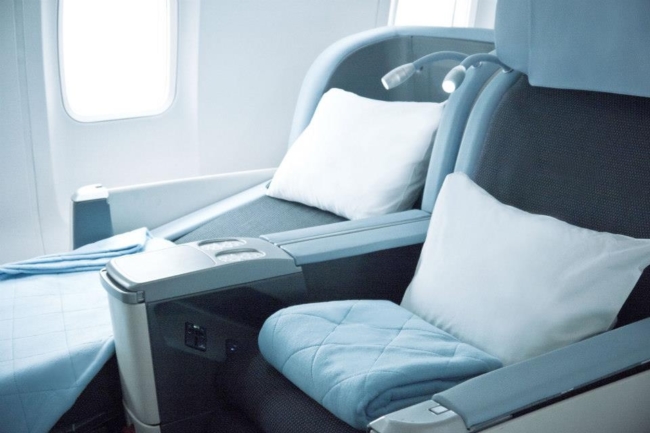 Many reviews focus on the fact that the seat isn't totally lie flat.  I have to say that I didn't find it a problem – it was very comfortable, for sitting, reclining and lying down.  The seat is easy to operate and the blanket and pillow were really nice. The upholstery seems really soft and comfortable.
There was a reading light both above as per normal, and attached to the seat itself, a handy magazine rack between the two seats in front, a nice draw for putting small items in the side of the chair and a small hollow at the bottom of the seat in front for your shoes, as well as the usual coat-hook.
It was all very well planned out – I especially appreciated the water bottle holder in the seat in front where there was water waiting for us. There is both a USB input and a multi-region plug socket – great, because it means you can charge/use two devices at once.
The service
The staff are all very pleasant.  They are mostly French, very helpful and friendly. None of the often-found BA surliness. They couldn't do enough. My only criticism is on the busy flight on the way back maybe they could have done with one extra staff member. They did seem really busy.
The in-flight entertainment is provided via a Samsung tablet in the seatback and reasonable quality headphones. This has come under some criticism as a 'budget' option, but actually I found it more intuitive, easier to use, more efficient and, crucially, with a much higher screen quality than your usual seat back screen. Because it's a tablet the quality is crystal clear.
The other side of this is that the offering is relatively small – certainly nothing like Singapore Airlines economy (where it took almost the entire flight to Sydney to scroll through the film choice!), but even compared with BA it's quite slim. The films are also not that up to date and, strangely, consist of the entire Bond back catalogue, along with a variety of other movies. Still – I found something to watch on both flights.
The TV show offering is very small.  A nice touch is that you can read a massive selection of newspapers by downloading them onto the tablet from the onboard wifi.

Amenities
You get a nice little pouch which contains a pen, some moisturiser, toothbrush and toothpaste, flight socks and a nice quality eyemask. Again – certainly better than the BA Club World amenity kit which comes in what looks like a mini binliner.
Food and drink
Excellent quality, certainly better than British Airways. Going out there was a dinner served, all of course on proper plates, with real cutlery (and none of those stupid short knives you often get!), with champagne and wine.
There were only two choices of main, but this is better, if it's nice, than more choice of bad food. Nice little cheese plate, and coffee / tea as usual. Shortly before arrival there was a light snack.
Coming back the food wasn't so good – on departure (at 22:30), we had a light salad, which was fine, but the breakfast was a bit odd – a cheese / spinach omelette with a kind of hollandaise – and a bit sickly.
It did have a really nice hot fresh croissant. I don't know how they got this (and the bread on both legs – always excellent) so fresh and not-aeroplane tasting. This was the highlight!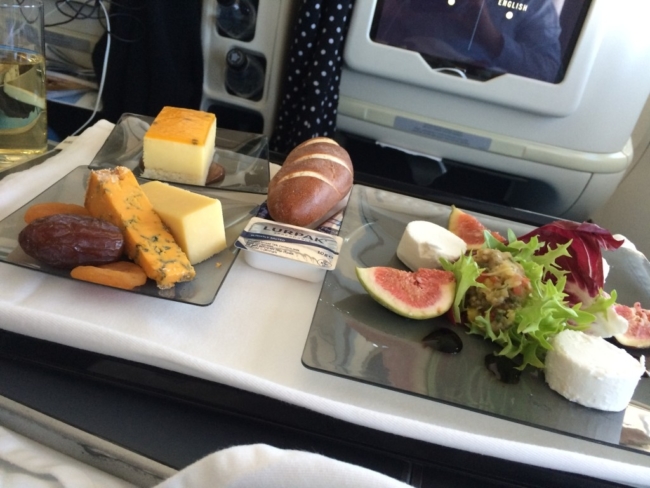 My verdict
All in all this was a really good experience, especially if you get a great deal.
We booked the opening offer – two passengers for £1000 return which really is a no brainer.  They have now started a loyalty scheme and, depending on the type of ticket you purchase, you get a free one way trip for every four to ten flights you book.
Most of the reviews I have seen of this service have said this service needs to be compared with a premium economy offering, and not business class, of a major airline.  I would totally disagree – the overall experience (with the exception of the lounge) is absolutely on a par with BA Club World, if not better. I'd highly recommend it.