Links on Head for Points may pay us an affiliate commission. A list of partners is here.
Two weeks ago, I flew to Helsinki and back in Finnair business class.  This was an opportunity to be one of the first people to fly the new Airbus A350 XWB and also to try out Finnair.
(As a oneworld partner, Finnair flights earn British Airways tier points and Avios.  Given they often have very low fares to Asia from the UK, and the forthcoming launch of Edinburgh services to add to the existing Manchester and London flights, Finnair deserves more of our attention going forward.)
This article is essentially a primer to the A350.  Tomorrow I will look at Finnair's new A350 business class seating and what the plane is like to fly.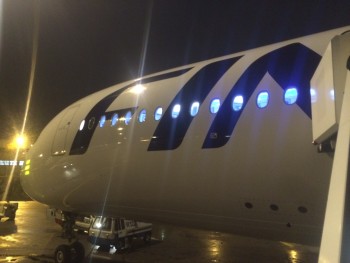 The A350 XWB
Unlike the A380, there is no doubt that the Airbus A350 XWB will be a huge commercial success.  You will struggle to avoid them if you are flying long-haul over the next 20 years – there are currently 787 of the planes on order for 41 different airlines, including British Airways.
By the end of 2018, Airbus expects to be delivering 10 A350 XWB aircraft per month from its final assembly plant in Toulouse.
The first commercial flight took place this January for Qatar Airways, the launch customer.  Vietnam Airlines started to fly it in July.  Finnair was the first European airline to receive them and, as the aircraft arrive, they are being rostered onto short-haul routes – including Heathrow – for crew training.  The photo below shows the first ever A350 to land at Heathrow: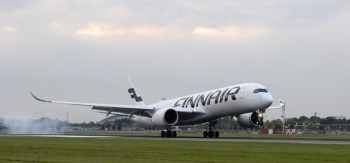 The plane is the Airbus equivalent of the Boeing 787 Dreamliner.  Like the 787, the fuselage and wings are made primarily of carbon-fibre reinforced polymer to reduce weight, reduce maintenance costs and increase cabin pressure and humidity.
The aircraft is quieter than its predecessors and emits less nitrogen oxide and CO2.  New generation engines, combined with the reduced aircraft weight, lead to substantial fuel savings compared to older aircraft.
A wider fuselage than the A330 and A340 aircraft it is replacing – and indeed 12cm wider than a Boeing 787 – means that 10-abreast seating in economy will be possible if airlines choose to intall it.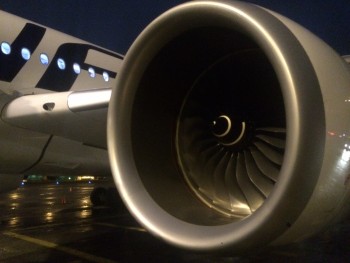 Three configurations
As with the Boeing 787, the Airbus A350 XWB will eventually come in three different models.
Whilst Boeing started with the smallest version of the 787 (the 787-8) and is only now starting to launch the mid-size 787-9, Airbus has chosen to launch the medium-sized version first.
The A350-900 will typically seat 325 passengers (although Finnair has set them up to seat 297), is 66m long and has a range of 14,000 km.  An Ultra Long Range version is under development for launch in 2018 with Singapore Airlines due to be the launch customer.
The shorter 60m long A350-800, due to launch next year, will seat 270 passengers with a longer range of 15,400 km.
The final variant, the A350-1000, is the longest at 73m and will seat 366 passengers with a range of 15,000 km.  It is due in service in 2017 with Qatar Airways again due to be the launch customer.
For comparison, the A350-900 is three metres longer than the A340-300 and A330-300 aircraft.  The wingspan is almost five metres wider at 64.75m and the cruising speed, at 903 km/h, is 33 km/h faster.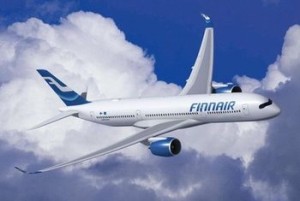 And what is it like to fly?
If you have flown an Airbus A380, especially on the upper deck, you know that it is a bit of a revelation.  The plane is astonishingly large and astonishingly quiet (you honestly do not notice when you take off).  With non-premium passengers generally on the lower deck, and with no public access between them, it gives the feeling of flying on an 'all First / business class' aircraft.
Neither the Boeing 787 or the Airbus A350 offer such a radical experience. To the untrained eye, the only major difference is the larger passenger windows – and even that is not a major change.  The improvements in cabin pressure and humidity are less tangible benefits.  It feels relatively quiet but it is not as noticeable as on the upper deck of an A380.  There are no major changes to, for example, bathroom size.  The aircraft is clearly a big step forward in environmental terms but, for the passenger, the difference is less apparent.
Click here for Part 2 where I will show you what Finnair has chosen to do with its A350s.
Head for Points is sponsored by:
Up to 30% off in Hilton's Winter Sale
Click here to find out more and book
Click here to join the 14,500 people on our email list and receive the latest Avios, miles and points news by 6am.